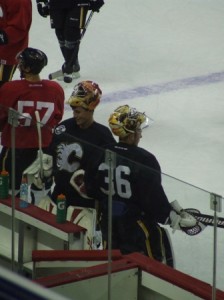 After several seasons trying to make his mark, goaltender Leland Irving has finally landed in the National Hockey League. Following a week-long training camp, the netminder was named as the back-up to Calgary Flames starter Miikka Kiprusoff.
The 24-year-old native of Barrhead, Alberta now becomes the ninth different back-up netminder in Calgary since the arrival of Kiprusoff in November 2002. A first-round pick of the Flames in the 2006 Draft, Irving has at times languished in the minor leagues while several goaltenders chosen after him – including Washington's Michael Neuvirth, Buffalo's Jhonas Enroth, Columbus' Steve Mason and Toronto's James Reimer – have firmly established themselves at the NHL level.
While Irving impressed during a seven-game stint with Calgary last season during Henrik Karlsson's injury absence (earning points for his team in four of seven games), he won only a single game in the bigs and was the odd man out in Abbotsford this season (playing behind veterans Danny Taylor and Barry Brust). However, not knowing when he was going to play – or even dress – on the farm may have prepared him for the grind in Calgary, when he'll be expected to be ready at a moment's notice.
"'Just be ready at any time' is kind of what they told me," said Irving prior to Thursday's meeting with Colorado. "The approach I'm taking is to prepare like I'm playing in every game. It's all I can do at this point."
Flames head coach Bob Hartley indicated that no concrete plan for deploying Irving exists, as the team will heavily rely upon Kiprusoff during the shortened season.
"We're going to play it like, Kipper's our man, there's no secret about this," said Hartley. "We consider ourselves very fortunate. We feel that Kipper is one of the top five goalies in the league and it's all about making playoffs. It's not about how many games a goalie plays or how many the back-up plays. For me, as long as Kipper tells me he's good to go – he's fresh, he's focused and he doesn't get mentally or physically tired – Kipper's going to play lots of games."
Based on this approach, it's likely that Irving may be deployed in the same manner as he was last year: in the back-end of back-to-back stretches on the road. With the combination of a hectic travel schedule, a shortened season and a 36-year-old starting goaltender, Irving will have to be ready at a moment's notice.
But through his experiences in the past year – as a back-up for Kiprusoff and as the extra man for the Heat – Irving may be the individual with the best preparation for tackling this job.
"Last year has definitely prepared me for, probably, the situation I'll be in this year. The travel in Abbotsford's prepared me for the travel here. It's probably even worse in Abbotsford than what we're going to see in a short season," said Irving.
Ryan Pike has covered the Calgary Flames and the NHL Draft extensively since 2010 as a Senior Writer for The Hockey Writers and Senior Contributing Editor of FlamesNation.ca. A member of the Professional Hockey Writers Association, he lives in Calgary.