In the hockey world, there is quite possibly no more under-appreciated position than that of the back-up goaltender. Riding the pine for the majority of the season, their primary duty is to sit on the bench in a constant state of cat-like readiness – their other function being readying their teammates for opposition goaltenders. Game action is few and far between, and the job itself can seem pretty thankless.
Given how much he plays every year, being back-up goaltender to Miikka Kiprusoff must seem really bad.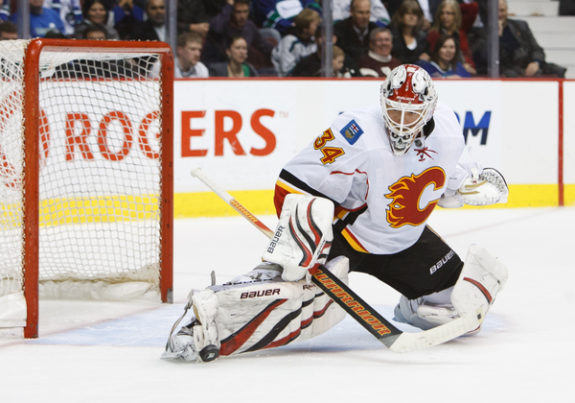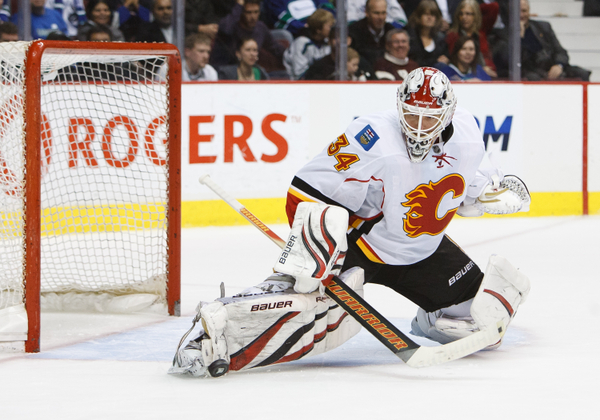 Since the Calgary Flames acquired Kiprusoff from the San Jose Sharks for a draft pick – albeit one that turned into Marc-Eduard Vlasic – the team has employed no fewer than eight men as the secondary goalkeeper.
This is their story.
Kiprusoff has played 458 games (249-150-53) 85% of games (0.551 winning %)
Non-Kiprusoff players: 81 games (28-43-9) 15% of games (0.350 winning %)
Jamie McLennan
When Roman Turek went down with an injury early in the 2003-04 season, the Flames adopted a goaltending tandem of McLennan and rookie Dany Sabourin. The Flames began to plummet down the standings and general manager Darryl Sutter brought in Kiprusoff. Sabourin was punted back down to the AHL (eventually returning to the NHL with the Pittsburgh Penguins) and McLennan became back-up. Somewhat fittingly, Turek came off of his injury hiatus just as Kiprusoff went down with his own injury, and when both were healthy McLennan was shipped off to the New York Rangers in a trade for Chris Simon.
RELATED: Goalies Are a Special Breed
[Record as back-up (2003-04): 13 games played, 5 wins-4 losses-3 ties]
McLennan was eventually brought back to the Flames as a free agent as the team attempted to re-capture that 2004 magic. It didn't work all that well. He's probably better known for relieving Kiprusoff for less than a minute in Game 5 of the Flames opening-round loss to the Detroit Red Wings. He was ejected from the game for spearing and given a five-game suspension. He subsequently spent a year in Japan and then retired, becoming the Flames goaltending coach.
[Record as back-up (2006-07): 9 games played, 3 wins-5 losses-1 extra time loss]
Roman Turek
Somewhat notorious for having a fantastic start to the 2001-02 season, being signed to a new contract extension and then having his game completely disappear, Turek's injury made it necessary to bring in Kiprusoff. Turek became the back-up upon his return to the line-up and performed reasonably well, but his contract status made him a bit of a liability. Turek "retired from the NHL" following the playoffs and returned to Europe to play for his old Czech Republic club team, HC Ceske Budejovice.
[Record as back-up (2003-04): 15 games played, 6 wins-9 losses]
Phillipe Sauve

Following the lock-out, the Flames continued their then-tradition of bringing in the sons of old NHLers by signing Phillipe Sauve. Sauve was a disappointment, often letting in soft goals. He was traded to Phoenix for Brian Boucher at the trade deadline.
[Record as back-up (2005-06): 8 games played, 3 wins-3 losses]
Brian Boucher

Boucher was brought in to (hopefully) upgrade on Phillipe Sauve. He was either a lateral move or a slight downgrade, depending on who you ask. He left in the off-season as a free agent.
[Record as back-up (2005-06): 3 games played; 1 win-2 losses]
Curtis McElhinney
Nicknamed "McBackup" by Flames fans, Curtis McElhinney was a great hockey story – a hometown boy who managed to catch on with his favourite team.
The problem is that the narrative never really lived up to its billing.
Drafted by the Flames in the 6th round of the 2002 draft, McElhinney played four years at Colorado College and joined the Flames farm system as a 22-year-old. He had a rough rookie season (posting a below .500 record) but bounced back, becoming one of the more consistently good goalies in the AHL. His destiny was to be Kiprusoff's back-up.
But he never really got a chance.
Following the disaster that was the Sauve/Boucher experiment, the Flames pulled the trigger and promoted McElhinney. After a shaky handful of games, the team seemed completely unsure of how to play in front of him, management panicked and brought in Curtis Joseph while McElhinney was relegated to the minors.
[Record as back-up (2007-08): 5 games played, 2 losses]
Witnessing McElhinney's strong AHL play during the balance of the prior season, the Flames gave him another chance. Again, McElhinney was fairly uneven and the team seemed terrified to play offense in front of him, often collapsing back to play defence most of the game. Finally, after 13 unsuccessful appearances, he won a game during the final game of the season – on Hockey Night in Canada against the Edmonton Oilers.
[Record as back-up (2008-09): 14 games, 1 win-6 losses -1 extra time loss]
McElhinney's third (and final) season in Calgary was more of the same. A coach that seemed terrified to let him play. A team that seemed terrified to open up their game in front of him. A goalie that posted better numbers, but never really seemed to settle in. McElhinney was traded to Anaheim prior to the trade deadline for Vesa Toskala and has since settled in to find fairly strong results in Orange County.
[Record as back-up (2009-10): 10 games played, 3 wins-4 losses]
Curtis Joseph

When rookie Curtis McElhinney proved to be unsure of himself in net (and the team seemingly showing similar reservations), the Flames brought in Curtis Joseph fresh off a Spengler Cup victory. Joseph was much steadier than McElhinney, playing like you'd expect a cagey veteran to play. Memorably, Joseph relieved Miikka Kiprusoff during a lop-sided playoff match-up with the Sharks. With the team on the ropes, Joseph came in and gave them confidence, leading to a Flames victory. Joseph rejoined the Toronto Maple Leafs in the off-season.
[Record as back-up (2007-08): 9 games played, 2 wins-3 losses]
Vesa Toskala

Brought in as a replacement for Curtis McElhinney, Toskala tried to bounce back from por play in Toronto and Anaheim. He did not, never winning a game in Calgary.
[Record as back-up (2009-10): 6 games played, 2 losses]
Henrik Karlsson

Dubbed "the Calgary Tower" by local media, the 6-foot-4 Karlsson has been a strong back-up thus far. During the Flames recent 20-game tear, Karlsson twice stepped in when Kiprusoff was getting shelled. Twice, the young netminder helped the team salvage a point. The past several seasons have seen the Flames keep rotating goaltenders through as Miikka Kiprusoff's back-up and the team hopes they have finally found the answer in Henrik Karlsson.
[Record as back-up (2010-11, so far): 12 games played, 4 wins-3 losses-4 extra time losses]