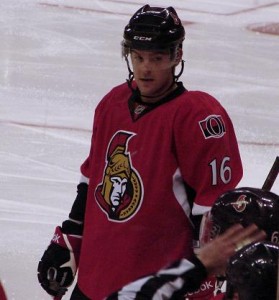 Around this time last season, the Ottawa Senators were celebrating a franchise record 11-game winning streak. What a difference a year can make; yesterday, the Senators finally ended their 11-game losing streak. After Ottawa's 5-3 win against the Edmonton Oilers on Hockey Day in Canada, the Senators' players did something they had not done in quite some time – smile. Not only is the team's losing streak over, Brian Elliott's personal 13-game losing streak ended as well. The victory kept Ottawa in 29th place overall in the league standings, not exactly a run to the Stanley Cup, but an important step in their first game without Mike Fisher.
Nick Foligno continued to emerge as a leader for the Senators with two points in the game. Jason Spezza, wearing an "A" on his jersey now that Fisher is in Nashville, added two assists to his season total. Alex Kovalev scored two goals and added an assist, and the MVP of the AHL all-star game, Bobby Butler, scored his first NHL goal.
"We've been battling, we've been pretty down on ourselves," Spezza told the Team 1200 after the game. "When you are losing games, it seems like it's real hard to win one and that's how it felt tonight. We had to battle right to the end but I think that gives us a little more satisfaction."
"We were in some of those games, we played well in some of those games, we maybe even deserved a couple of wins," veteran defenceman Chris Phillips told SENSTV in reference to the losing streak. "A streak gets going like that, it seems really hard to get any bounces, any luck. Just being able to snap that – guys worked hard and it finally paid off for us."
After the 5-3 victory, one of the many players feeling a sense of relief was goaltender Brian Elliott.
"It feels pretty good right now," Elliott said. "We've got to take it in, enjoy it, know that feeling and remember it. We want to keep winning and getting that feeling."
Life After Mike Fisher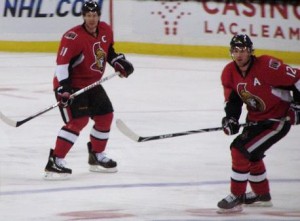 The losing streak over, the talk around Ottawa continues to be the Mike Fisher trade. The former Senator played his first game with the Nashville Predators on Saturday evening – picking up an assist during 18 minutes of ice time. While the Senators managed a victory without Fisher and Daniel Alfredsson (sidelined with a lower back injury), the debate surrounding the trade continues in the nation's capital.
It is safe to say that GM Bryan Murray will not win the "most popular person in Ottawa" contest after trading Fisher to Nashville. Many fans expected moves, and although Fisher's name was in the rumour mill, the reality of the trade has set in and an already disgruntled fan base is a little angrier this weekend. Many fans are upset that Murray is still in place as the GM, making moves that will reshape the franchise and set the tone moving forward. While others see the Senators at the bottom of the standings and realize that few players on this roster are untouchable as the trade deadline approaches.
While it was an unpopular trade, it was a shrewd move by Murray. He trades away a 30-year old player, one that has battled through injuries since the 2007 Stanley Cup run and it should be noted, Fisher has two more years on his contract at $4.2 million per year. For Murray to trade that contract without taking on any salary in return creates some much-needed cap relief moving forward. As Chris Phillips, Alex Kovalev, Jarkko Ruutu and Pascal Leclaire head into unrestricted free agency this summer, combined with the Fisher trade, the Senators will have $17.8 million in salaries off the books.
The ridiculous rumours floating around Ottawa that Fisher or his wife, Carrie Underwood, orchestrated this move are simply that, ridiculous rumours. At least for this year, the Ottawa Senators are a last place team. When a team is at the bottom of the standings and looking to rebuild, valuable assets such as Fisher are the only players that will garner any kind of value in return.
One day, we may hear that a better offer for Fisher was on the table, but Murray rewarded a loyal player with the opportunity to be a part of the trade process. One look at an emotional Mike Fisher upon hearing the news of the trade, or his teammates struggling to say goodbye to their friend, demonstrates what he meant to the organization. There is a business side to the sports world and this was a business decision. In an era of never-ending stories about famous athletes and scandals, it is refreshing to see an organization show some loyalty to a player described as the "heart and soul" of the Senators franchise.
Andrew Rodger is an independent sports columnist and member of the Canadian Association of Journalists. Along with operating The Voice of Sport, he covers the Ottawa Senators and writes the "Ask the Alumni" series here at The Hockey Writers. He is the resident writer for the NHL Alumni Association and a contributor on CBC News Now.