Three Real Tests for the Sharks in the Next Three Weeks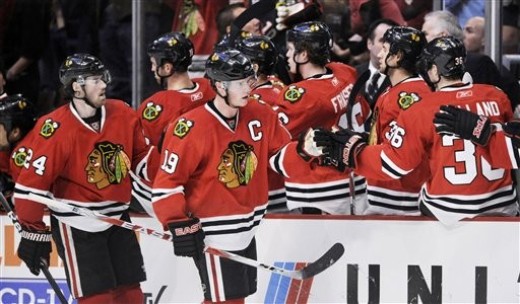 The Sharks are the talk around the NHL, one of the 'hottest' teams in the league so far. Six wins in as many games, Brad Stuart ranked second in 'plus-minus' category, Antti Niemi has a save percentage of .933%, and two of the team's top players ranked 1st equal in points scored – Patrick Marleau leads the league in goals with nine, and Joe Thornton leads the league in assists with eleven. Everyone wonders how long they can keep it up. Marleau was held scoreless in the last game against the Anaheim Ducks, and Niemi let in an ugly goal from a very sharp corner. However, the Sharks hung on and won the game thanks to the wrister by Michal Handzus in the shootout. In the next three or so weeks, the Sharks will be seriously tested three times – one home and two away games against the Chicago Blackhawks.
The Blackhawks have only lost one point this season when they lost to the Minnesota Wild in the shootout (season record: 6-0-1). They won four games away, and two games at home. Patrick Kane, Marian Hossa, Patrick Sharp, Jonathan Toews – all their offensive guns are clicking well, and early. Their goalie – Corey Crawford – has also been exceptional. If both teams maintain their momentum going into the game on the 5th of February where they face each other – 'the Tank' will definitely be rocking.
Scott Gomez's signing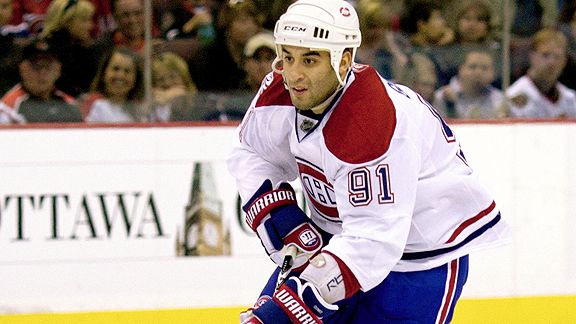 It's been almost one week since Scott Gomez signed with the San Jose Sharks. The dust has settled a bit, but it is still too early to determine whether he belongs on the team or not. Overall the signing was good. While Gomez is widely considered an underachiever, he can still contribute to the team. While it is naive to expect an array of goals from number 23, he should be able to chip in a few goals, and assist on a few as well.
In his first three games, Gomez averaged 15 minutes 15 seconds – good for 13th on the team. So far he has one assist on Logan Couture's goal against the Anaheim Ducks – Gomez's third game in the teal uniform. He was also given plenty of time on the Power Play. As per Todd McLellan's comments prior to Gomez's first game as a Shark, Gomez is being heavily used when the team has a man advantage. The Sharks coach Todd McLellan comparing Scott Gomez with Michal Handzus via CSN Bay Area:
"[Michal] has been very good on the penalty kill this year so far, very good in the faceoff circle. Scotty might be a little more offensive in power-play situations. There's room for both of them, and they can push each other."
Even if Scott Gomez will not be producing as expected, he provides an insurance – an extra forward capable of logging decent minutes. In case a forward gets injured – there will be someone capable who will step up for the Sharks. Gomez's value will become clearer with every game he plays.