Things were looking pretty grim for Scott Gomez in Montreal. He was coming off his worst professional season, one where he managed only two goals in 38 games. (Those goals at least brought a merciful end to his legendary, website-inspiring year-long goal scoring drought.)
His injuries and on-ice struggles saw him finish the year on the Habs' fourth line. A grand total of 21 goals over three seasons with Montreal just wasn't going to cut it – especially for a guy making $7.5 million per year. His shooting percentage (3.4%) and points per game (0.29) were career worst numbers. His average ice time had fallen to just over 14 minutes per game, also a career low. Things obviously were not working out for the former Calder Trophy winner.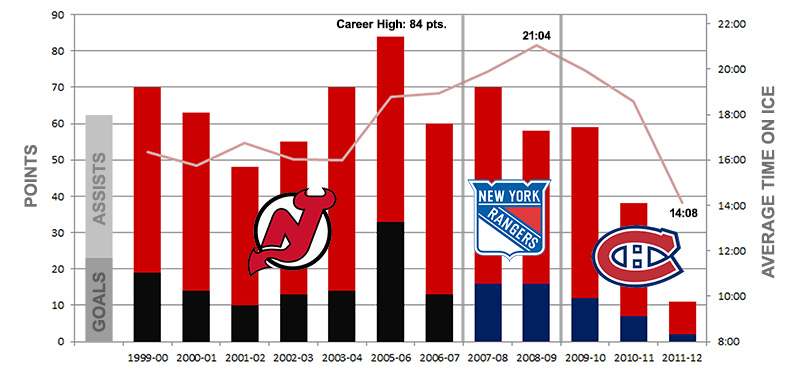 During the lockout, Gomez had a chance to work on his game in the ECHL. He joined the Alaska Aces, playing in his hometown of Anchorage. He picked up six goals and seven assists in 11 games, leading the team with 1.18 points per game. The talent level might have been a bit lower than that of the NHL, but unlike many of his fellow locked-out NHLers, Gomez was out there competing.
Once the NHL and Players Association finally came to an agreement on a new deal, Gomez headed to Montreal for training camp. Instead of taking to the ice, he was sent home, as reported earlier this year by Fred Poulin of The Hockey Writers.
One of the terms agreed to in the new Collective Bargaining Agreement allowed teams to make two amnesty buyouts immediately following the 2013 season. If exercised, the team would pay the player the prescribed buyout amount without any impact to the team's salary cap going forward. Both the New York Rangers and Montreal Canadiens expressed immediate interest in utilizing this option for the much-maligned contracts of Wade Redden and Scott Gomez, respectively. However, one of the buyout provisions states that injured played are ineligible for buyouts. Rather than risk injuries, both teams instructed their multi-million-dollar players to stay home until the end of the season.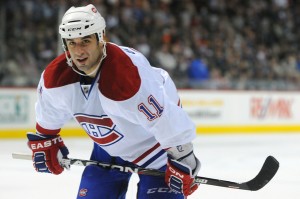 Just when it looked like Gomez would not be afforded an opportunity to get his career back on track, there came a glimmer of hope. The NHL and NHLPA, now feeling very cooperative, worked out an agreement to allow for the immediate buyout of players. Instead of being shelved for the season, Gomez and Redden would become free agents.
Looking for chances to prove themselves, both players agreed to contracts under $1 million – Redden for $800,000 with St. Louis and Gomez for $750,000 with the San Jose Sharks, both pro-rated based on the shortened season.
It's a low-risk move for the Sharks. If things don't work out, they can assign him to the minors without any impact to the salary cap. Under the terms of the new Collective Bargaining Agreement, a player sent to the minors will only be counted against the NHL team's cap if his salary exceeds the current minimum salary of $525,000 plus $375,000. For 2013, that equates to $900,000, well above Gomez's contract amount.
"He's had some hard luck in the past," Sharks' captain Joe Thornton told the Mercury News.  "You watch and you see how talented he is. He just has to be in the right situation. Hopefully this can work out for him."
If things do work out, the Sharks get a once-talented depth player looking to find his game and prove himself. He won't be counted on to score big goals, but if he can find his touch, he certainly has the ability to chip in offensively. A change in scenery – especially one that gets him out of Montreal – won't hurt either.
"Scotty has had a tough couple years, no doubt about it," Sharks coach Todd McLellan said. "Everybody knows what's happened to him as far as his play and his health in Montreal. He's looking for a fresh start."
Gomez is obviously excited about the opportunity. "I want to come here, help out, and I want to win another Stanley Cup," he told Comcast SportsNet Bay Area. "I just feel that this group and this organization is a great group of guys, and they know how to win. Hopefully, I can come in here and help them out."
The Sharks are undefeated, and Gomez already has one point.  It looks like he's already contributing.  Now if he could just score a goal…
---
Follow Josh on Twitter – @joshsmith29
---