Finally, the hate story between the fans of the Montreal Canadiens and under-productive pivot Scott Gomez has come to an end on Sunday. On the first day of the training camp, newly appointed general manager Marc Bergevin addressed the media to tell them the organization was sending Gomez home for the explicit purpose of buying his contract out in the summer.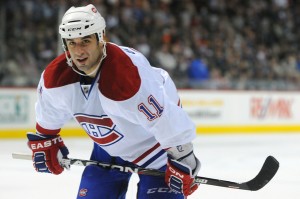 As a result, Gomez, who turned 33 in December, will receive the Wade Redden treatment: he will be paid to stay home and sit out the shortened season before the team can officially buy him out at season's end. This move was made necessary because Gomez didn't fit in the team's plans this season and if he were to suffer a long-term injury, the Canadiens would not be able to buy his contract out. The downside is that his current cap hit of $7,357,143 will still count against the salary cap this season even if Gomer doesn't play a single game for the Habs.
"I have nothing against Scott Gomez," Bergevin said during the presser. "It was the best thing for the future of the team." Bergevin added that he met Gomez at 7:30 AM this morning to tell him about the team's decision to send him home. Fortunately for the organization, Gomez's actual salary is more affordable than his cap hit at $5,500,000 this season and $4,500,000 in 2013-14.
As per the NHL's new collective bargaining agreement ratified yesterday by the members of the NHLPA, the cap will drop significantly to $64.3 million in 2013-14, but teams will be allowed two buyouts to help NHL teams fit under the cap in the next two seasons.
Gomez had a disappointing campaign in 2011-12, scoring only two goals and adding nine assists in 38 games in an injury-riddled season. During his three-year tenure in Montreal, Gomez recorded 21 goals and 87 assists for 108 points in 196 games to go along with a miserable -23 plus/minus rating.
After a fairly respectable 59-point season in his first full-campaign donning the Habs' jersey, things turned sour quickly. Gomez even went a full calendar year without scoring a single goal for the Bleu Blanc Rouge, drought that he ended on February 9th, 2012 when he scored a power-play goal against the New York Islanders.
The former Calder Trophy winner was acquired by former general manager Bob Gainey on June 30, 2009 with checker Tom Pyatt in exchange for defensive stud Ryan McDonagh, versatile forward Chris Higgins and prospect Pavel Valentenko.
This move opens a position at forward, and with the injuries to Tomas Plekanec and Petteri Nokelainen, look for at least one youngster to make the opening-day roster between Brendan Gallagher, Gabriel Dumont and highly-touted prospect Alex Galchenyuk. My bet is on Galchenyuk sticking with the team until Plekanec is ready to return.
Parody Scott Gomez doesn't understand the move.
https://twitter.com/ScottGomaize11/status/290523206333382656
Do you agree by the decision made by Marc Bergevin regarding Scott Gomez?