Yesterday marked the one-year anniversary of Scott Gomez's goal-less drought in the NHL as the last time Gomez scored a goal was on February 5th… 2011. The overpaid veteran has now played 59 games without finding the back of the net, a feat that is hard to achieve for any forward playing on average more than 15 minutes per game, including almost 3 minutes per contest on the power play.
Since he last scored against his former team, the New York Rangers, Gomez has seen his last 122 shots stopped (easily) by the opposing goalies. The native of Anchorage, Alaska, has played 23 games this season with Montreal, missing 30 games with a groin injury, notching seven assists and posting a -3 plus/minus differential.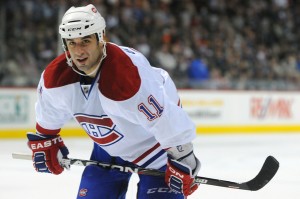 If Gomer was earning only $750,000/year like most fourth-line plumbers, nobody would care about his goal-less drought, but the former Calder Trophy winner is earning a hefty $7,5 millions this season (a $7,357,143 cap hit), so it is expected that the fans and the media would follow the situation closely and criticize Gomez's performance in the past two campaigns. After a fairly respectable 59-point season in his first full-campaign donning the Bleu Blanc Rouge, Gomez's production has plummeted faster than Ben Affleck's acting career after his performance in the turkey movie Gigli.
The Habs are stuck with Gomez because no sane GM would take on the unproductive Gomez and his bloated contract. If he was a 1 PPG player, maybe a GM desperately looking for offensive help would acquire him in order to boost an anaemic offense like Scott Howson did when he traded for sniper Jeff Carter last summer.
Gomez was acquired on June 30, 2009 with plugger Tom Pyatt in exchange for defensive stud Ryan McDonagh, Chris Higgins and prospect Pavel Valentenko. The contract he signed with the Rangers is front-loaded, so he is owed $5 million and $4 million over the final two seasons of his bloated agreement (2012-13 and 2013-14). If the Canadiens decide to buy him out, they would be charged $1.5 million/season cap hit for four seasons ($6 millions) rather than $7.3 millions over the next two seasons. The team could also Wade-Redden him to their AHL affiliate in Hamilton and clear his lucrative contract from their salary cap, but they would still need to pay him to ride the bus.
As a result, the Canadiens will most likely wait until this summer before making a decision on Gomer as they might find a taker after the season as he will only collect a total of $9.5 millions in real salary over the next two seasons, but teams would be able to claim a cap hit of more than $14.7 millions. There might also be an amnesty provision in the next CBA (similar to the NBA) that will allow each team to cut one player from their roster with no salary cap ramifications. Teams would be able to clear out the expensive contracts of players like Gomez, Rick Dipietro and Wade Redden.
In the meantime, funny Websites and events have emerged over the Internet and at the Bell Centre to commemorate the one-year scoring slump such as No Single Goal In One Year. Le Skratch pool hall, which has two Montreal-area locations, is offering free shots when Gomez scores, but so far it hasn't cost them a dime!
To turn the knife in the wound, here are some enforcers who have scored at least one goal this season: Kevin Westgarth, Paul Bissonnette, Warren Peters, Mike Brown, Krys Barch, Colton Orr, Jared Boll, Tim Jackman, Zac Rinaldo, Brandon Prust and Mike Blunden.
Follow me on Twitter for more updates on the Scott Gomez goal watch and hockey in general.