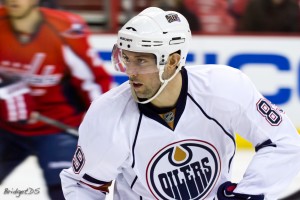 The Oilers roll into Toronto today with a 3-game win streak in hand. The Leafs haven't allowed a goal in 2 straight games. Something's gotta give tonight, but all eyes will likely be on 22 year old Sam Gagner. Gagner followed up his record-tying 8 point performance against the Blackhawks with a 2 goal, 3 point game vs. the Red Wings. He also scored in the shoot-out to help Edmonton get past league leading Detroit 5-4. The Oilers have stormed out of the All-star break, and a lot of it can be attributed to the fact that they're getting healthier. Ryan Whitney and Cam Barker came back into the line-up after the break. Ryan Nugent-Hopkins made his return last game, and Tom Gilbert is set to be back tonight. It's refreshing to see players finally coming back from injury. And it's been a long time coming, as Edmonton has been among the league leaders in man games lost over the past few seasons.
The Oilers would love to add a top 4 defenceman (just as a lot of other teams do), which makes the case of the impending RFA Sam Gagner all the more interesting. The Oilers haven't come out and said they are looking to move Gagner, and the recent offensive outburst has certainly been welcomed. But will that enhance his trade value? Going into the big game against Chicago, Gagner had just 5 goals on the year. The scouting report is that he isn't the strongest skater, and he's too small to be a first line center. But Gagner has the drive and the hockey sense to be a valuable top 6 forward. If Edmonton gets an offer that will help them now and in the future, the deal might be made. Some critics felt that the 8 point night was a just a fluke, but two powerplay goals the following game did wonders to dispel that theory.
So what can be expected of Gagner going forward? Many people felt that the Oilers did a disservice to Gagner by bringing him into the NHL at 18 years old. Pundits felt it would have been better for his development to remain in junior, or even go to the AHL first. But hindsight is 20/20 and it looks like the 5 year NHL veteran is finally finding his groove. The most goals Gagner has ever scored in one season is 16, which came in the 2008-09. His career high in points was 49 in his rookie year. The hope/expectation is that Gagner can be a 20 goal scorer. Through 45 games this year, he has 11 goals and 33 points.
The biggest question facing the Oilers is whether or not they see Gagner as part of their core moving forward. At just 22 years of age, he hasn't even hit his prime, and has plenty of room to grow. But his recent surge has trade partners watching closely. Tonight will certainly be an interesting game for the Oilers. Will they be able to get anything past Leafs goalie James Reimer, who's finally finding his way again? Can Gagner put up more points? The last few games have made this season a lot more intriguing in Edmonton, and in the weeks leading up to the trade deadline, things will likely continue to heat up.