The Detroit Red Wings are down in Phoenix to take on the Coyotes tonight in their first post Super Bowl game. Hopefully the guys were not partying too much last night and can get a new winning streak going.
Tonight will be former Coyote Dan Cleary's 800th NHL game; though he left practice early today he is still expected to be in the line up tonight.
All-Star goaltender Jimmy Howard is sidelined for his second game with a broken; and either Ty Conklin or Joey MacDonald will start. After the showing in the last game it is probably a safe bet to go with Joey MacDonald as the starter tonight over Conklin whom let in three goals on nine shots.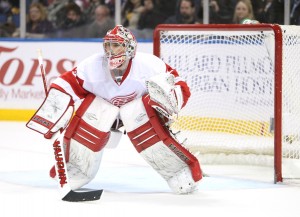 Is it too soon to say there is a goalie situation in Detroit? Not really. Fact is Howard will be back once he is mended and then someone has to get bumped back down to the Griffins (or up of you want to look at it geographically).
Joey MacDonald has been with the Grand Rapids Griffins until his call up to the Red Wings after Howard went down injured after the game in Vancouver. In his 26 games played this season MacDonald has posted a 11-11-3-3 record. With 62 goals allowed and 654 saves he has a GAA of 2.63 (equates to a 0.913 save percentage).
Ty Conklin, on a one-year contract with Detroit, has a 3-5-1 record after playing in 11 games this season (goalie math is awesome – if only my math teachers would of accepted numbers like that!). Conklin has allowed 32 goals while making 263 saves to give him a GAA of 3.40 (0.957 save percentage).
In his two periods of play (plus over time) with the Red Wings thus far MacDonald has allowed only one goal while making 23 saves.
Tonight will be take two in the backup goalie battle for Detroit – may the best goalie win.
For more details about tonight's match up check out George Malik's update over at Kuklas Korner.