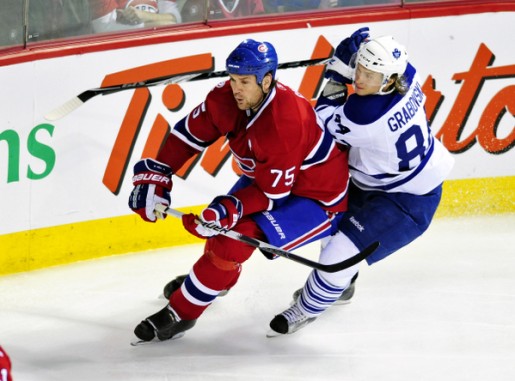 Maple Leafs Panel is a weekly feature that is published every Monday here on The Hockey Writers. It is a feature where THW Toronto Maple Leafs correspondents Lukas Hardonk, Mark Ascione and Alex Mamalis answer three questions that concern the Maple Leafs each week. To catch up on previous editions, click here.
Question: Mikhail Grabovski has been on fire lately and the trade deadline is approaching. With his contract set to expire, people are looking for other players who compare to Grabovski in case the Leafs decide to re-sign him rather than trade him. We ask, where does Grabovski rank in terms of top centres in the NHL?
Lukas Hardonk: Grabovski can score, set up plays, win faceoffs and isn't terrible defensively; he even gets the odd penalty kill time. To add to all of that, Grabovski is a leader in the room and has been rewarded for it with an 'A' on his jersey. Because of his unique playing style, it's tough to compare him to others around the league.
There aren't many centres around the league who can do what Grabovski does. He is also consistent and appears to be getting better. With that, there is no doubt that he is easily a top-30 centre in the league, possibly top-20. At this point you can't go much higher than 15th; keep in mind that he is still a second line centre.
Mark Ascione: I think Mikhail Grabovski is a great fit for the Leafs. He's a decent playmaker and kind of shifty, and he also goes on these little streaks that can prove to be very exciting. In terms of where he sits in the league, I would have to put him somewhere around 20th. I don't believe he's consistently better than about 60 points and he is not an NHL-caliber first line center, but is certainly very capable of being a second line guy.
Alex Mamalis: I'd put Grabovski in the 20-25 range. He's a very versatile, two-way centre who, though is streaky, is still defensively responsible all the time. He's counted on to do a ton for this team; run the second power play, shutdown other teams' number centre and occasionally contribute on the penalty kill are a few of his tasks.
That's a lot for a supposed second line centre. There are centres who more take the whole way round and that's why he's not even a top 15 pick. Overall, though, he's a solid centre who does more than asked and much more than a second line centre is supposed to do.
Question: The Leafs are just beginning a stretch run in which they will seriously compete for one of the final playoff spots for the first time in years. During the final 30 games or so no one can slack off, but who needs to step up the most?
Lukas Hardonk: While Nikolai Kulemin is finally starting to notch some points, he has been dead silent when it comes to scoring goals pretty much all season long. With just five goals this season, he isn't going to finish anywhere close to the 30 that he scored last season.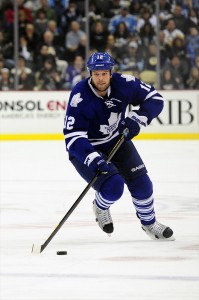 Sure, the Leafs' secondary scorers have been hot lately, but Kulemin is one of those players who needs to score when the top line goes dry. He is one of the Leafs' biggest forwards, has a tremendous shot and can skate well. With all of those attributes he should be back around 30 this season, but he won't be.
Mark Ascione: I may have tipped my answer with a recent article, but I think it has to be Tim Connolly. I know there were questions about his health and what he might be able to do, but he was the big free agent signing for the Maple Leafs this past summer and he was supposed to be a first line guy.
I think some thought 65-70 points playing with Kessel and Lupul was realistic, but he's pretty much done none of what he was supposed to. He needs to be much better, especially at cap hit of $4.75 million.
Alex Mamalis: James Reimer will have to continue his ways of last season to secure a playoff spot for Toronto. He's done mightily his last two games and he'll have to continue at a moderate pace for Toronto to succeed.
Question: For the first time in years, the Maple Leafs find themselves seriously in the mix for a playoff spot past the All-Star break. In order to qualify for the post-season, the Leafs will need to be sharp in just about every area of their game. What do they need to do best if they're going to qualify?
Lukas Hardonk: For me, this one is simple: Kill penalties. For this first half of the season, the Leafs couldn't kill off one of their own penalties if it saved their lives. Now, not only are they killing penalties, but they are staying out of the box as well. The results have been positive.
The Maple Leafs have not allowed a power play goal against since December 31 against the Winnipeg Jets. Since that game, Toronto has gone 9-4-1, good for 19 points. If they keep that pace up, there is no doubt that they will be playing hockey in mid-April. All it will take is a little discipline and smarts.
Mark Ascione:  Simply put, the Maple Leafs have to be a defensively responsible group. Goaltending has been very good and their forwards are producing. Unlike earlier in the season, the offensive production has even spread out a bit.
Despite all of that, they will need to be a good defensive team, reduce the opposition's scoring chances and not get caught out of position. That will also keep penalties down. Good defence will quietly translate into wins.
Alex Mamalis: I believe establishing consistent specials team both ways could go a long way in making Toronto the most dangerous they can be. They've see-sawed with their special teams and by getting their penalty kill and power play going at the same time, they could really establish themselves as more than a bottom playoff seeder.
Follow the panel on Twitter: Lukas Hardonk, Mark Ascione and Alex Mamalis.