Through many believed that the Los Angeles Kings would return their entire 2012 Stanley Cup Champion roster for the 2013 season, the team finally made a move to change that today. The Kings dealt forward Kevin Westgarth, best known for his work on the CBA as of late, to the Carolina Hurricanes for forward Anthony Stewart, a 4th round pick in 2013, and a 6th round pick in 2014.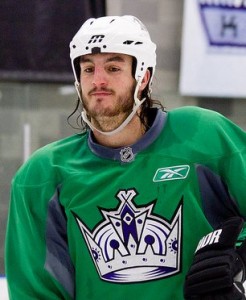 Westgarth, who was signed as a free agent by the Kings in 2007, played 90 regular season games for Los Angeles and recorded 5 points to go along with 153 penalty minutes. He also played in 6 playoff games for the team in 2011, but did not dress during last year's spectacular playoff run. Though he was an enforcer on the ice, the Princeton graduate made a name for himself during the recent lockout as a vocal representative for the players in CBA negotiations.
If there could be any perfect destination for Westgarth, it is certainly with the Hurricanes. He already spends his offseasons in the Carolinas, where his father-in-law, former NFL coach Bill Cowher, also resides.
In return, former 2003 1st round pick Anthony Stewart will join the Kings. This will be his fourth NHL team after playing with the Florida Panthers, Atlanta Thrashers, and Carolina Hurricanes. In 262 regular season games, Stewart has amassed 27 goals and 44 assists for 71 points. During the lockout, Stewart signed with the Nottingham Panthers in the United Kingdom and recorded 6 goals and 5 assists in 19 games.
http://youtu.be/ng73Ev-eJAI
On its face, this move is certainly a win for the Kings. Westgarth hardly received any playing time after Darryl Sutter took over as coach and now he can go settle into a permanent home in North Carolina. Meanwhile, the Kings add a more skilled depth winger who will push the third and fourth lines to produce. The additional 4th and 6th round picks appear to be the icing on the cake for Dean Lombardi's first move in 2013.
According to David Pagnotta of The Fourth Period, Lombardi may not be done yet either. With Willie Mitchell sidelined indefinitely with a knee injury, the Kings GM is still looking for another defenseman before the season begins.
Kings still in the market for a defenseman, despite this morning's trade.

— David Pagnotta (@TheFourthPeriod) January 13, 2013
Meanwhile, you can follow the new Kings forward on twitter: @EhStew13. He's ready to join the ranks.
Thankful for the opportunity to play for the defending Stanley Cup Champions #doigetaring

— Anthony Stewart (@EhStew13) January 13, 2013