At long last, the sound of skates carving into fresh ice and pucks slamming into boards from rusty shooters fill practice arenas all over North America. Team offices are not at all quiet on this first official day of NHL business – despite it being the designated day of rest for many.
On the signing and tryout front, agents had been taking calls on free agents, both of the restricted and unrestricted variety, before the gun officially went off at midnight ET Sunday morning. As a result, a couple of training camp invites received quick RSVP and a couple of signings allowed newly-inked players on to the ice in a timely fashion.
Meanwhile, some players were scoping out new addresses thanks to the first trades of the 2013 season. Others still, should get comfortable in their current places of residence as they're expected to be watching their current employer go in a different direction entirely.
Last thing first.
Habs: Go Home, Gomez
Montreal Canadiens new general manager Marc Bergevin told Scott Gomez early Sunday morning not to take the ice for the Canadiens and that his services will not be necessary this year. Since being acquired from the New York Rangers for, most notably, defensive ace Ryan McDonagh, Gomez hasn't been worth his price tag. As a result, the Habs will put him on layaway to prevent injury. Gomez will continue to be paid and will continue to count against the salary cap (minus $900K) until Montreal uses one of their compliance buyouts on him in the summer.
As a paper transaction, the Habs will waive Gomez and assign him to Hamilton of the AHL; they will instruct him not to report.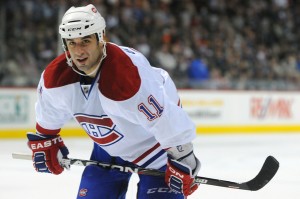 It's a tough position for Montreal and their new boss Marc Bergevin. Bergevin is about as good of a team guy as anyone can ask for and this could not have been easy for him. The Canadiens can't afford to have Gomez get injured, as clubs cannot buyout injured players, so they'll bubble wrap him and put him storage. Though serviceable as a Ranger, Gomez hasn't been overly effective since his days in New Jersey where he was a top-notch puck carrier and set-up man. Gomez's play has been so far below the mark that it has become a distraction for the team and it's best to part ways with him as crisply and quickly as they can. Bergevin said that he will accept a trade offer for him, but it seems unlikely a club will become so desperate.
More on Gomez from Fred Poulin.
Blueshirts alter defense
In New York, the same situation applies to much-maligned defenseman Wade Redden. He hasn't been a focal point of discussion like Gomez has because Redden hasn't played in the league since 2010.
The Rangers made other, more pertinent, adjustments to their defense as well on Sunday. They added Matt Gilroy back in to the fold. The 28-year-old right-handed shooter had been skating with the Rangers' AHL affiliate in Connecticut and will likely fight it out for time on the third pairing with the likes of Steve Eminger, Anton Stralman and Stu Bickel.
Since Gilroy has been signed as a free agent out of college in 2009, he has been less than stellar and has played a bit part on three teams in three years. His defensive play and decision making, in particular, have been under the microscope even when playing a role that doesn't see him face the league's top men regularly. He's more of a power play player than anything but I'm not sure he's quite good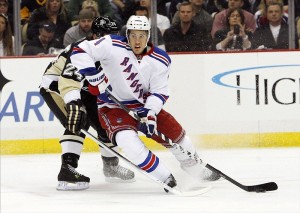 enough to be labeled a "specialist." He'll have a hard time beating out Stralman for a roster spot on that front. It's also remotely possible, in a pinch, that the Rangers could move Gilroy up to fourth line winger – same possibility applies for sluggish defenseman Stu Bickel.
GM Glen Sather wasn't done either. He tried his best to show what a "second contract" should look like in the new, new NHL when he signed Michael Del Zotto to a two-year pact, worth $2.55 million per season. The 2008 first rounder racked up career highs in goals (10), assists (31) and points (41) while playing more than 22 minutes per night. He's a defenseman with terrific offensive instincts and is a wonderful puck-mover from the back line and in transition. Though he's improving defensively, it's still not a strong suit of his. No worry, the Rangers have Marc Staal, Ryan McDonagh and Dan Girardi three defensive defenseman of great quality. Not listed Michael Sauer, who has still not recovered from his concussion and may miss the entire 2013 season.
Depth moves ruled the day
The Vancouver Canucks signed Cam Barker to a one-year deal worth $700,000. Barker was on a tryout with the Texas Stars (AHL) during the lockout and logged big minutes under Willie Desjardins until he was released. Though, like his play in the NHL, it lacked consistency and substance overall. He's a passive player that is averse to physical play – a negative trait magnified by his size. He's an offensive defenseman but his hockey sense and defensive play have kept him from being a prominent NHLer to date. It's a touch surprising that he didn't opt for Europe, where his game would probably look a little less questionable. I wonder if Vancouver has found a dance partner for Keith Ballard or if it's simply a move for their minor league affiliate.
The Buffalo Sabres have brought back two-way forward Jochen Hecht. His deal of one year, provides for $1 million in salary with a chance for $250,000 more if he hits certain games played bonuses. The German left wing/center has played with the Sabres since 2002, but was limited to 22 games last season. Hecht is a veteran that provides a good defensive conscience to any line. However, as he increases his age, his inability to stay healthy becomes more and more apparent. He possesses the puck well and does fine work along the boards. He shouldn't be counted on for any sort of heavy lifting at this point though.
The Philadelphia Flyers inked Kurtis Foster to a one-year deal. The big, hard shooting defenseman played for three NHL teams in 2011-12. This will be Foster's ninth organization since being a Calgary second rounder in 2000. At 6'5", 225 lbs., Foster is more of a power play specialist than anything. He has a terrific shot from the point but doesn't bring much else. He can get lost in the wash rather easily defensively and his lack of lateral skating prevents him from being a good match against speed. Despite his size, he's not much of a physical presence, in fact, he can be knocked off his feet surprisingly easily by more industrious players. Foster is another player on the Flyers depth chart that fits the "6/7 defenseman" description that includes Bruno Gervais, Matt Walker, Danny Syvret, Andreas Lilja and more.
Hurricanes make two swaps
On the trade front, Carolina was involved early on the minor deals.
First they sent backup goaltender Brian Boucher and defensive prospect Mark Alt to Philadelphia for minor leaguer Luke Pither. Carolina, as a result, signed veteran backup Dan Ellis to a one-year, $650,000 deal so he can backup Cam Ward this season.
Boucher is currently the #3 goalie in Philadelphia behind another fringe player in Michael Leighton. This is Boucher's third stint with the Flyers including his selection in the first round of the 1995 draft. It's a bit of a head scratcher all together for Philadelphia, a team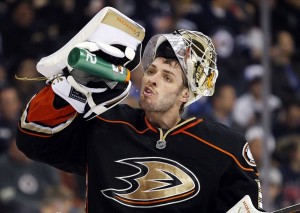 that has been tied to Roberto Luongo trade rumors, as it doesn't really satisfy a need for them at face value. Boucher and Leighton are both goaltenders of little fanfare and after the season Ilya Bryzgalov had, it's a wonder that they wouldn't invest in something a little bit more sure-handed.
Luke Pither is an offensive player that is rather one-dimensional. He has struggled to hold his head above water even at the AHL level and looks like nothing more than a contract going back the other way. Mark Alt is the most interesting player in the deal. More of an athlete still than a hockey player, Alt has a lot of tools at his disposal, but it's unclear if they build anything. He's big, a good skater and seems to take the man defensively well enough. He doesn't seem like a naturalized hockey player yet (his father, John, was a football player, and so was Mark until he went the direction of hockey in college), so his decision making and processor speeds are a little flimsy right now. He's had a rougher year at the University of Minnesota this season than last, but given the echo heard in the Flyers' prospect cupboard, they're not in a position to turn down even a mid-level prospect at this point. The Flyers will get another season to decide on Alt and whether or not he's worth an entry-level contract.
Additionally, the Hurricanes shipped out depth forward Anthony Stewart with a 2013 fourth round pick and a 2014 sixth round pick to Los Angeles for enforcer Kevin Westgarth. Stewart hasn't brought much to the table since being a first round pick in 2003 and will now embark on his fourth organization in as many years. Like Barker and Foster above, Stewart is also more bark than bite. He was projected to be more of a scoring power forward, but he lacks a lot of determination and finishing ability. As a result, he's been rightfully marginalized at the NHL level. Stewart was waived last year and no one batted an eyelash.
Westgarth, a union man, plays his best without gloves. He's got some strength to him and is a good locker room presence by all accounts. With a hockey stick in his hand, he doesn't bring a ton to the team unfortunately. The Canes save a few bucks in the deal and get someone that is ready to throw hands.
Other transactions/tryouts/waivers:
The Capitals have brought back winger Eric Fehr on a one-year deal. Fehr struggled last season thanks to a shoulder injury.
The New York Islanders re-grabbed positional defenseman Radek Martinek. The one-year deal reunites Martinek with the Islanders where he has played 462 of his 469 NHL games. Though an injury magnet, Martinek is an effective defensive defenseman that can eat minutes when healthy.
Mike Mottau and Cody Franson have both signed on in Toronto. For more on the Leafs defense, Mark Ritter discusses them here.
The Minnesota Wild will re-up winger Nick Palmieri to a one-year, two-way deal today or tomorrow.
Training camp tryouts:
Mike Knuble with Detroit, Mathieu Darche with New Jersey, Pierre-Luc Letorneau-Leblond with Anaheim, Brad Winchester with Calgary.
Many players on waivers Sunday, including Matt Smaby, Pat Maroon (a focal point of a recent article by Ted Warren), Cody Bass, Ben Maxwell and more. Two players were placed on unconditional waivers which typically means a mutual termination of a contract is forthcoming – both from Montreal: goaltender Cedrick Desjardins and winger Alain Berger. It appears as if Berger is in Europe for good at this point.