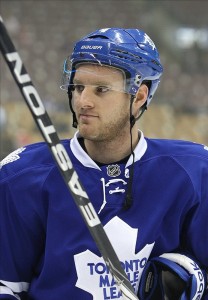 In a move that was probably long overdue, the Toronto Maple Leafs are expected to sign restricted free agent defenseman Cody Franson to a one-year deal worth a reported $1 million as soon as the NHL and NHLPA have signed the new CBA.
TSN insider Bob McKenzie announced the potential signing via Twitter on Saturday prior to Brian Burke's goodbye press conference.
Left without a new contract following the 2011-12 season, Franson signed a deal with Brynas of the Swedish Elite League during the lockout. Obviously, that contract had an out-clause, which allowed Franson to seek and sign a new deal with the Maple leafs.
Franson will be a measure of depth to the Maple leafs blueline which is expected to include the likes of captain Dion Phaneuf, John-Micheal Liles, Jake Gardiner, Carl Gunnarsson and Mike Komisarek.
Acquired via a trade that saw Brett Lebda, Robert Slaney and a conditional fourth round draft choice heading to the Nashville Predators in return for Franson and forward Matthew Lombardi, the Maple Leafs know what to expect from Franson.
Used sparingly by former Maple Leafs head coach Ron Wilson throughout the 2011-12 season, Franson posted 21 points (five goals, 16 assists) through 57 games with the Blue and White, including two power play markers.
Known as a solid two-way defenseman with a heavy shot, Franson has some upside, especially offensively which means he could see more time on the power play this season. At 6'5", 213 pounds, Franson brings decent size, but is not known as a physical player.
Jake Gardiner is currently injured, which means one of Korbinian Holzer (who has a one-way deal with the Maple Leafs) Mike Kostka or Paul Ranger will see some action with the big club, at least in the short term.
Holzer looks to be the most obvious choice to eat up some of Gardiner's minutes, but do not under estimate Kostka or Ranger; both of whom have been playing well with the Maple Leafs AHL affiliate, the Toronto Marlies.
Kostka leads all Marlies' defensemen with 34 points (six goals, 28 assists), while Ranger has looked excellent in his return from a considerable absence with the Tampa Bay Lightning of the NHL, posting a plus-16 rating to go along with his five goals and 13 assists for a total of 18 points.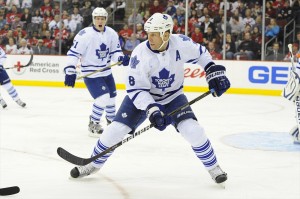 The Maple Leafs blueline depth could be altered should Maple Leafs President and general manager Dave Nonis decide to buyout Mike Komisaerk's contract which has two-years at a cap hit of $4.5 million per season ($7 million in actual salary) left on it.
It is unlikely Komisarek will be bought out before the season starts, but there is every indication that Nonis will consider making the move should Komisarek's play continue to falter.
Originally signed as a free agent by the Maple Leafs on July 1, 2009, Komisarek missed the majority of the 2009-10 season due to a shoulder injury which required surgery. Komisarek has failed to establish himself as a solid top-six defenseman throughout his tenure with Toronto, often finding himself playing a reduced role and/or in the press box sitting out games.
At 6'4" and 243 pounds, Komisarek brings considerable size to Toronto's backend, but he has failed to deliver in the physical department. Through 154 career games with the Blue and White Komisarek has registered two goals, 19 points, 167 penalty minutes and a paltry minus-30 rating.
Known as an honest, opinionated and trusted writer, Mark Ritter brings a unique view on the Maple Leafs and the NHL in general. Mark has been writing about hockey for almost ten years and is known for bringing an honest view on the Maple Leafs. You can view more of Mark's work at www.theslapshot.com
Please follow Mark on Twitter: @theslapshot