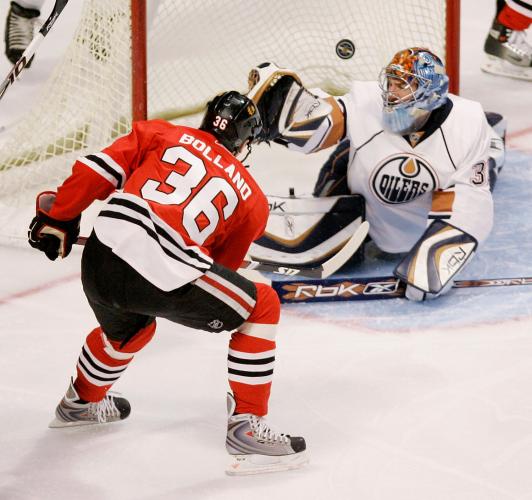 In 2010, Dave Bolland publicly received his nickname "the Rat" after the Blackhawks knocked off the Vancouver Canucks in six games, where he was an integral part of shutting down Henrik Sedin and Daniel Sedin. After Chicago moved on, Bolland proceeded to nibble away at foes such as Joe Thornton and Mike Richards until they couldn't take it anymore and helping the Blackhawks win their first Stanley Cup since 1961. In a nutshell, Dave Bolland is the most successful pest the NHL has seen since Ken Linseman, only Bolland also has some flash to his game to back up his grit and peskiness.
Many fans around Chicago have wanted to see Bolland move up to the 2nd line center slot since he does add an offensive spark to any line he plays on. The argument is valid considering the Blackhawks have not solidified the 2nd line center position since Michael Nylander and Alexei Zhamnov ran the show in Chicago — which in all fairness is still a time we would all like to forget. Unfortunately, Bolland simply is too good of a shutdown center to warrant a promotion; Joel Quenneville has been very hesitant to move him up, even if it means revolving Patrick Kane, Patrick Sharp, and Marcus Kruger in that slot.
He may never get his chance on an offensive unit, but Dave Bolland is a hard-nosed competitor that will shadow the opposing teams top players and not only shut them down, but he'll also score on them. During the course of his career, he is a plus-40 — evidence of his success even against the most prolific competitors in Pavel Datsyuk, Anze Kopitar, Ryan Getzlaf, and pretty much any teams top players on any given night. This role is far too valuable to give up, even if Bolland could keep up with Chicago's top offensive players in a production role, who else would stand a chance against the opposing team's top line and take over the title of shut-down center?
He is fantastic in tight areas,  along the boards, and heaven forbid the opposition gets some open space, Dave Bolland will be on top of their skates instantly to make it hell getting the puck to the net. This is where his traits as a pest come into full view — it's not so much the chirping he does on the ice, or how dirty he can be as a player… it's just a matter of how frustrating it is to get an opportunity when "the Rat" is on your back and suffocating you like a plastic bag. Seriously, try playing with a plastic bag over your head and it would be just as effective as being matched up against this guy. Eventually you'll get pretty frustrated and try to rip it off.
There are two areas Bolland can improve in: health and face-offs. Year in and year out, it's hard to tell how healthy Bolland can be due to his style of play. This year, Bolland should show more of the same. Some offensive touch along with his unmatched shut-down ability, hopefully missing only a handful of games or maybe this is the year he stays healthy. Even though the injuries have piled up in the past, you just can't get rid of someone like Dave. No one has ever won a Stanley Cup on finesse or talent alone. This isn't suggesting Dave can't be that type of player (after all, you can't put a rat on a power-play) but he definitely has that important edge to his game that the Blackhawks will need if they want any success in the Stanley Cup Playoffs.
***
PREDICTION: 38 GAMES | 9 GOALS | 11 ASSISTS | 20 POINTS | PLUS-6
UPDATE (1/13/2013): It looks like Joel Quenneville is planning on giving Bolland a tryout on the 2nd line between Patrick Sharp and Patrick Kane. In the past, Quenneville has been fairly stubborn in allowing Dave to prove himself in an offensive role, it seems as if Stan Bowman is not planning on acquiring a 2nd line center so this is Bolland's job to lose. I am confident that Bolland will flourish in his new role and that my prediction most-likely will see an upgrade in his point total by about 5-10 points.