The 2005 NHL Draft was like any other. Every organization walked into the Westin Hotel in Ottawa hoping to select a player that would forever change the fate of their franchise.
The St. Louis Blues were no different. When they selected T.J. Oshie with the 24th overall pick they were hoping he would blossom into a dynamic forward that could lead their team into the post-lockout era.
Like the majority of selections made in any draft, it was a gamble. Oshie had excelled in his three seasons at Warroad High School in Minnesota, tallying 100 points in 31 games during his senior year, but those numbers were questionable considering they were put up against limited competition. Despite his remarkable raw skills the scouts couldn't help but wonder if they would ever translate into professional success.
It's been seven years since that initial gamble and I'm confident to say that the Blues came out on top of that wager. Not only has Oshie excelled production wise during his first four seasons with the Blues (175 points in 262 games) but he has grown into a leader for a team that won the Central division in 2011-2012 for the first time since 1999-2000.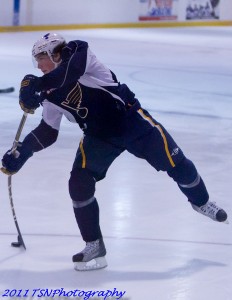 At 25 years old it's safe to say that Oshie's best days are ahead of him, but there was a time when his future with the organization wasn't so certain.
After experiencing success in his first two NHL seasons he hit a snag in year three. His offensive production had steadily increased in 2011-2012 but his value had taken a dramatic hit because of a single incident.
That previous March Oshie had been suspended two games by the organization after failing to show-up for an afternoon practice. The details surrounding the absence never emerged but they didn't have to, the damage to Oshie's reputation was already done. The dreaded 'immature' label had been branded onto the former first rounder and questions surrounding his dedication to hockey swirled as stories of Oshie's past run-ins with the law resurfaced.
The following summer Oshie's entry level contract had ended and it was time to negotiate a new deal. It was a contract that in all reality should have solidified his title as the future of the franchise. Instead he was given a one-year deal worth $2.35 million.
That contract said a lot about the uncertainty surrounding Oshie at the time. His talent was undeniable but was it worth the potential trouble that he could cause in the future? Could he stay healthy? These were the questions the Blues wanted answered before they signed him to a long-term deal.
On Oshie's end there were two ways that he could have reacted to the contract. He could choose option A: solidifying his immature label by feeling slighted and acting accordingly. He knew he was worth more, the Blue's knew was worth more and so did everyone in the NHL. If they weren't willing to give him what he is worth because of a single up and down season then why should he take them seriously?
Or he could go with option B: take it as a challenge. He would have one year to prove that he was worth the multi-year deal that his fellow 2005 draftees were signing. He could cement himself as a building block for an organization on the rise.
Fast forward to the summer of 2012 and we can say with certainty that he went with option B. Not only did he manage to stay out of trouble off the ice but he had a career year on it.
He set career highs in games played (80), goals (19), assists (35) and points (54). Those statistics only tell a portion of the story though. What can't be gauged by statistics is the hustle and determination he showed every game. He flourished into one of the best two-way players in the entire NHL and helped carry a team that struggled with devastating injuries throughout the entire season. He embodied everything that made the 2011-2012 St. Louis Blues successful.
In the end the Blues rewarded Oshie's stellar season by signing him to a five-year, $20.875 contract this past July. With his future set in stone it's time to see just how could he can be.
Along with David Backes he'll be expected to carry the bulk of the offensive load for a team that struggled to put the puck in the back of the net in 2011-2012 (21st out of 30 teams in GF/G). People might look at his career high in goals and wonder how a player who has yet to score over 20 goals in a season could carry an offense but you have to realize that Oshie's numbers don't necessarily reflect his skill level.
When it comes to the offensive side of the puck Oshie has an excellent set of tools in his bag. He has a rare combination of speed and strength that makes him a nightmare for defenseman but unlike most grinders he has a touch of finesse to his game. He can just as easily put the puck between your legs and skate around you as he can skate through you.
http://www.youtube.com/watch?v=4w2oaUMBCtI
If he has all these tools then why haven't they translated into the stats we have come to expect from offensive dynamos? Simply put, that's not his style of play. There is no doubt in my mind that if Oshie focused solely on the offensive side of the game he could become a perennial 30-35 goals per season forward, but that would take away the thing that makes him vital to the Blues; his defense.
Unlike most highly skilled forwards, Oshie shows a willingness to track back into his own zone to win the puck. He is willing to fight along the boards and grind against opposing forwards instead of just waiting for another teammate to gain possession so he can break out into the neutral zone. He is willing to do anything for his team to succeed.
It's that kind of willingness that makes Oshie such a unique player. Instead of becoming a dynamic one-way player he has become an elite two-way player that resembles Pavel Datsyuk. By evolving into this style of player he has become one of the most valuable players on a talented Blues roster and quite possibly the future captain of a Stanley Cup caliber squad.
He may not be on the same level as Crosby when it comes to franchise defining selections in the 2005 NHL Draft but he is everything the Blues hoped for when they took him on that summer day in Ottawa.