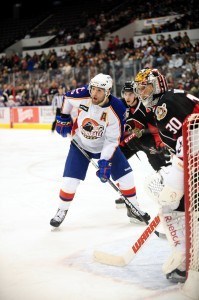 When hockey fans think of a complete package player, many think of a player who is proficient at both ends of the ice. The Norfolk Admirals have the total package in Assistant Captain 24-year-old Patrick Maroon. The St. Louis native does it all—scoring, passing, and playing defense while standing up for his teammates.
Maroon has delivered for Norfolk offensively this season securing 20 points in 30 games played.  He is ranked 3rd in the club in scoring trailing Peter Holland who sits atop the team with 29 points.
Admirals Associate Coach Mike Haviland described Maroon as, "A big power forward who protects the puck down low.  For a big man, he has good hands and he's tough. He's got the complete package." Maroon is the type of forward who takes pride down low in the attacking zone and overloads opposing netminders standing at 6'2" and weighing in at 230 pounds.
If you canvass Scope arena in downtown Norfolk asking fans to describe Patrick Maroon, many will say he is a power forward with hands as smooth as silk. Maroon will agree commenting on his playing style saying, "Obviously a power forward and I like to grind it out too. I'm the type of guy who likes to get the puck in deep and go to work and help my teammates find the net."
"Slim" as he is known to his Junior teammates is wearing the A on his sweater this season for the Admirals and it is not a role that Maroon takes lightly.  "I just try to go out every night and led by example. I just try and trigger the team letting them know that I'm here to play and hopefully they follow my led." declared Maroon on his veteran status.
Almost every athlete has a driving force that propels them in their profession. Patty is no different.  Norfolk's Associate Coach shared what he thinks propels Maroon stating, "He's got a little son at home he is close too and that's an inspiration to him. Patty is trying to prove himself in the National Hockey League that I'm a power forward and I can play."
If you ask the rugged left-winger what drives him he will reply, "Just to get to the next level. Just being passionate about it and I want to be in the NHL." Maroon received a taste of the NHL life last season suiting up for two games with the Ducks. He shared his thoughts on being in the NHL declaring," I was running high on emotion thinking this was a dream come true. This is what I was dreaming about since I was 5 years old. My Mom, Dad, and my closest friends got to watch me play. They were just as excited as I was." Maroon was in good company too starting the game on a line with Ducks Captain Ryan Getzlaf and Hart Memorial Trophy winner Corey Perry. Truly a dream come true for Patrick.
There are always folks in the hockey community that players note have helped them succeeded in their career. Maroon noted AHL 2012 Coach of the Year Jon Cooper as one of the coaches that has helped him succeed. Under Cooper's guidance with the St. Louis Bandits, Maroon led the Club in points tallying 95  in 57 games during the 06-07 season which is impressive for a hometown kid playing part of his Juniors in St. Louis.
Every hockey fan has envisioned what it would be like to play hockey for a living. "Slim" gave his thoughts on his profession stating, "It's something that a lot of people can't say they wake up at 7:30 go to practice and go home at 1:00 and your day is done. It's a great job to have and hopefully I can continue my journey."
The AHL veteran has competed in 319 regular season games spanning over 5 and a half seasons with the Flyers and the Ducks organizations. The 2007 6th round draft pick continues his journey to the NHL this season with Norfolk. If the lockout ends, Maroon will be one of the prospects on the doorstep competing for a roster spot in Anaheim. If he continues his strong play down low and improves on his foot speed, he will be a top contender to play a high-energy role for the Ducks.
What coach wouldn't want a high energy complete package player on their NHL roster?
Follow Ted on Twitter @bauerhockeydude