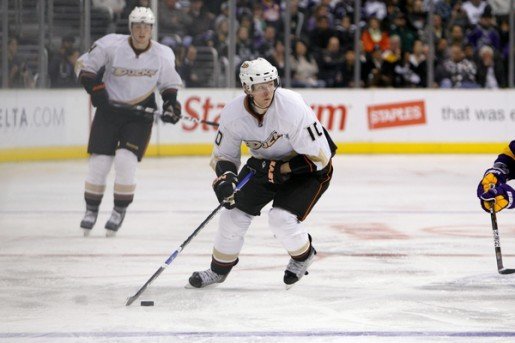 The Hockey Writers correspondent, Ted Warren, had the opportunity to have a Q&A session with Anaheim Ducks forward Corey Perry on Wednesday.  Perry answered a wide variety of questions, enjoy!
Ted: How are you keeping busy during the work stoppage?
CP:  Going to the gym in the morning. Then I practice with my old junior team here in London with Dale Hunter and his team.
Ted: What skills are you working on at the moment?
CP:  Just trying to get stronger and bigger.  You just try and work on everything, trying to stay sharp. If the lockout ends right away, you can be back on the ice in the next ten days.
Ted: You won the Olympic Gold, the Stanley Cup, the Memorial Cup, and the Hart Trophy along with the Maurice "Rocket" Richard Trophy.  Which one is the most memorable?
CP: All those things there are so different in so many different ways. For the Stanley Cup, you're going through blood, sweat, and tears for 82 games with the same guys night in and night out. Then you go into the Olympics and it's 14 days and 7 games. You have to come together as quickly as possible and be 1 team and almost act as 1 person out there so it's very different.
Ted:  You could not achieve all these accolades without great teammates.  How have they helped you progress in your career?
CP: You look at guys like Scott Niedermayer, Pronger, and Teemu Selanne.  Those types of guys, just watching them when you're young and coming into the league and what they do every night. It's pretty astonishing. They work hard off the ice and work as hard on the ice. When you look up to them they are three pretty good role models.
Ted: How is it playing alongside Getzlaf, Ryan and Teemu?
CP: You look at them and they are the top three guys in the league with skill.  They're pretty good with the sticks and seeing the ice.  You have one of the best goal scores of all time in Teemu so watching him score night in night out at his age is pretty amazing.
Ted: What kind of coach is Boudreau?
CP: He is a great coach.  He knows what he is talking about, he is passionate, and he cares about the game.  He cares about us and how we are away from the rink as well.  He demands respect.
Ted: Do you have any charities?
CP: I have a golf tournament here in London, Ontario every summer. It's called Well Spring.  They're a non-profit organization which helps families that are going through cancer.
Ted:  Is there anybody you cannot thank enough who has helped you along in your career?
CP: It's my parents.  They have taken me everywhere…Early mornings, late nights.  All the money they spent on gas, tournaments, and equipment you name it. I wouldn't be here if it wasn't for them.
Ted: Who are the Ducks biggest rivals besides the California-based teams?
CP:  When you look at it, Detroit could be up there.  We played them three years in a row in the playoffs. We had some heated battles with them and Vancouver.  They have given us a run for our money.
Ted: What was your favorite team growing up?
CP: Montreal Canadiens.
Ted: What is the toughest NHL rink to play in?
CP: The one where I get heckled the most is in Nashville. It's fun when you go in there and the fans are all over you.
Ted: What is your favorite NHL rink to play in?
CP: I like Vancouver. I love going to Montreal and I love going to Chicago. When you listen to the National Anthem and it gives you goose bumps. it's a pretty cool feeling.
Ted: Who is your favorite player?
CP: I have two…Gretzky and Lemieux.
Ted: Do you have a pre-game routine?
CP:  At home, we always eat at the same time. Everybody goes to the same restaurant to eat. I go home and have a nap and it's to the rink at 4:30 for a 7 o'clock game.
Ted: Is there any reason why you wear number 10?
CP:  In junior, I wore 94. In my first year in Anaheim, I wore 61.  Brian Burke asked me at the end of my 1st year what number do you want below 30?  I wore 10 as a kid so I thought I would go back to that.
*A special thank you to Corey Perry and his agent.