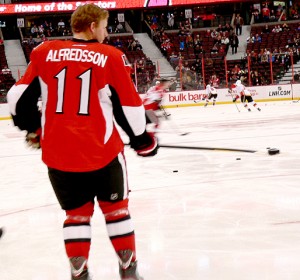 written by @iancmclaren
A quick look at the 1994 NHL Draft board reveals that the standout player of that particular class is, without question, Daniel Alfredsson.
In 1131 games played (second only to Ryan Smith's 1151) the man known simply as Alfie has amassed 416 goals & 666 assists for a total of 1082 career points, a clear 188 points ahead of second-ranked Patrick Elias.
He is a Calder Trophy winner, has been the captain of the Ottawa Senators for 13 years, and has almost twice as many points as the next highest scoring Senator of all-time. He because the first European-born captain to lead a team to the Cup Final in 2007, a nice international footnote to add to the Gold medal he won with Sweden at the 2006 Winter Olympics.
The amazing thing about this bio is that Alfredsson was selected in the 6th round (133rd overall), sandwiched between Bates Battaglia & Ryan Smart. And while it would take some time to go through each name that was called prior to his, what is interesting to note is that there were 4 picks made by the Ottawa Senators prior to the drafting of Alfredsson.
Here's a look at who they were, and what became of them.
Radek Bonk, C (Round 1 – 3)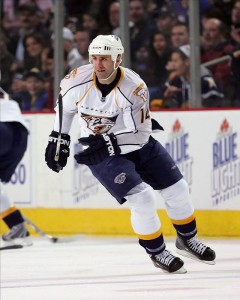 Bonk – a native of the Czech Republic – made his way over to North America at the tender age of 17, and began his pro hockey career in Las Vegas with the IHL's Thunder. In 76 games with the Thunder in 1993-94, Bonk scored 42 goals & 45 assists, giving the Senators brass sufficient grounds to gamble on Bonk with the 3rd overall pick.
Possessing a rare (at the time) combination of size and strength, the Senators hoped that the first forward taken in the draft (after D-men Ed Jovanovski & Oleg Tverdovsky) would compliment their previous top young draft picks (Alexandre Daigle & Alexei Yashin) while becoming a cornerstone for the young franchise.
Bonk would score only 11 points in 42 games during his first season in Ottawa, and hit a modest career high of 35 points through his first 5 seasons. It wasn't until the 1999-00 season that he displayed signs of living up to his billing, scoring 23 goals & 37 assists that year before reaching career highs of 25 goals & 45 assists in 2001-02, the only year in which he played a full 82 games as a Senator.
At the 2004 NHL Draft, however, Bonk was traded to the Kings for a 3rd round pick (used to select Shawn Weller), and was then flipped to the Canadiens (along with Christobal Huet) for Mathieu Garon and a 3rd round pick. Bonk spent a few years in Montreal before ending his NHL career in Nashville, and is currently playing for Trinec Ocelari HC in the Czech League. In 21 games this year, he has 29 points (9 goals, 20 assists), and his journeyman status flies in the face of the stability that Alfredsson has provided to the Senators over the years.
Stanislav Neckář, D (Round 2 -29)

The Senators went back to the Czech Republic for their second pick of the '94 Draft, selecting Stanislav Neckář out of Ceske Budejovice HC. He split his first year in the pros between Ottawa and Detroit Vipers of IHL, and was meant to be a vital cog on the defensive wheel of the team.
Not known for his scoring prowess (he would go on to score only 12 goals & 41 assists in 510 career NHL games), Neckář lasted only five seasons in Ottawa, two of which were cut short due to injury. In fact, after being jettisoned out of the Nation's capital, Neckář bounced around between four other teams, and averaging 35 games played per year over his next nine years in the league.
He did play two playoff games for the Lightning during their Cup run in '04, and Tampa Bay successfully petitioned to have his name on Lord Stanley's mug for his "efforts".
Neckář played one final year of pro hockey in Sweden for Sodertalje SK in 2005-06.
Bryan Masotta, G (Round 4 – 81)
Drafted out of Rensselaer Polytechnic Institute in Troy NY, Masotta played one year at the University of Maine before bouncing around the WCHL & WPHL for a few years, while only playing a handful of games along the way. His hockey career ended in 1999, leaving Senators fans with the knowledge that the likes of Marty Turco, Evgeni Nabokov, Tomáš Vokoun & Tim Thomas were all drafted post-Masotta. But hey, at least he got a page on an official NHL website out of the deal.
Mike Gaffney, D (Round 6 – 131)
Drafted 2 spots ahead of Alfredsson, Gaffney was plucked straight out of St. John's High School in Massachusetts, and spent 4 years at the University of Amherst – MA before trying to break into the pro ranks. Gaffney played in various North American leagues and had a brief stint overseas before getting a crack at the AHL, and his most productive year was with the Austin Ice Bats of the CHL back in 2002-03. That's where Gaffney's hockey dream died, but Sens fans can take solace in the fact that the 6th round wasn't a total loss.

Hindsight and draft success rates being what they are, most teams are fortunate to come out of any draft year with 1 or 2 players that climb to even half the level that Alfredsson has reached in Ottawa.
While the Senators have done well with early round picks over the years, it's rare to extract even a modicum of success from the later rounds.
The Bonk / Alfredsson spectrum reinforces the belief that the draft is a true crap shoot, where "sure things" can be anything but and late round "flyers" can rise to the very top.
At this point, Senators fan have to be hoping that they haven't seen the last of best of '94.