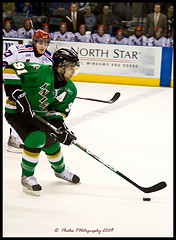 Expectation: Nazem Kadri is a three-part series.
Part II is available here.
Part III is available here.
It seems all peaks and valleys when it comes to the still-young career of Nazem Kadri. The now 22-year-old forward hasn't played a full season with the Maple Leafs, and yet since being drafted June 26, 2009 there's been little but tumult surrounding him.
Prior to the 2009 NHL Entry Draft, general manager Brian Burke had made it known that he was intent on dealing to move up from his 7th overall position – and his sights were set on the acknowledged best player available, John Tavares. Tavares was nothing short of a phenom; a Toronto-area kid granted 'exceptional player status' allowing him to enter the OHL at just 14 years of age. He did not disappoint either. CHL Rookie of the Year in 2006, CHL Player of the Year in 2007, Tavares broke Wayne Gretzky's OHL single season goal record with 72, as well as Peter Lee's OHL career goals record with 215. That Burke openly targeted him had LeafNation salivating. No such transaction materialized and unsurprisingly Tavares went first overall to the Islanders.
No matter thought LeafNation. Sure Tavares was gone, but there was always the chance to snag Brayden Schenn. Not only was he a highly regarded WHL forward and winner of the WHL Rookie of the Year, he was younger brother to Luke Schenn, the Leafs' defenceman who'd been drafted 5th overall only the year before. But no deal happened and the Kings selected the younger Schenn, coincidentally 5th overall.
So the Leafs end up selecting Nazem Kadri, a kid who seemed small and missed time with a broken jaw, but had some success with Kitchener and then London of the OHL. There was little buzz around him, especially since Burke himself had been talking up other players. In the eyes of some (many?) Kadri seemed a consolation prize – not the phenom Tavares, not the coveted younger Schenn. The team had recently lost Mats Sundin, a leader, and a big, skilled forward. But with the first 1st-round pick under the new GM, they took a small forward, and not a David Keon or Doug Gilmour or even Darcy Tucker small forward.
Fair? No. It wasn't Kadri's fault the franchise had a reputation for poor drafting and hadn't had a star first round pick since Wendel Clark. It wasn't his fault they'd mishandled prospect after prospect or traded away valuable draft picks for declining veterans. Nor was it his fault that small forwards like Jason Blake and Kyle Wellwood were unable to perform up to expectations with Toronto.
That's the environment that greeted Nazem Kadri as he pulled that Leaf sweater over his head in Montreal.
Making things even more difficult was the fact that Burke and head coach Ron Wilson had made it clear the era of entitlement, the atmosphere that had spawned stories of the 'Muskoka Five', the complacency that seemed to permeate the Leaf dressing room, was to be replaced by a meritocracy. As such, LeafNation was assured being drafted in the first round meant nothing was guaranteed for Kadri – he'd earn his spot, he wouldn't be handed anything.
The team brought Kadri  (then 6 feet tall, but 167 pounds) to the 2009 NHL training camp, and in 6 games, Kadri scored 3 goals and 5 points. However, he was deemed not among the top-6 best forwards by the coach, and was returned to London to play OHL hockey. Kadri didn't miss a beat, on his way to a 35-goal, 93-point season with the Knights. He also saw an emergency call-up to the Leafs on February 8, 2010, though he got no points and was -1. And then, a strange thing happened.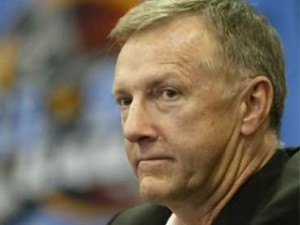 Between that call-up and the 2010 training camp, both Burke and Wilson made statements that Kadri was likely to make the NHL squad that season. Fans and media acknowledged he seemed a creative centre, perhaps someone who could help ignite Phil Kessel. The Leafs were thin on forward talent going into the season. But as training camp ended, Kadri was slated for demotion to the AHL. And it's not that he missed by a little – both Wilson and Burke were happy to share that Nazem needed lots of work on his defensive game, that he was nowhere near NHL-ready, especially when others, like journeyan Tim Brent, had worked harder.
A short 6 weeks later, the team was struggling, and though he'd been told he's not expected to be a saviour, Kadri (the then-leading scorer for the Marlies) was called up. In 17 games, he bounced among the forward lines, registered only 6 assists and a -4 rating. Sent back to the AHL, he finished play in that league with 17 goals and 41 points in 44 games. Kadri got in 12 more Leaf games to end 2010-11, and finished with 3 goals, 9 total assists and a -3 in 29 games overall. Through most of it, Burke made it known he was sheltering Kadri from the media. The GM was not shy about intimating reporters would badger and manipulate young players to get stories, or at the very least place the kid on a pedestal with the plan of later shoving him to the ground.
There was no doubt that Kadri had at least some tools, as he scored his first shootout goal versus Boston's Tim Thomas.
Having missed the post-season again, there was much to question and discuss in Leafland. But in the summer of 2011, much of it swirled around the kid who wore #43. By this point, the top 4 players drafted in 2009 (Tavares, Victor Hedman, Matt Duchene and Evander Kane) had all played almost 2 full seasons. Rumours had been circulating that perhaps Toronto could pry Brayden Schenn out of LA with Kadri being part of a package going to other way.
LeafNation was divided. Some heard the continued quotes from management that Kadri was not big enough, not defensively sound enough, and plainly not NHL-ready. They began to wonder if Nazem would ever become an NHL player, let alone a good one. Another group believed strongly that Kadri was a good offensive player and someone who could help the Leafs, if it wasn't for the coach misusing him, juggling his linemates and stifling his creativity. Others opined that the franchise had done enough damage to young players, and the best thing was to let Kadri play AHL hockey exclusively until it was apparent and undeniable that he was ready for the big show.
For his part, Nazem Kadri seemed to be rolling with it. He said the right things, that he was committed to playing in Toronto, that he was working on his strength and conditioning, he was learning from his coaches and just trying to get better.
Speculation was that the 2011 training camp would see Kadri compete hard for a spot with the Leafs. He wasn't the scrawny kid from 2009, and his game seemed more well-rounded than 2010. Expectations even seemed lowered, as management talked about Kadri playing 3rd line wing as opposed to front line centre.
But things did not get better. Nearing the end of camp, Kadri sprained a medial collateral ligament, shelving him for the start of the NHL season. He had not had a good camp, registering only 2 assists to that point. Instead, Matt Frattin had won the 3rd line spot, scoring 2 goals and 5 points in the same time frame.
As the 2011-12 season began, there was a huge focus on Nazem Kadri. He had essentially failed his third attempt to win a job in the NHL. He'd been unable to establish himself in any role – top-line pivot, scoring winger, even third-liner. He was maturing physically, but still seemed small, and had now been surpassed by Frattin, a 24 year old former 4th round draft pick fresh from US College hockey. Moreover, the Leafs had other needs to be addressed, and fans and media alike speculated that Kadri's greatest value might be in sweetening a trade and shipping him elsewhere.
What, exactly, did Toronto have in Nazem Kadri?
This is Part 1 of a Multi-Part Series. click here for Part 2