Expectation: Nazem Kadri is a three-part series.
Part I is available here.
Part III is available here.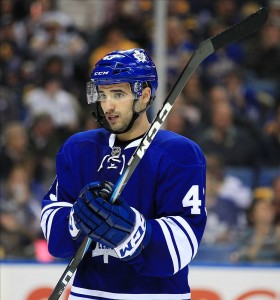 Nazem Kadri's medial collateral ligament sprain during the 2011 Maple Leaf training camp had given the organization an out. The injury meant Kadri couldn't start the season with the NHL club, regardless of his play. But the truth was Kadri had not won a spot – in fact his training camp had been disappointing.
In 2009-10, he was still a kid, unprepared to be an NHL regular. In 2010-11, management was unhappy with his play and felt he needed more grooming. Still, he played 29 NHL contests that year, and was close to a point/game player in 44 Marlie games. So it was a major disappointment when Kadri was near invisible during the 2011 camp while rookie Jake Gardiner shone and Matt Frattin worked his butt off to win a job. Management didn't hide that Kadri had not met expectations, but the knee injury made the point moot.
The Leafs had a glut at centre, but no standout, top-line guy. Mikhail Grabovski was the best of the bunch, with Tyler Bozak, Tim Connolly, Matt Lombardi, Dave Steckel and Phil Dupuis juggling centre and wing duties on various lines. Still, Kadri recovered enough from injury to get into the 6th game of the season.
He managed a single assist and was given just under 13 minutes of ice per game, prompting a ticket back to the Marlies after only 3 Leaf games.
Seem like an old story? It was. Fans wondered why Kadri wasn't better than at least some of the guys taking regular shifts. Management continued to hammer that Kadri was still too small, not strong enough to handle the pounding NHL defenders would hand him. He could dipsy-doodle, yeah, but he skated with his head down, he ignored defense, he was a liability. And now there was an implication was that maybe the kid just wasn't doing enough, not working hard enough to improve. Ron Wilson acknowledged the few good things he did, but was always quick to point out that Kadri wasn't entitled to anything, and hadn't improved to warrant an NHL job.
The Leafs were playing well though. Phil Kessel and Joffrey Lupul were on fire offensively. There were issues, but with team defense. And Nazem Kadri was not, according to management, going to be any help there. Perhaps in another city, a young first round pick being sent to the minors while the big club played well wouldn't be news. In Toronto… well, it just added fuel to the fire.
In the summer of 2011, Brayden Schenn, drafted 2 spots ahead of Kadri and highly coveted by some Toronto fans, had been traded to Philadelphia along with Wayne Simmonds and a draft pick for Mike Richards. That served to ignite trade talk involving Kadri. People wondered why a deal involving Kadri couldn't have been made for former 30-goal scorer Richards, to upgrade the Leafs' centre position. Others felt that if Schenn had been available, then Brian Burke had missed out. Schenn was seen as a lock to be a good NHLer, while management's constant criticism of Kadri's size, defensive skills and now attitude had those people thinking the Leafs had a dud.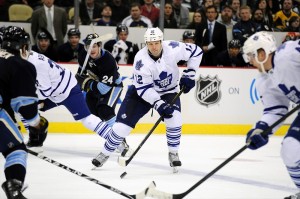 Kadri himself maintained he was not losing confidence. But many openly wondered if management had singled him out as an example  of 'the meritocracy'. Had Kadri been 'saying the right things' to mask an attitude problem? Did he feel entitled to a roster spot without working for it? Were Wilson and Burke even giving him a proper opportunity to succeed? Kadri had been given limited chance to play top-line minutes as a centre, but wasn't his creativity as a centre why he was drafted?
Instead, Kadri was playing on the third line, with limited scoring opportunities, and being criticized for his seeming lack of commitment to progress. And when he didn't light the lamp, he was dropped to the AHL. When a player was called up, it seemed Darryl Boyce or Joey Crabb were preferred by Leafs' brass. Meanwhile, argued critics, other higher-dollar Leafs, like Nik Kulemin and Tim Connolly, were obviously struggling that year, yet they continued to play every night with no mention of benching or demotion.
Nazem played well with the Marlies and earned a recall when Dupuis went down to injury. And this time it looked like maybe things were turning. Kadri scored 3 goals in his first 4 games after the recall, and earned a +4 rating and his ice time crept to about 14 minutes. But after those first 4 games, he slumped offensively. He played 12 more games but added only a goal and an assist before being demoted again. He played twice more (in March), adding another goal, for a total of 5 goals, 2 assists in 21 NHL games.
His Marlie totals were decent enough, 18 goals and 40 points in 48 AHL contests. He'd contributed to a successful season for the Leafs' top farm club as one of the Marlies' top players, even though he'd spent so much time with the NHL club. With the Leafs not making the playoffs, the organization made sure Nazem was eligible for the Marlies' playoff run. He was a key contributor, scoring 3 goals and 10 points in 11 games before a separated shoulder knocked him to the sidelines.
The optimistic Kadri fan would think that finally things were falling into place for the former first-round pick. He'd played 2 full pro seasons. He managed a 0.88 point/game performance in 92 AHL games, and almost a point/game in a decent playoff run. And, he accumulated 51 games of NHL experience, even if he'd only notched 8 goals and 19 points. And there was good news following the season: the kid was going to train with noted fitness guru and former Leaf great Gary Roberts.
Roberts had been a fierce competitor during his playing days. He had developed a tough training and health regimen while rehabbing from the neck injury that nearly ended his hockey career. He was well known to Leaf fans for the 4 seasons he spent in Blue-and-White. He'd retired and begun training hockey players, and notably played a part in helping Steve Stamkos improve his game. If Kadri was training with Roberts, surely there could be no question about his commitment.
Unfortunately, with the NHL locked out and what should have been a fairly quiet Marlies training camp, controversy struck again. Ask after a practice, coach Dallas Eakins spoke of Kadri.
"The one thing Kadri has to improve is his eating habits," said Eakins. "His body fat today is probably in the bottom three to five guys in our whole camp. That's unacceptable… That's the easiest part coming into camp is eating correctly and training correctly. I think he's probably improved a little bit on the ice. His diet is not where it should be."
It sparked a firestorm – topic for blogs, radio shows and columnists. And again, the opinion was all over the place. Don Cherry weighed in as to how the organization was tearing the kid down. Others said that after training with Roberts, coming in to camp with poor habits was proof that Kadri had the wrong attitude. Things didn't get any better as Kadri began the Marlie season with only 3 assists in the first 9 games, prompting a 1-game scratch. It served as a wake-up call, and the kid has put up 2 goals and 11 assists in 8 games since.
Now more than three years since being drafted, LeafNation is unsure what Nazem Kadri's future is with their team. Perhaps management and even Kadri himself are also. Is this kid on his way to an NHL career or will he be a footnote in NHL history?
Look for part 3 coming up.
A graphic designer and production artist by trade, Mark is a long-time hockey fan. He was a Maple Leafs contributor to TheHockeyWriters.com for over 2 years, and has written for other websites. You can follow him on Twitter @MarkAscione