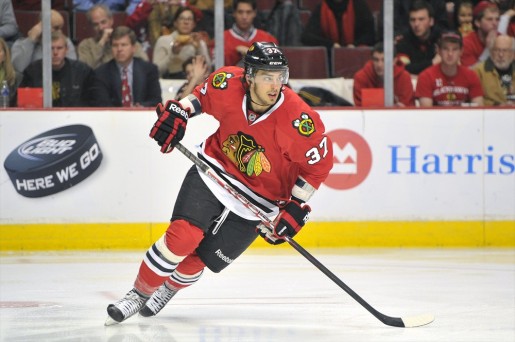 It's no secret that once this NHL lockout does finally end, whether it's in the next few weeks or this time in 2013, the Chicago Blackhawks will be on the hunt for a second line center. It's been a position that they have moderately attempted, and have ultimately failed, to address.
Last season featured the likes of Patrick Kane and Marcus Kruger in the middle of that second line, neither to very rave reviews. Kane showed some flashes, but isn't strong enough defensively, while Kruger looked decent, but isn't strong enough physically or offensively.
There were names floating around prior to the lockout that the Hawks could try and look at as a possible solution on that line, but the organization was very quiet on both the free agent and trade markets. And given the flurry of activity that we saw around the league outside of the Blackhawks, it probably means that they're going to stand pat no matter when this lockout ends, and especially with a potentially shrinking salary cap.
However, the Blackhawks may not necessarily need to look for a big name, like a Tomas Plekanec, to fill their second line center need. They might already have a potential stud already in the organization, with Brandon Pirri.
Pirri saw brief time with the Hawks last season after a very strong training camp and preseason. He's currently with the Rockford Icehogs, where he's putting up almost point-per-game numbers. After posting 56 points in 66 games with the Icehogs last season, Pirri is off to a fast start this year, with 14 points in 18 games.
Pirri doesn't project as a future star. However, his skill set would allow him to be a very solid player in the middle of that second line for the Hawks. He's a strong playmaker and has above-average puck handling skills. He's not the biggest guy in the middle, but he's strong and intelligent, which would make him an asset for the Hawks. If there is an area in which he needs improvement, it'd be in his defensive game.
The question for Pirri will be whether or not he's in the organization long enough to make an impact, or if he'll end up as trade bait for the Blackhawks. His name has come up in trade rumors, though nothing has seriously materialized. There would be quite a few teams interested in adding to him, and potentially making him a top six player, but will they trade or keep the 21-year-old?
Given the trends we've seen with the Blackhawks, as far as how they have approached adding players, it would appear that they will give Brandon Pirri every opportunity to stick with the big club. He has the skill set to be successful and has the physical chops to be an effective player for the Hawks. Expect him on the second line at some point this season, or next if it comes to that, for the Hawks.
If not, there's always Marcus Kruger, Teuvo Teravainen, Mark McNeill, Philip Danault, and even Brandon Saad in the long line of prospects that could get a shot at locking that spot down in the next couple years.