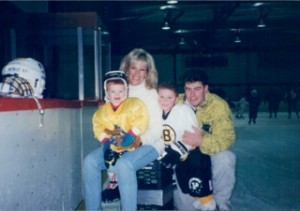 Most young hockey players have work ethic, but throw in skill plus work ethic and you'll get a player like Admirals rookie Chris Wagner. Wagner's work ethic is second to none.
Chris started playing organized hockey at the age of 5 with a program in Northwood, Massachusetts. Chris' Dad, Paul, saw the true talent Chris possessed when he was just a peewee playing on a AAA team with the South Shore Kings, a program based in Foxborough, Massachusetts.  Chris remained in the South Shore Kings organization until he reached his freshman year of high school, then he packed his bags for Xaverian Brothers High School, a private Catholic School for young men in Westwood, Massachusetts.
Chris played with Xaverian Brothers High School until he was a junior. During his time with Xaverian, he assisted the team to its first Super 8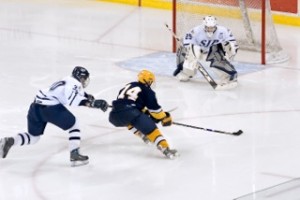 playoff appearance.  Following his junior year, Chris returned to the Shore Kings organization; however; this go around he competed in the EJHL with the South Shore Kings.  During the 2008-2009 campaign, he tallied 34 points in 38 games with the Shore Kings.
After the 2008-2009 campaign, the Lincoln Stars that compete in the USHL came knocking for Wagner in the 9th round; however; that knock went unanswered.  "I wanted to be closer to home," stated Chris who returned to the South Shore Kings for a second season.
Chris's 1st year being draft eligible was 2009. Every NHL team over-looked Chris; however; Wagner was always a kid who flew under the radar according to his dad, Paul.  After the 2009 draft, Chris returned to the EJHL and improved his game by notching 83 points in 44 games while captaining the club and personally achieving the MVP Award along with being named Offensive Player of the Year in his last season with the South Shore Kings organization.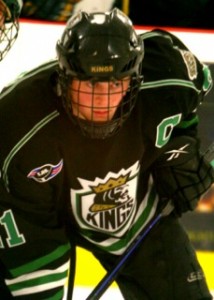 The 09-10 season proved to be Wagner's breakout year.  Not only did he match an EJHL record, but Wagner was also chosen by the Ducks in the 5th round 122nd overall in the 2010 NHL Entry Draft.  Earlier in the draft, Chris saw friend Kevin Hayes picked in the 1st round 24th overall by the Chicago Blackhawks and Shore Kings teammate Charlie Coyle chosen 28th by the San Jose Sharks.
While playing in the EJ, Chris' college eligibility was protected allowing him to earn an education at Colgate University, the only college club that showed interest in the young center. Wagner picked up where he left off with the Shore Kings, leading Colgate rookies in scoring and was named a finalist for ECAC Best Defensive Forward.
Returning to Colgate his sophomore year, he paved the way for NCAA Division 1 underclassmen in scoring totaling 51 points which ranked Wagner 6th in the nation. Wagner also managed an 11 game point streak stretching from 02-03-12 until 03-16-12. After his sophomore year, he uprooted from Colgate and signed a 3-year entry deal with Anaheim.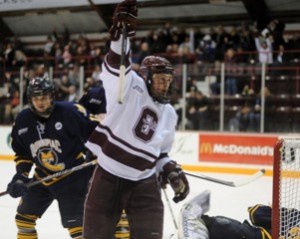 Chris landed in Norfolk this season to develop with the top affiliate of the Ducks, the Norfolk Admirals. Wagner stated, "It's a fast track to the NHL." The 5'11" center has played in a majority of the Admirals games this season.  When asked if it was a surprise Wagner said, "You expect to come in here and play. I think I'm getting more comfortable as games go on.  Definitely more confident too."
Wagner has settled in with Norfolk notching two goals and five assists in sixteen games. Like many young rookies, Chris is getting used to pro-life. Chris' roommate, Kyle Palmieri, was in the same position as Wagner.  He jumped from the D-1 life to the AHL and successfully made the transition from college. Palmieri has helped Wagner along the way. The right-handed center credits Jay Rosehill, Troy Bodie along with Kyle Palmieri with the transition from college to pro.
Norfolk's Head Coach, Trent Yawney, shared his thoughts on the rookie saying, "He has better skill than what people realize. Now that he has some games under his belt, he is starting to play some solid hockey."  Yawney quickly mentioned the work ethic that Chris has kept with him over his career.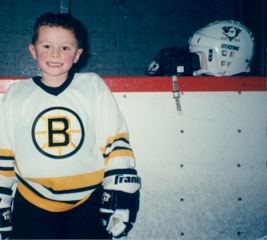 The self-proclaimed power forward has a tight knit family and wouldn't have reached this level of hockey if it wasn't for his parents, Paul and Cindy.  Chris also has a younger brother, defenseman Paul Jr. who is competing in the Empire Junior Hockey League, an annex of the EJHL, and is currently being scouted by colleges.
Despite flying under the radar for most of his career, Wagner is making a name for himself in the AHL this year with his never say die attitude and his tremendous work ethic.  Wagner is on his way to the top.
* A speical thank you to Paul Wagner Sr. for the images.