written by @iancmclaren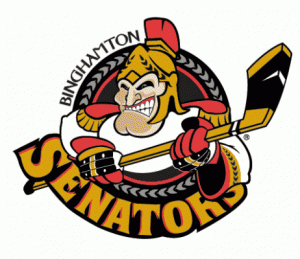 Quick, name the hottest team in the AHL.
If you guessed any team other than the Binghamton Senators, you would be incorrect.
Currently on a 6-game winning streak, the Baby Sens have lost only 2 games in regulation over a span of 10, and their lone loss in the past 3 weeks was of the 1-0 shootout variety, at the hands of the Wilkes-Barre/Scranton Penguins.
This current run has vaulted the Senators into second place in the East Division, 4 back of the conference-leading Syracuse Crunch and 6 back of the top ranked Abbotsford Heat.
What's remarkable about their success is the fact that their leading scorer – Tyler Eckford (5 G, 5 A) – is a defenseman, and is currently ranked 120th overall in AHL scoring. In fact, he is currently the only Senators player who has tallied a double digit point total through the season's first 16 games, and only C Derek Grant has scored more goals with a grand total of 6 (with fellow D-man Andre Benoit also chipping in 5 G from the point).
While the Senators boast a plethora of young talented forwards, including Jakob Silfverberg, Mark Stone, Shane Prince and Mika Zibanejad (all rookies), the team has relied heavily on offense generated from their blue line, as evidenced by the following tweets:
#BSens defensemen have 17 goals this season, about 38 percent of the team's goals. Easily tops in the league…

— Matt Weinstein (@SteinTime44) November 25, 2012
..Oklahoma City and Rochester have 15 goals from their 'D' and no other team has more than 11. #BSens

— Matt Weinstein (@SteinTime44) November 25, 2012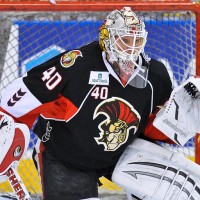 Another huge factor for Binghamton is the play of G Robin Lehner. In 12 starts, the one-time Calder Cup champion has put up a record of 8-2-1, with a GAA of 1.62 and a SV% of .950 after stopping 359 of 378 shots against.
Drafted in the 2nd round of the 2009 NHL Entry Draft (46th overall), the expectation is that Lehner will develop into the long-sought after franchise goalie for Ottawa, providing some much needed stability (in the physical sense, at least) at a position that has always been an issue for the big club.
His struggles in 2011-12 momentarily put the brakes on that escalation, but there's no questioning Lehner's status as the soon-to-be go-to option in the Ottawa net.
Said coach Luke Richardson on Lehner's effort to date:
When he got to camp, we said to him that we want you to be the guy, but you have to earn it. Sometimes being a highly touted young star, a prospect, sometimes you maybe take your foot off the pedal.

I think it's just not knowing that. He's had some ups-and-downs over the first few years. Probably the best of the best was the Calder Cup final and winning the MVP.

But then there have also been some times when it hasn't gone well, and he probably wasn't in the best shape at that time, and then he had some injury problems, and that takes away from your development.

But he's been great this season. He's working hard every day and he's been a leader, too. (from the Ottawa Citizen)
Even if the lockout is resolved, it would appear as though  will remain in Binghamton for the entirety of the season, as suggested in the Citizen article mentioned above. While his play certainly warrants a crack at the NHL, this would afford Ottawa the opportunity to take advantage of his two-way contract, which pays him $67,500 at the AHL level. Once Ben Bishop's contract expires in 2013, expect Lehner to battle Craig Anderson for the top spot in Ottawa.
For now, he and the AHL Senators continue to roll on, but in order for Binghamton to keep it going, they will no doubt need bigger contributions from their crop of young forwards. For now, their goals allowed ranking (3rd) is helping ease the burden of any lack of offense, and a home game vs the Crunch on December 2nd will provide a litmus test as to whether this team is indeed for real.
Coupled with a few prospects currently lighting it up in the OHL, the recent success of the AHL Senators can only be seen as positive for the future of the team in Ottawa, and some extra time in Binghamton should serve these young players well moving forward.