written by @iancmclaren
The ongoing history of Ottawa Senators hockey may be on hold (thanks to the ongoing NHL lockout), but the future of the organization is extremely bright, due in part to a trio of prospects currently lighting it up in the OHL.
That threesome is made up of Stefan Noesen of the Plymouth Whalers, Matt Puempel of the Kitchener Rangers, and Cody Ceci of the Ottawa 67s, all of whom are demonstrating an ability to play at a very high level and hoping to push for a Senators roster spot sooner than later.
Stefan Noesen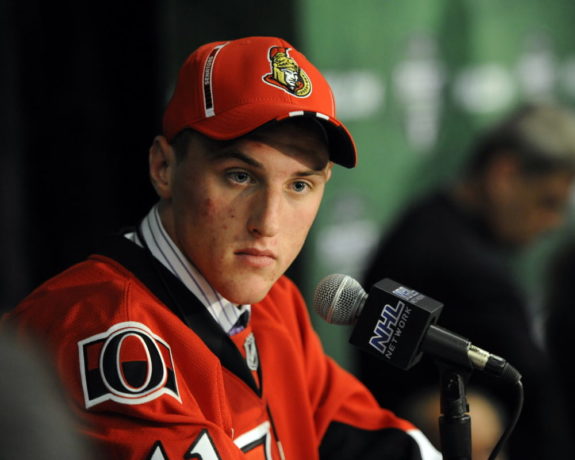 Selected 21st overall in the 2011 NHL Entry Draft, Stefan Noesen became available to the Senators via a pick acquired in the Mike Fisher deal with Nashville in February of that year. Some are already comparing Noesen to Fisher, based primarily on constantly percolating flashes of brilliance that compliment a gritty and unyielding style of play, both of which endears such players to true fans of the game.
For his part, Noesen – a winger – doesn't put much stock in being compared the popular and dearly departed centre:
I haven't put that much thought into it. I got to where I am now by playing my game, playing a physical style and using a big body presence down low, so that's what I'm going to continue to do. I'm just trying to play my own game and hopefully (the fans) like it. (from the Ottawa Sun)
Through 21 games this year with the Plymouth Whalers, Noesen has scored 14 G & 8 A, and is on pace to break the 40 goal barrier in what will likely be his final season in the OHL. Even with an offensive prowess displayed at the junior level, Whalers Coach & GM Mike Velucci know that Noesen will have to grind his way into the NHL.
You can score 60 goals in our league, but to crack the NHL maybe you have to be a fourth-line grinder. I see (Noesen) as a third- or fourth-line guy (in the NHL), but after he's established himself he could definitely be a guy you'd see on the top two lines. (from the Ottawa Sun)
And if Noesen is able to successfully transition to the NHL, it will be due in no small part to pros like Dallas Stars' forward Brenden Morrow and defenseman Trevor Daley, with whom Noesen (as a Texas native) worked out with this past summer.
Said Noesen of that experience:
We'd (Noesen & Daley) have a sit-down after working out just about every day, and he'd tell me what I needed to work on and how you have to do the little things if you want to play in the NHL. Being around NHL coaches and players, it makes you want to bear down and work harder. No one wants to be just a good NHL player. Everyone wants to be a great NHL player. You don't want to have a career that only lasts five years. You want one that lasts for 10 years, or 12 years. To do that you have to look at the great ones and see what they do. (from the Ottawa Citizen)
That drive and willingness to learn should serve Noesen well moving forward, and Velucci must be hoping to get the most out of him as a Whaler before his time in the OHL is up. Noesen represented Team OHL in the Subway Super Series earlier this month, and is no doubt looking to represent Team USA at the World Junior's this year after not making the cut in for last year's tournament.
Stefan Noesen's stats (via hockeyDB.com)
Season   Team             GP    G    A  Pts  PIM
-------------------------------------------------
2009-10  Plymouth Whalers 33    3    5    8    4
2010-11  Plymouth Whalers 68   34   43   77   80 
2011-12  Plymouth Whalers 63   38   44   82   74 
2012-13  Plymouth Whalers 21   14    8   22   18
-------------------------------------------------
Matt Puempel
In that same draft, Ottawa dealt 2 second round picks to the Detroit Red Wings in order to secure the 24th overall pick, which they used to select Matt Puempel, who was with the Peterborough Petes organization at the time. Here's a sample of the analysis of the pick.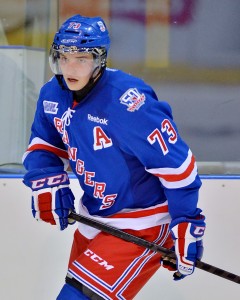 As mentioned in the clip, during his first season in the OHL back in 2009-10, Puempel scored 33G & 31A and was chosen as both the OHL and CHL Rookie of the Year, as well as being named to the CHL All-Rookie Team and the OHL All-Rookie First Team. He improved on those numbers in year two, before experiencing a set back in year three due to post-draft injuries to his back and shoulder. After last season, Puempel got his first taste of pro hockey with the Binghamton Senators, scoring a lone goal in 9 AHL games.
Heading into the current OHL season, Puempel requested a trade out of Peterborough, and was dealt to the Kitchener Rangers, the only team in the O that he would agree to be sent to. In 22 games, Puempel leads the Rangers in scoring with a line of 17-5-22, and is just 3 goal off the league lead (shared by Boone Jenner & Brett Ritchie).
If all goes as planned for the Senators, Puempel will continue to make strides in Kitchener's winning program, gaining valuable experience from the recent Subway Super Series and possibly a spot on Canada's World Junior squad.
Comparisons have been made between Puempel and a young Brett Hull, and the Senators would be thrilled to get even a glimmer of that kind of value from a 24th overall pick.
Matt Puempel's Stats (via hockeyDB.com)
Season   Team                GP    G    A  Pts  PIM  
----------------------------------------------------
2009-10  Peterborough Petes  59   33   31   64   43  
2010-11  Peterborough Petes  55   34   35   69   49
2011-12  Peterborough Petes  30   17   16   33   31
2011-12  Binghamton Senators 9    1     0    1    2
2012-13  Kitchener Rangers   22   17    5   22   17
----------------------------------------------------
Cody Ceci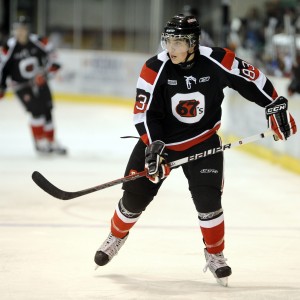 An Ottawa native, Ceci was selected with the 15th pick in the 2012 NHL Entry Draft, the 9th defenseman to be plucked out of that particular draft.
Ottawa was so high on Ceci – the OHL's second leading scorer among D-men in 2011-12 and ranked sixth among North American skaters in the final Central Scouting heading into the Draft – that GM Bryan Murray attempted to move up on three separate occasions, stating "I honestly never thought he would be available at 15."
Added Senators' director of player personnel Pierre Dorion,
I think he's pretty close to playing in the NHL. I think he's got to work on a few things. He's got to work on his play away from the puck. But his play with the puck is definitely of NHL calibre. I think he's strong enough to play in the NHL. I think he skates well enough to play in the NHL. I think it's just an adjustment to the pace. But if all goes well, if he has a good summer, I think he has a chance to play within the next two years. (from the National Post)
That statement was made pre-lockout, of course, and Ceci is back with the 67s for one more year, currently ranked 3rd among OHL defensemen in scoring with 6G & 17 A for a total of 23 points (6 back of Dougie Hamilton). Ceci is hoping that his recent experience at the Subway Super Series, as well as a trip to Russia earlier this year as part of the Canada-Russia challenge, will help secure a spot for him on the World Junior team, although the competition on the back end will be fierce. Ceci's attitude as those selections approach is this:
l just have to play my style, a two-way style, and hope it's enough to be one of seven. (from Buzzing The Net)
Right now, the 67s are struggling near the bottom of the OHL's Eastern Conference, and one has to wonder if Ceci will finish the season in Ottawa. With Jared Cowen having suffered a season-ending injury at the pro level, chances are that Ceci may get a look with the big club in the event of a new CBA and a shortened NHL season.
Cody Ceci's Stats (via hockeyDB.com)
Season   Team                        Lge    GP    G    A  Pts  PIM  
-------------------------------------------------------------------
2009-10  Ottawa 67's                 OHL    64    4    8   12   12 
2010-11  Ottawa 67's                 OHL    68    9   25   34   28 
2011-12  Ottawa 67's                 OHL    64   17   43   60   14 
2012-13  Ottawa 67's                 OHL    22    6   16   22   10
-------------------------------------------------------------------