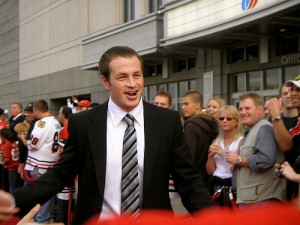 In 2005, the Chicago Blackhawks selected Jack Skille with the 7th overall pick in the Entry Draft.  Skille was skating for the U.S. National (U18) Team and was months away from entering his freshman year at the University of Wisconsin.  Skille was the third American drafted and the second (after Jack Johnson) taken straight from the US Development Program.  Anze Kopitar, Marc Staal, Martin Hanzal and T.J Oshie would be taken later in the round.  James Neal, Paul Stastny, Kris Letang, and Jonathan Quick would follow in rounds 2 and 3.  It's safe to say that Skille hasn't lived up to his high draft pick expectations up to this point.  The Chicago Blackhawks didn't think so either and shipped him to Florida after just 79 career games.  He has now spent 2 years in the Panthers organization.  At age 25, I feel that he's ready to begin a successful NHL career.
Like most NHL players, Jack Skille has had proven success at all levels of competitive hockey.  At the 2005 IIHF World U18 Championships, Skille helped lead the US to a gold medal.  He had a goal and three assists during the 6 game tournament.  For the year, Jack scored 24 goals and added 31 assists for 55 points in 54 games for the US National Under-18 Team.  Skille lead all scorers as the Americans took 1st place at the Four Nations Cup in Ann Arbor and he again lead the tournament with 8 points as the US took 1st place at the Five Nations Tournament in Sweden.
During his first season with the Wisconsin Badgers, Jack Skille lead all freshman in scoring.  His 12 goals and 7 assists were good enough for eighth on the team overall.  During the 05-06 season, Skille scored a triple overtime goal that propelled Wisconsin to victory over Cornell and a birth in the Frozen Four; their first since 1992.  That year he scored 8 goals and added 10 assists as the Badgers won the National Championship.
After finishing his college season, Skille played 9 games for the Norfolk Admirals in 2006-2007.  He scored a respectable 4 goals and added 4 assists.  While skating for the Rockford Icehogs in the American Hockey League, Skille continued to put up solid numbers.  In 180 career games, Jack Skille scored 59 goals and 69 assists for 128 points.
At the NHL level this success hasn't carried over.  Through 138 career games, Jack Skille has contributed 17 goals and 20 assists for just 37 points. His 6.2% shooting percentage is nothing to envy.  At 6'1 and 219 lbs, Skille clearly has the size to handle the physicality of a National Hockey League game.  It's been widely documented that he has above average speed as well.  So what is to blame for his lack of production?  Injuries have played a major role in slowing his acclimation to the NHL.  Skille has had several shoulder injuries last year which caused him to miss 20 games mid season and then a season ending shoulder injury on March 9th.  A lack of playing time is also a factor.  Skille averaged under 12 minutes a game for the Florida Panthers last season.  As a player that skates on the 3rd line or 4th line most nights, he also doesn't get to skate with guys that match his skill level.
With a new season will come new opportunity.   Last season  Skille was a 3rd liner, playing behind both Kris Versteeg and Mikael Samuelson at right wing on the Panthers depth chart.  On July 1st, Mikael Samuelson signed with the Detroit Red Wings.  With Samuelson now out of the mix, I think Jack Skille gets a real opportunity to showcase his skills in Florida this year.  He should find himself in the top 6 skating alongside Marcel Goc and Sean Bergenheim when the puck finally drops.  Goc is a natural playmaker and Bergenheim can bury the biscuit.  I believe that Jack Skille's speed and well rounded offensive game will compliment these two perfectly.  His shooting percentage will increase and I expect a career high in points, even in what will be a shortened season.  The future looks bright in Florida and Jack Skille should become a big part of their success for many years to come.