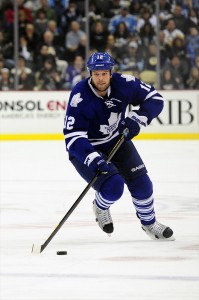 Brian Burke made a pitch to acquire Brad Richards this past off-season. But after Richards decided on the bright lights of Broadway, Burke invoked his back-up plan, and gambled on signing Tim Connolly away from division rival Buffalo. It was no secret that Connolly was the alternate plan, given Richards' stature and the questions surrounding Connolly's health. Now, 50-odd games into the season, one has to wonder if the alternate plan is working for Toronto.
Let's say up front that in comparison to Richards over the 2011-12 season, Connolly does not fair badly. Richards has 33 points in 49 games, a -2 rating, 6 game-winning goals, and is on pace for a relatively low 54 points this season, though his team is leading the Eastern Conference. Connolly has 24 points in 39 games, even rating, 2 game-winners, and is on pace for 42 points in 69 games for a team trying to claw its way into the playoffs. Consider Richards is being paid $12M this season and next, and has a cap hit of $6.67M on a contract that goes until 2020, while Connolly has a 2-year deal that pays $4.75M each season. Project that over 82 games, Richards will get that $6.67M for 55 points, while Connolly will get $4.75M for 50 points. And Richards sees more than 20 minutes of ice per game, while Connolly is getting less than 17 and a half. By comparison, it looks like the Leafs actually got a comparable player, for less money, and have more flexibility, at least while Richards appears to be having an 'off' season.
Comparisons are fine, but more important is whether Connolly is contributing enough. Through just over half the season, Connolly has missed 12 games; the first 8 with a shoulder injury, and then another 4 games in early November with an unrelated upper body injury. That didn't give him the start he'd hoped for, considering his reputation for being brittle (he missed all of 2003-04 with concussion, and has not played more than 73 games in a season since). He's played 33 games consecutively since returning, and luckily outside of those 12 early games, there hasn't been much more issue with injury, at least so far. That's a good thing.
But truth is, Connolly, regarded as a slick playmaker with some speed, was acquired to play between Phil Kessel and Joffrey Lupul. About that, there can be no doubt. Kessel had just finished another 30 goal season, and he and Lupul seemed to click as the Leafs made a run for the playoffs. The familiar refrain was "If only there was a good center for Phil, he could score 40, maybe more…" Connolly was to be that center. It was the only fit possible. After all, 2010-11 had been a breakout season for the Mikhail Grabovski-Clarke MacArthur-Nik Kulemin line. Connolly and MacArthur were teammates in Buffalo, and kept in touch, but there wouldn't have been much thought during the summer in replacing Grabovski with Connolly. And certainly, Connolly wasn't signed to a $9.5M contract to play third line minutes.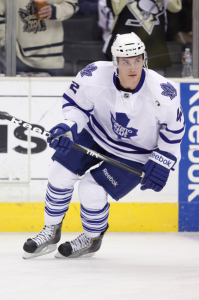 Instead, Tyler Bozak is centering Kessel and Lupul. Bozak has looked comfortable with the 2 scorers, and is on pace for a career high 46 points. That's good for Bozak, but it says something about Connolly too: he's been displaced by a kid who is scoring at the same pace he is. And frankly, with Kessel and Lupul on pace for about 90 points each, neither Bozak nor Connolly are lighting it up if they'll finish under 50 points. Connolly has also been tried with MacArthur, in the hope there'd be some chemistry. It didn't quite work, and MacArthur was recently reunited with Grabovski and Kulemin, and that line has been hot of late, collecting 19 points in the last 3 games.
So Tim Connolly has become a third line player. It's not that he hasn't been a useful player. He does some good things. But, he has been somewhat invisible. And he needs to do more.
In his last season in Buffalo, Connolly scored 42 points in 68 games, the same as his pace this season. But in the previous 3 seasons, he scored 65 points (73 games), 47 points (48 games) and 40 points (48 games). That is the kind of pace Connolly needs to produce at for the Leafs. That kind of offence would create 3 dangerous lines, and greatly increase Toronto's chances of securing a post-season berth. Question is, what can you do with him in Toronto? At $4.5M per year, you expect more offence. But Tim didn't really mesh with Phil and Joffrey, and the coach has enough offence from the point he doesn't require Tim on the point for the powerplay. There's the catch-22: Connolly did not distinguish himself enough to play on the top line or powerplay, but he won't start racking up decent stats playing in the bottom-6 fowards. Can the franchise accept paying that kind of money to a third line center?
There's been no news to suggest Connolly is on the move, or that management wants to move him. It would be a tall order anyway. Connolly is on the expensive side for his production, and there's still that concern that he's not exactly durable.
Bottom line, the gamble has not, as yet, paid off. Connolly's coach in Buffalo, Lindy Ruff, told the Toronto Sun "He's had some injury problems. But when he's healthy, he alone can be a difference maker in games." The Leafs hope over the stretch drive, that will prove to be true.