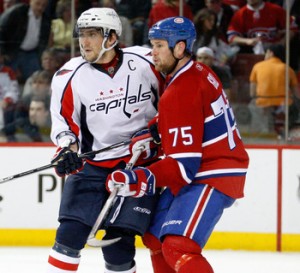 The Washington Capitals find themselves in an unfamiliar position to start the month of February-out of the playoffs.  After the Florida Panthers' win Friday night, the Capitals sit three points behind the Southeast Division lead with 32 games remaining. Now, if the Capitals road record was nearly as good as their home record, they would be closing in on a fifth consecutive Southeast Division title.
The Capitals can't seem to find their game away from the Verizon Center, recording just eight wins. If there is a time and place to break a dreadul four-game road skid, it's at the Bell Centre where the Capitals have owned the Canadiens, winning five out of the previous six regular season matchups.
Winning away from home isn't the only dilemma the Caps have faced this season, Nicklas Backstrom is still sidelined with a concussion, and the lack of depth up the middle has been evident. In hopes of a temporary fix, the Capitals have recalled 33 year-old Keith Aucoin Friday afternoon. Aucoin leads the AHL in scoring with 11 goals and 59 assists. He will make his first appearance under coach Dale Hunter in hopes of boosting the offence. "We need more playmaking centermen. With Nicky out it makes a big hole so we've got to do it by a combination of a bunch of guys. That's why he got called up." Dale Hunter said.
38 of Aucoin's 70 points have come with the man advantage, so it will be interesting to see how Aucoin can aid a dreadful Washington power play which has gone 1 for 21 over its last eight games. Ironically, that one tally came back on January 18th at the Bell Centre, off the stick of Alex Ovechkin, who makes his return after a three game suspension.