If it weren't for Wayne Gretzky, you probably wouldn't be hearing Nic Kerdiles' name getting thrown around as a possible 1st round pick.  Gretzky put California on the map and the impact he had on future generations is slowly starting to take shape.  Many players who hail from the Golden State are beginning to make their mark at the next level.  Nic Kerdiles is just another in the long laundry list of hockey prospects.
"California was never known as a hotspot for hockey talent in the US," said Kerdiles, "but with guys like Jonathon Blum, Emerson Etem, and Beau Bennett, to name a few, it definitely put California on the radar.  I grew up playing with the same organization as some of these guys and have tried following them in their footsteps to help guide myself in the right direction.  I hope to have the same impact on the young youth hockey players in California, and hope to be positive role models that can help hockey in California grow."
The "SoCal kid", as I like to call him, made the trip from sunny Irvine, California to hockey-crazed Ann Arbor, Michigan to develop with USA Hockey on the National Team Development Program.  The USNTDP has spit a great deal of talent in the past few years.  The likes of Patrick Kane, James van Riemsdyk, Kevin Shattenkirk, along with countless others (and three 1st round picks in the 2011 NHL Entry Draft – JT Miller, Connor Murphy and Tyler Biggs) have come out of USA Hockey program and achieved success at the NHL level.  But Kerdiles' roots don't even start on the ice…rather on the roller rink.
Kerdiles recounts, "I started playing roller hockey at the age of 6, then picked up ice hockey at 8. My next-door neighbor, Evan, got me into it because we used to always shoot pucks in his driveway after school instead of doing our homework."
Nic has transitioned quite nicely from U-17 to the U-18 team and his overall game has been positively affected as a result.  Scouts have taken notice and he is being touted as a potential 1st round pick for the 2012 draft.
Kerdiles said about his style of play, "I think that I'm a power forward who has good speed and skill.  I like to use my size and speed to get around defenders on rushes and I tend to use my body in the corners in order to protect the puck.  I pride myself on being a two-way player who can not only score in the offensive zone, but also play strong defense down low in the defensive zone."
Kerdiles also had this to say about the USHL and how it has developed his game for the better: "The USHL is a great league that has allowed me to experience a pro-life schedule while still being able to focus on my studies.  The competition in the USHL is fierce and you always get your opponents best games every night.  Playing against guys that were 2 or 3 years older than me as a 16 and 17 year old has given me a huge advantage and it will benefit my transition into college."
For Nic Kerdiles, playing for Team USA is more than just playing the game he loves.  Representing his country is at the forefront when he suits up for any game.
"Putting on the USA jersey is something that is very hard to describe because of how powerful it is.  I am honored every day to throw the USA crest over my head, and I make sure to never take advantage of the opportunity I have to honor my country.  I think that the international tournaments are the games that really hit us hard with how lucky and fortunate we are to wear the sweater and compete against the other countries top players.  The true heroes that represent our country are overseas fighting for our country and we make sure that we do all we can on the ice to honor them.  The risks they take are so dangerous, and the least we can do is win games for them.  Once again I am honored, appreciative, and thankful for the opportunity I have been given."
The Californian plans to continue his playing career next season with the Wisconsin Badgers of the WCHA.  While the Badgers haven't had the success this season that the University has been accustomed to in years past, Kerdiles was immediately attracted the lore of Badger Hockey.
"Wisconsin has a rich history with their hockey program and has been very successful in, not only their long history, but the past few years as well.  Their coaching staff is lead by an iconic coach in Mike Eaves who has not only had an amazing history as a player, but also as a coach," Kerdiles mentioned. "Wisconsin's facilities from the school to the rink are first class and I have never experienced such a neat campus.  The Kohl Center is one of the nicest college hockey rinks and one of the biggest that can hold an NHL fan base.  I loved the atmosphere in Madison when I went to go visit twice.  Everybody is so nice to each other, and it's all about the Badgers and Packers in Wisconsin. I  can't wait to get there in June."
Furthermore, Kerdiles was able to play against his future team as a member of Team USA, an experience he will remember for a long time.  When I asked him what he would take away from game against Wisconsin, he said, "More than anything, it would be just the experience of playing at the Kohl Center in front of a great crowd against my future school.  The ice never felt better, the atmosphere never felt louder.  The good thing is that I'll have the fans on my side next year when I throw on the red and white.  I have to mention getting a loud standing applause during the announcing of the starting lineups will be something I will never forget."
And he wants to be a "go-to" guy when he suits up for Wisconsin next season.
"I hope to be an immediate impact on the team, and hopefully will find my way as a top 6 forward that will play a big role game in and game out.  I know that I will fit in well with the great group of guys that are already there and look forward to helping the team fight for a National Championship."
Although he has committed to Wisconsin, the California native was selected in the WHL draft by the Kelowna Rockets.  Kerdiles saw four of his former teammates (John Gibson, Reid Boucher, JT Miller and Connor Murphy) forgo their dreams of college hockey to play in the CHL.  Rest assure, Kerdiles has no intentions of going the same route.
"I think for me, education is just too important for me, and with hockey being such a dangerous sport, the risks are just too high.  College hockey allows me the chance to play pro style hockey with elite players while still getting my degree.  For me, it was one of the easiest decisions of my life."
He also said, "I really haven't given too much thought of playing in the WHL because Kelowna has respected my choice of going to Wisconsin and has not been persistent on me.  Kelowna is obviously a great organization, and they have respected me enough to allow me room to breathe and choose my path on my own.  I have nothing but great things to say about Kelowna and I wish them success in the future."
As for what he hopes to learn while wearing a Badgers crest: "I have total faith in the coaching staff and training staff at Wisconsin to help complete my game, and hope to get bigger, faster, and stronger while I am there.  There is a ton of work that I need to do in order to get to where I want to be playing in a few years and that is the reason why I chose Wisconsin.  I felt that it was the place that gave me the best chance to get to the NHL."
In order to get into the NHL, a good stepping stone would be getting drafted.  Rankings have been coming out on a consistent basis, placing Kerdiles from as high as top 20 to as low as the 2nd round.  Be that as it may, Kerdiles knows rankings don't make a lick of difference when it comes to draft day.
"To be honest, the rankings don't mean anything to me.  It's a big distraction that has no good or bad coming out of it.  It's reassuring to see your name pop up high on some rankings but when you look at the big picture, it's a ranking and has no effect of when you will be drafted or if you even will.  When it comes down to it, June 25th and 26th are the two dates that I am looking forward to and hope to hear my name called.  I push that date to the back of my head and just try and focus at the present and the future will come."
Overall, Team USA has done tremendously well in international competitions in the recent past.  Four years running, Team USA has won the Four Nations tournament – with the help of Kerdiles' two goals in the final in 2011.  The team has also won 4 out of the last 5 Five Nation tournaments.  But the key event of late, has been the U-18 World Championships.  Team USA is the reigning champions of the U-18's two years running.
"I think it was just a good opportunity for our team to get back into the groove of playing against our own age group again," Kerdiles said about playing in the Four Nations Tournament.  "It's always a different style of play compared to NCAA games and the USHL.  Our team looked good out there in Switzerland and we are already looking forward to the U-18 World Championships."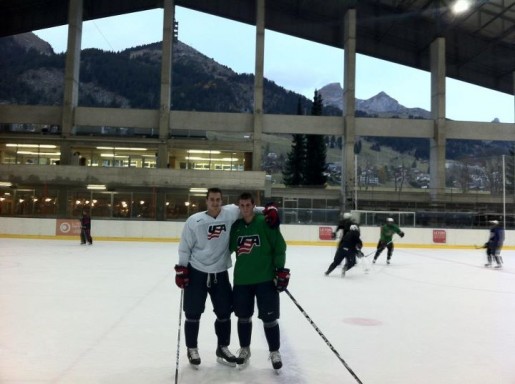 When it comes to this year's U-18's Kerdiles has only one goal in mind…"Having had the opportunity of going with last year's team (93's) I'm just hoping for that gold medal around my neck again. The feeling of being a World Champion is indescribable and it's something I hope to experience with my 22 brothers in April."
Although Kerdiles is used to the whole interview process, I realize it could get pretty boring constantly answering the same hack need questions time and time again.  So to lighten up the interview, I through a couple screwballs.
Shawn Reznik: How do the girls in Ann Arbor compare to those in California?
Nic Kerdiles: I have to say that the girls in California have a little of an edge over the Michigan girls. Don't get me wrong, the Michigan girls are great, but I'm more used to the California girls.
Katy Perry would be so proud of you.
SR: What is the most embarrassing song on your iPod?
NK: Justin Bieber – U Smile
Clearly Kerdiles seems to have a case of 'Bieber Fever'.
SR: If you could be anything besides a hockey player, what would you be?
NK: Actor
That's the Hollywood talking…
SR: Which hockey analyst irks you the most: Pierre McGuire or Mike Milbury?
NK: Pierre McGuire
How could you argue? (proof)
SR: What is something you can tell hockey fans that they might not already know about you?
NK: Well, I was actually raised in France for part of my life and my whole family is from France. I am the only one who was born in the US and I speak French fluently.
An American with no bias to the French?!?!?!? That's an oxymoron.
Well the groundwork has been laid out.  Kerdiles was injured for a portion of this season, but he is back and raring to go.  Before getting drafted, there are plenty of lofty goals that Kerdiles wants to accomplish, and with another top notch USA team, it doesn't seem too far off to see the States with another gold medal placed around their necks.  The goal scorer (and arguably the best forward on Team USA) would like nothing more than to hear his name called at the draft, especially in the first round.  But to him, Kerdiles is grateful that he gets to play the game he loves with the people he has grown accustomed to as friends, brothers and family.
"There are way too many words to explain why hockey is the greatest sport in the world, and it's impossible for me to explain in this interview. If I had to name one thing, it would be the new experiences, memories, and adventures that you create with your teammates. The bond of a hockey team is more than just family like, it's something that is unexplainable and I am so happy to have it."
Follow Shawn Reznik on Twitter.