The NHL and NHLPA have once again instilled optimism in hockey fans as deals are being sent back and forth this week and the possibility of a shortened season now appears to be a legitimate reality.
The deals look to include a 2013 season that will consist of either 48 or 52 games, depending on when all of the details can be ironed out.
If the two sides can get their act together, it's likely that players would report immediately and then work through a one or two week long training camp before the puck drops to open the season.
If such a scenario were to come to fruition, it's likely that four players would battle for the top scoring spot on the Blackhawks: Patrick Kane, Patrick Sharp, Jonathan Toews, and Marian Hossa – the same four players who would battle for the scoring lead in a full 82-game season as well.
Based on past performances, which player would likely take home the team's scoring title?
Patrick Kane
Kane had a bit of a down season last year, only registering 66 points in 82 games before enjoying a scandalous summer that included a notable vacation in Madison, Wisconsin. However, I, and many others, believe that Kane is poised for a breakout season this year.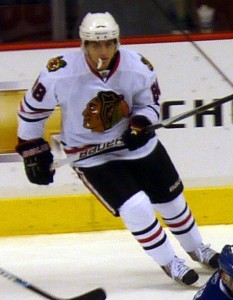 Playing 17 games in Switzerland on an unfamiliar line with the Boston Bruins' Tyler Seguin, Kane notched 19 points on 11 goals and eight assists. Kane's expressed his desire to return to the Statesand probably never had his full attention devoted to his Swiss Biel team as he's anxiously awaited a return to Chicago.
Through 48 games last season, Kane was the lowest scorer on this list, putting up 41 points on 11 goals and 30 assists. Not necessarily bad numbers by any stretch of the imagination, but the team would certainly hope for better from the former #1 overall pick who possesses dynamic offensive talents.
Unlike the other three players discussed here, Kane is the only one who has had real game experience during the lockout. Hossa, Sharp, and Toews all chose not to sign anywhere else, likely giving Kane the edge in preparedness once the shortened training camp concludes.
For a player whose focus has been questioned during his short time in the league, the brief stint overseas should be beneficial to Kane once the NHL season resumes.
Jonathan Toews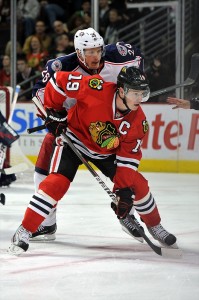 Prior to last season, Toews had been noted as somewhat of a slow starter. However, through 48 games in 2011-12, Toews averaged over a point per game, tallying 27 goals and 23 assists for 50 points. Had he not been injured later in the season, it's possible Toews could have gone on to maintain his point-per-game pace and ended up leading the team.
If he wanted to, Toews could probably lead this team in scoring every year. He's that talented, but also that unselfish. Instead, he's one of the team's top penalty killers and often lets his play off the scoreboard dictate the game.
Despite not joining a European team during the lockout, fans need not worry about "Captain Serious" being in game shape once the season rolls around. No one has ever questioned his work ethic and he's been spearheading offseason workouts for team members since the summer.
While remaining one of the most notable faces for NHL players during the lockout, Toews' focus has always been on hockey and one can imagine that no player or fan is looking forward to this season beginning more than the 24-year old center.
Patrick Sharp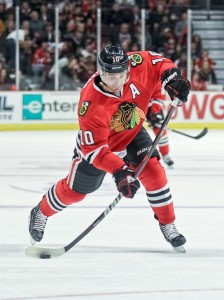 Sharp finished the 2011-12 season second on the 'Hawks after scoring 33 goals and 36 assists in 79 games in one of his best all-around seasons as a professional. 46 of those points (22 goals and 24 assists) came in the season's first 48 games, when Sharp ranked third on the team in scoring behind Hossa (who ended up finishing the season as the leading scorer) and Toews.
Another strong two-way player, Sharp has been one of the team's most consistent performers at both ends of the ice for the past six-plus seasons.
The 30-year-old forward had been considering playing overseas for the past few months, but ultimately his family, including a newborn child, kept him at home.
Recognized by Men's Health as somewhat of a workout warrior, Sharp should return in decent game shape once players are allowed to report again. However, like Toews, the lack of true game experience for nearly nine months now could be detrimental to the beginning of his season.
Marian Hossa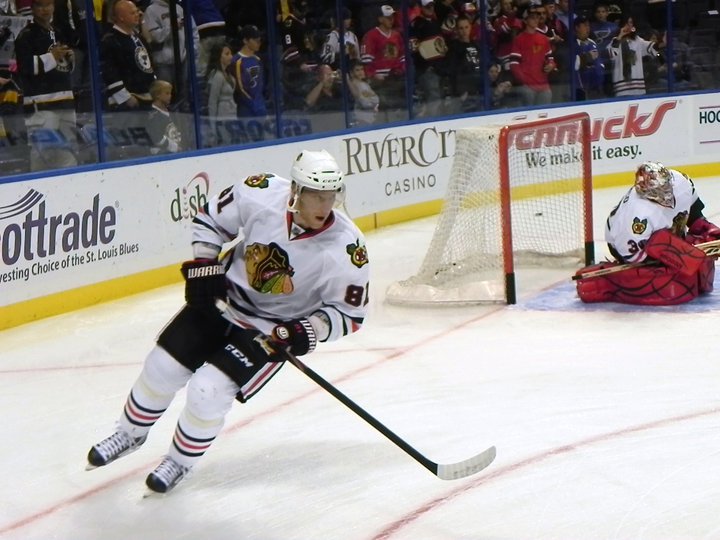 Hossa is the biggest wild card of this bunch. Just weeks ago Hossa was cleared to play after the brutal hit he took from Phoenix's Raffi Torres in last season's playoffs. As such, he'll be in an even worse spot than Toews or Sharp once training camp rolls around.
After the injury, reports surfaced that Hossa was considering retirement, a move that it would be hard to blame the 33-year-old wing for. Instead, he completed his rehab and hopes to be in game shape within the next couple of weeks – a difficult task for anyone.
Through 2011-12's first 48 games, Hossa led the team with an impressive 52 points on 20 goals and 32 assists. That pace didn't remain for the entire season, but the Slovak still led the team at the end of the year with 77 points in 81 games.
So Who Will It Be?
Any of these four players could finish a shortened season as the Blackhawks' top scorer, but I think it will come down to either Kane or Toews.
Kane, poised for a breakout season and having recent game experience, seems like a good choice, as his offensive skills should seemingly should translate into him being one of the league's top scorers year in and year out.
Toews, on the other hand, isn't nearly as flashy but can never be counted out. He's been drooling to get this season started and will surely come out firing on all cylinders as soon as the first puck drops.
Sharp, despite outscoring Kane last year and consistently averaging about 60-70 points over a full game season, has a wicked shot but just doesn't come across as the type of player who would be the team's number one scoring threat.
Had Hossa not suffered such an ugly concussion at the end of last season, it's very possible that he would be at the top of this list. As it stands, it will likely take at least a few weeks for him to get back into serious game shape and the big-time scoring won't start until that happens.