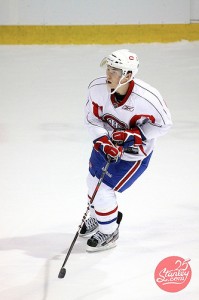 Brendan Gallagher hasn't received his invite to Habs' camp just yet but he better start making travel plans.
Based on his performance at Montreal's camp in 2011 alone no one would be surprised if the Canadiens' 5th-rounder (147th overall in 2010) is there when camp opens, and still standing when it closes.
Not even Gallagher himself.
"I don't think I would be surprised. I expect to be there," says the 20 year-old native of Delta, British Columbia. "It may surprise other people if I'm there but for me it's just an expectation I have on myself."
Gallagher went deep into the selection process in 2011 before being sent back to junior as one of the team's final cuts. He then capped off an illustrious career with the Western Hockey League's Vancouver Giants, which included three straight 40-goal seasons – the last of which was a 41 goal performance in only 54 games due to his participation on Canada's bronze medal winning team at the World Junior Hockey Championship.
"Last year was a fun experience. I enjoyed it a lot," Gallagher recalls. "Getting the chance to play at the World Juniors might have been the funnest thing I've done."
But there may be more fun in store. And soon.
In 35 games with Montreal's American Hockey League affiliate, the Hamilton Bulldogs, Gallagher is currently ranked second in team scoring with 10 goals and 10 assists and is only one point behind team leader Gabriel Dumont.
"I expected it to be tougher than junior, playing against men," he explains. "The first couple of games maybe felt a little different but after that I felt normal and I could play my game and do things I've always been able to do."
And there's more to Gallagher's game than just scoring. For a little guy, he packs a punch.
"Every game I try to focus on it," he says of his style of play. "For me to be successful and score some goals I have to be around the net and take some punishment."
Taking punishment is one thing, but giving it out at the rate he does, doesn't quite fall in line with his size. Despite his diminutive stature though, Gallagher has always managed to play bigger than he is.
The 5-foot-9, 182-pound forward put up two 100+ penalty minute seasons (averaging 1.58 PIMs per game in those two campaigns) in the WHL, which is known for its rough and tumble play.
He has continued that pace in the AHL, notching 46 minutes in 35 games (a pace of 1.31 minutes a game), which certainly bodes well for his chances at sticking with the Habs, who with the off-season additions of Colby Armstrong and Brandon Prust, have made it clear they want to get grittier.
"I've always been the smallest guy on the team and usually the smallest guy on the ice," he says. "For me it's nothing new, players are always going to get bigger but my game doesn't change."
Not even if the league's most passionate fans are watching his every move.
"There will always be pressure if you're playing in Montreal," he says, with a sense of maturity beyond his years. "But I put that pressure on myself regardless, to play the best I can. For me nothing will change."
If Gallagher does end up making the team, he will be one of the men tasked with helping Montreal out of the Eastern Conference basement and restoring a storied reputation.
"You put that kind of expectation on yourself to do well and you want to do your best every game," he explains. "I don't think the pressure from the fans can hurt at all. It will just be an added bonus."
And added bonus to what would be a dream come true.
Shaheed Devji is a former news and sports reporter/ anchor for CTV News. He covered men's and women's hockey for the Olympic News Services at the 2010 Winter Olympics and is the former editor-in-chief of The Press Box Sports Network. Follow him on Twitter @sd3vji.