For the New Jersey Devils, the best offense is a solid defence.  Following the 2004-05 lockout however, the club found itself transitioning from departures and or retirements of such stalwarts as Scott Stevens, Scott Niedermayer, Ken Daneyko and Brian Rafalski.  Fast forward to the team after the latest lockout and one will find an abundance of help on the blue line.  In fact, if projections are correct out of training camp, there very well could be eight defencemen slotted for six spots in front of Martin Brodeur.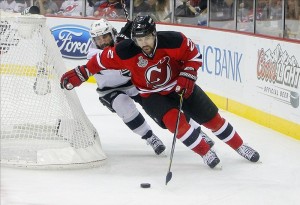 Presently the Devils roster boasts Mark Fayne, Andy Greene, Peter Harrold, Bryce Salvador, Henrik Tallinder, Anton Volchenkov and Marek Zidlicky.  Soon to be joining the squad will likely be Adam Larsson.  Even the AHL ranks are well stocked with depth.
Depending on which side of the ledger that one sits, it could be a welcomed problem.  Given the defection of Zach Parise, the Devils could make use of that said depth to swing a deal for a sniper (Jarome Iginla?  Martin St. Louis?).  Although by examining those eight on a case-by-case basis, perhaps the team shouldn't be so quick to loosen that logjam.
Fayne, who played all 82 regular season games and 24 playoff games for New Jersey last year, is coming off wrist surgery.  In his first full season with the Devils in 2010-11, Fayne led the team in plus/minus rating (+ 10).  Last season, Fayne led all team defencemen in goals with four and shots with 94.  Being 25 with a cap hit of just $1.3 million, also increases Fayne's value, assuming he's fully recovered.
Greene is a player the club hopes to have pick his game up more as a puck moving defenceman.  Greene's highest level of offensive production came in 2009-10, when he registered six goals, 31 assists and 37 points.  That production dipped to (4-19-23) in 2010-11 and (1-15-16) in 2011-12.
Harrold would seem to be a candidate to be scratched most often, however his versatility could find Pete DeBoer using him at wing again.  Although if the Devils are looking for some offensive punch, they may be wise to put Harrold out there.  At the AHL level, Harrold has proven that he can put the puck in the net, twice recording seven goals for the Manchester Monarchs and five goals for the Albany Devils last season.
Salvador was a rock on the Devils blue line last year.  If one needs any further proof, take a look at the team when he was hurt for all of the 2010-11 campaign.  In 2011-12, Salvador played in all 82 regular season contests and 24 playoff games.  Salvador led the entire team with a plus 18 rating and the rugged defenceman topped all blue liners with 66 penalty minutes.  During the playoffs Salvador had a surprising but stellar four goals and ten helpers.  At 36 he's the oldest d-man but he's surely a top candidate for the captaincy.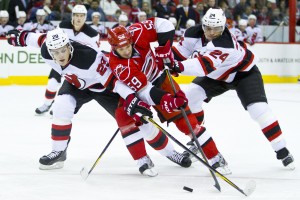 Tallinder is hoping to be this year's version of Salvador.  Missing most of last year with a blood clot in his leg, the Devils hope they'll be getting the puck moving defenceman they signed from the Buffalo Sabres a few years back.  Tallinder is another one of the Devils veteran defencemen that they hope will benefit from recovery time due to the lockout.
Volchenkov will be counted on to be the force on the blue line.  The A-Train did suffer an ankle injury while playing in the KHL but should be ready to go once the Devils open on the Island.  Although some may question Volchenkov's price tag, he does provide a physical presence for New Jersey.
http://www.youtube.com/watch?v=QTtv8nw7KCw
Zidlicky was acquired last season from the Minnesota Wild for Nick Palmieri, Stephane Veilleux, Kurtis Foster and draft choices.  Although he did play to some mixed reviews after being expected to be a quarterback for the power play as he was in Minnesota and Nashville, Zidlicky did seem to play a lot more motivated upon his arrival in Newark.  He did play to an even plus/minus rating and nearly reached his Minnesota point total in half as many games with New Jersey.  While a little "long in the tooth," Zidlicky seems to have rejuvenated his game during the lockout, registering a point per contest in 25 games for Kladno of the Czech league.
Larsson, the youngest of the defence corps at 20, has been able to hone his abilities at Albany this year.  Larsson, along with Tim Sestito, are the only two players to appear in all 31 games for Albany this season.  This year has seen Larsson nearly equal his point total from his rookie campaign in New Jersey.  At Albany, Larsson has three goals and 14 helpers and a plus three plus/minus rating.  Last year Larsson had 18 points in 65 games and potted a huge goal during the playoffs against the Philadelphia Flyers.  While Larsson is ready for prime-time, one has to be concerned if this potential logjam leads to his playing time and development being stunted.
Next in line at Albany would seem to be Eric Gelinas, who powered home 16 goals last year, has regained his shot and form after taking a puck in the chompers during the preseason.  Jay Leach has the most NHL experience of any Albany defenceman.  Alexander Urbom could give the team some speed on the blue line.  Dan Kelly is a guy who'll provide a steady toughness.  Also on the rise are Brandon Burlon and Corbin McPherson.
So though it may create a numbers game in New Jersey, it might just be that eight is enough for the Devils defence.