Peter Trainor
DOB: June 1st, 1993
Birthplace: Fredericton, New-Brunswick
NHL Rights: N/A
Draft Status: Undrafted
Height: 5'11″  Weight: 185 lbs
Position: Left Wing
Shoots: Left
Current Team: Rimouski Oceanic (QMJHL)
                          ◊◊◊◊  
Last year it was Alexandre Mallet who came out of nowhere and got drafted 57th overall by the Vancouver Canucks in the 2012 NHL Entry Draft, this year it may very well happen to Oceanic's forward Peter Trainor. The native of New-Brunswick has been stellar this season for the very underrated Oceanic, helping them to a 33-11-1-4 record for 71 points in 49 games, good for the fourth position in the QMJHL. In 49 games this season, Trainor has recorded 33 goals and 41 assists for 74 points, to go with a +23 plus/minus differential and 24 penalty minutes.
Playing on a line with new acquisition Alexandre Lavoie, who now has 17 points in only 7 games since the trade, and Antony DeLuca, Trainor has been lights out this season for the well-balanced Oceanic. The arrival of both Lavoie and defenseman Kevin Gagné, acquired from the Saint John Sea Dogs will only help bolster Trainor's offensive production.
Lavoie, who has 66 points in 44 games this season gives Rimouski the depth they need to go deep in the playoffs and be competitive against the super power that is the Halifax Mooseheads. The Oceanic now has six players with over 50 points, Trainor leading the way with 74 points.
In 2010, the 19 year-old winger, who is currently producing at a 1.51 point-per-game in the QMJHL, was invited to the Sea Dogs' training camp only to be left unprotected by the team. Soon after, the Oceanic snagged him on the recommendation of scout Rick Melancon as Trainor had scored 31 goals in Fredericton a a Midget AAA player the year before.
Peter Trainor after his six-point performance against Saint John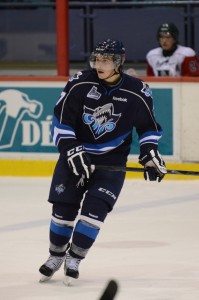 In 2011-12, Trainor didn't disappoint his new team during his rookie campaign when he scored 29 goals and added 27 assists for a respectable 56 points in 68 contests, along with a +6 plus/minus rating. The sniper had a very strong playoff run last spring when he scored 12 goals and 6 assists for 18 points in 21 games to help the Oceanic reach the conference final, which Rimouski lost to the Saint John Sea Dogs.
On January 11, Trainor exploded for 4 goals and 2 assists for 6 points in a 9-1 rout of the poor Sea Dogs and he now has 11 goals and 10 assists for 21 points along with a +8 rating in only 10 contests.
The smooth skating forward improved his game gradually since his Q debut in in 2010-11 when he only played two games with Rimouski. Boasting a great offensive vision, Trainor is blessed with a great shooting and passing abilities. While he is not a physical player, he is not afraid to drive the net and chase pucks in traffic. Trainor is a very intelligent player who works hard every shift and never takes a night off.
Trainor welcoming his new teammate Kevin Gagné.
https://twitter.com/ptrainor17/status/282353926483873792
However, while Trainor's game is greatly improved, it is not perfect yet as he needs to improve his play without the puck and his anticipation to prevent scoring opportunities in his own zone. Trainor could also use a few extra pounds to better handle the physical play along the boards and maintain possession of the puck.
The underdog Rimouski Oceanic is one of few teams who can beat the powerhouse Halifax Mooseheads this season, and Peter Trainor will have to bring his game to the next level to make it possible and send the Oceanic to the Memorial Cup in Saskatoon.
Follow me on Twitter for more updates on the Canadian Hockey League and hockey in general.