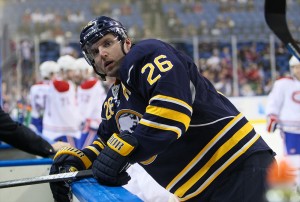 Step aside Schwarzenegger. Thomas Vanek of the Buffalo Sabres is taking the reigns of conversation topics in Austrian households.
His second career five-point night last Wednesday in the Sabres 7-4 win over the Bruins is living proof that Vanek has to be considered a top player in the NHL. And despite the Sabres 6-1 loss to the Montreal Canadiens, Vanek put up the only goal (shorthanded to boot).  Vanek put up a goal and two assists in the Sabres 4-3 loss Friday night against the Florida Panthers. For his efforts, the NHL awarded him as the First Star of the week on Sunday for an explosive five goal, five assist week. Not only that but Vanek was also named the Third Star of the month for January on Friday. Playing alongside Cody Hodgson and Jason Pominville is something Vanek credits for his quick start to the season.
"I think I've found two guys that I'm really comfortable with," Vanek told reporters after practice at the First Niagara Centre on Sunday. "But again you do well, you lose games, it doesn't feel good."
The Sabres dropped a 4-3 decision last night and are mired in a three-game slump which has them sitting at the bottom of the Northeast Division. Despite this, Vanek is tops in league scoring with 19 points, three clear of second place Steven Stamkos.
Sabres head coach Lindy Ruff was on Hockey Night in Canada Radio on Friday with David Amber and Greg Millen and pointed out that Vanek is playing perhaps the best hockey of his career.
"He's taken advantage of every offensive situation," Ruff said. "The way he's playing, the chemistry with that line I think its something that you know you want to ride. You get a little bit of momentum going and those guys definitely have it going."
The off-season addition of Cody Hodgson has looked like the perfect fit for Vanek and Ruff continued to praise the early work of his first line.
"Well it's funny, I think when you look at Thomas playing with a right-handed centreman, being the left-winger he's getting the puck a little bit more," he said. "I know he's enjoying that part of it."
EARLY YEARS
Vanek was born in Baden bei Wien, just south of Vienna after his parents moved from Czechoslovakia two years prior to Thomas' birth in 1984. Vanek started playing hockey at the age of three growing up in Graz following his father's footsteps who spent to time in the Austrian pro league. (During the lockout this year, Vanek stayed close to home playing with the Graz 99ers. He tallied five goals and 10 assists in just 10 games.) At age 14, Vanek moved in with a host family his parents knew in Lacombe, Alberta to play Midget AA. From there, Vanek moved down to South Dakota where he attended high school and played junior hockey for the Sioux Falls Stampede of the United States Hockey League. During his third year at Sioux Falls, Vanek really made a name for himself by putting up 91 points in 53 games, 46 of those goals.
Ultimately, the highly sought after left-winger decided to play for the University of Minnesota Golden Gophers where it didn't take long to show the defending National Champions what he was capable of. In his freshman season, Vanek broke out for 31 goals and 31 assists in 45 games leading the team in scoring. Advancing to the Frozen Four, the Gophers fell behind 2-0 to the Michigan Wolverines in the national semi-final. Vanek scored to make it 2-1 before eventually potting the overtime winner to send Minnesota to the National Championship. The heroics continued as Vanek scored the game winner in a 5-1 victory over New Hampshire to capture back-to-back titles for the school. Vanek was named the MVP of the Frozen Four.
NHL DRAFT
Following a National Championship, the fun was just beginning for Vanek as he was drafted 5th overall in the 2003 draft by the Buffalo Sabres. This made him the highest drafted Austrian born player in the history of the NHL. Vanek spent one more season as a Golden Gopher before he was brought into the Sabres organization to start with the Rochester Americans. In his AHL rookie campaign, Vanek posted 42 goals and 26 assists in 72 games. It was clear from this point on that the Sabres had something special.
BUFFALO SABRES
In Vanek's 2005/2006 rookie season, he didn't disappoint. Vanek put up a solid 25 goals and 23 assists in 81 games. His play tapered off in the playoffs posting two goals in ten games. The Sabres lost in the Eastern Conference Finals to the Carolina Hurricanes in seven games. The following season Vanek proved he had what it took to become a star in the league. He posted career highs with 43 goals and 41 assists before scoring six goals and four assists during the Sabres 16 game playoff run losing to Ottawa in the East Final.
The 2007/2008 season was a season General Manager Darcy Regier can't be too fond of. He lost free-agents Daniel Briere and Chris Drury and it looked as if Vanek was on the move after signing a 7-year 50-million dollar offer sheet with the Edmonton Oilers. Regier was forced to match it at the expense of losing him. Since then, Vanek has been nothing but consistent for the Sabres throughout the years. Naysayers could suggest he is slightly overpaid, but my response is that you can't buy consistency like he has shown.
Always seemingly somewhat under the radar but quietly putting up solid numbers year after year. Before this season began, Vanek's average goal total per year was 34. His average assists total per year was 32. Not too mention, he has 39 game winning goals in his career. It's safe to say the 29-year-old left-winger has evolved into one of the most revered players in the NHL. For young Austrian hockey players, he is a shining example of the endless possibilities with a hockey stick and a pair of skates.
Follow me on Twitter @chadhackl