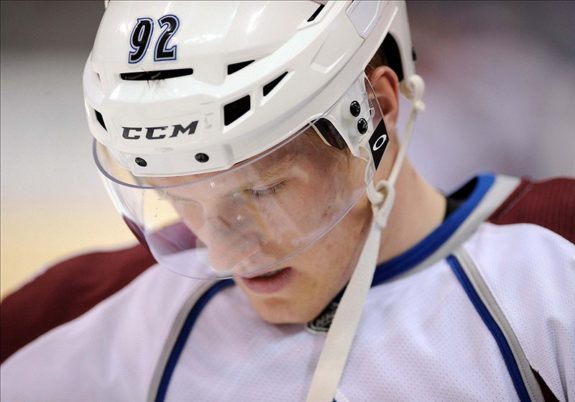 Tonight, the Colorado Avalanche will likely be without their captain, 20-year-old Gabe Landeskog, for the sixth-straight game.  The Avs have gone 2-3 thus far without No. 92 and there is currently no timetable on his return.
The Hit
Landeskog was on the receiving end of a massive hit from defenseman Brad Stuart during the Avs' matchup on January 26th against the San Jose Sharks.  He returned to the game after a brief absence, but was ruled out of the Avs' next contest two days later with what the team described as "head and leg injuries."  The hit itself did not get called for a penalty, however, Avalanche defenseman Ryan O'Byrne was assessed 19 PIMS (2 for instigating, 2 for fighting with a visor, 5 for fighting, and a 10-minute misconduct) when he came to the aid of his fallen captain and fought Brad Stuart.  While I do believe Stuart's hit on Landeskog should have been penalized, I can forgive the non-call because hockey is certainly a fast game and at full speed, it can pass for a good, clean hockey hit.  Referees Mike Hasenfratz and Dennis LaRue did err when gifting San Jose 4 minutes of power play time.  They forgot the "code" of hockey that allows a player to take exception to a big hit, legal or illegal, to one of his star players, let alone his captain.  Stuart probably should have at least been assessed a minor penalty for the hit, although a major penalty or even a match penalty shoudn't have been out of the question either (St. Louis Blues captain David Backes was assessed a match penalty for a hit in which he didn't even make contact with Red Wings defenseman Kent Huskins' head.  Backes hit on Huskins).  The Sharks would go on to fully take advantage of their 4-minute power play by scoring twice and going on to cruise to a 4-0 victory.  Anyway, like I said above, I can forgive the on-ice calls (or non-calls) due to the speed of the game and the fact that penalties are not reviewed in-game.
No Harm, No Foul?
Following the game, the consensus around the league was that Stuart would probably not face supplemental disciplinary action because Landeskog was able to return to the game and appeared okay when he did.  No harm, no foul, right?
Not so fast.
Two days later, Landeskog was ruled out of the Avs' game that night in Edmonton and has not played since.  I am not a doctor, nor do I claim to be an expert on concussions, but it is my understanding that symptoms of concussions often present themselves up to a few days after the injury has occurred.  This certainly seems to be the case with Landy.  So, if you go by the old "no harm, no foul" adage, the hit should have been re-reviewed and Stuart should have been disciplined due to the injuries Landeskog sustained.  Below is a clip of the hit.
Brad Stuart hit on Gabe Landeskog
Shanahan's Explanation
Not surprisingly, the league received many inquiries from fans wondering why the hit was not disciplined given Landeskog's injuries.  On February 5th, a week and a half after the hit occurred, the NHL's Vice President of Hockey and Business Development and head disciplinarian, Brendan Shanahan appeared on NHL Network's NHL Live to discuss the hit on Landeskog and other similar instances that have recently taken place in the NHL.
Brendan Shanahan Explains Why Stuart Was Not Disciplined
So, Shanahan explains that Stuart's hit did not meet ALL the criteria to violate Rule 48.
48.1 Illegal Check to the Head – A hit resulting in contact with an opponent's head where the head is targeted and the principal point of contact is not permitted. However, in determining whether such a hit should have been permitted, the circumstances of the hit, including whether the opponent put himself in a vulnerable position immediately prior to or simultaneously with the hit or the head contact on an otherwise legal body check was avoidable, can be considered.
Shanahan states that Stuart did not target Landeskog's head.  This is the part of Rule 48 that I have a serious problem with, for two reasons.  1) "Target" implies intent.  Now, unless Shanahan is capable of actually reading Brad Stuart's mind, he, nor anyone else can know his true intent.  I don't think Brad Stuart is a dirty player and wanted to injure Landeskog, but who's to say what his intent was going for that hit?  2) "Target" should not matter.  See Rule 60:
60.1 High-sticking – A "high stick" is one which is carried above the height of the opponent's shoulders. Players and goalkeepers must be in control and responsible for their stick. However, a player is permitted accidental contact on an opponent if the act is committed as a normal windup or follow through of a shooting motion. A wild swing at a bouncing puck would not be considered a normal windup or follow through and any contact to an opponent above the height of the shoulders shall be penalized accordingly.
So for high-sticking, a player is accountable if his stick catches another player up high, even if it was an accident.  The rule clearly states that "players and goalkeepers must be in control and responsible for their stick."  So why is this not the same for their bodies?  So, if you unintentionally clip a player in the face with your stick and blood is drawn, it is automatically a double-minor penalty, but if you throw 215lbs. (Brad Stuart's weight) of force and make contact with a player's head, as long as it looks like the head wasn't targeted, then it's a clean play?
WRONG!
The message that was clearly sent to Brad Stuart and the rest of the league due to the non-calls and the non-punishment is simple:  You may continue to make contact with an opponent's head and injuries may result, but just make it look "clean."
Pure and simple.  Not only was Stuart not punished one bit, he was REWARDED with a 4-minutes of power play time for his team.  The Avalanche on the other hand, faced the ultimate insult on top of injury.
What Needs To Change?
Concussions are nothing new in the NHL but players today are bigger, faster, and stronger than ever before and advances in equipment technology have made players seemingly fearless.  These are some of the best, most well-conditioned athletes in the world, but they are not immortal and are vulnerable to potentially devastating head injuries just like anyone else.
Perhaps the concussion epidemic in the NHL reached its pinnacle in 2011, when Sidney Crosby, arguable the league's best, most marketable player, was forced to miss the better part of a year and only played in 63 regular season games over the course of two full seasons because of concussion-like symptoms.  The NHL also faced tragedy in 2011 when three enforcers took their own lives during the off-season.  Due to the nature of their roles as fighters and physical players, questions were raised as to whether the head trauma they sustained during their hockey careers led to the depression which ultimately led them to take their own lives.
The National Football League is currently in the midst of a class action lawsuit from thousands of former players who are suing the league as a result of the head traumas they sustained during their NFL careers.  The NFL has seen tragedies as well, most notably Hall of Famer Junior Seau taking his own life.  Recently, the NFL has made tremendous strides to protect its players from head injuries.  Some argue that they have taken it too far, but the damning research of chronic traumatic encephalopathy says otherwise.
No one is trying to take the physicality out of hockey.  That is part of what makes the game great.  A big hit will energize your team, your fans, and give you momentum, but we need to redefine what a clean hit is:  A full-body check where NO contact with the head is made.  Much like a tackle in today's NFL.
Unless the National Hockey League wants to be faced with a similar or worse class action lawsuit like what the NFL is currently dealing with, they need to change the culture of hitting.  Not eliminate hitting, but redefining what a good, clean hit is.  Whether you're a superstar like Sidney Crosby or Gabriel Landeskog or a 4th line journeyman, you deserve to have your head and brain protected.