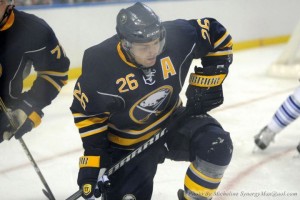 When we last left off "Numbers"…..
It is strange how we keep twisting numbers in this business. Last week we brought you a set of numbers that seemed out of left field and this week we do the same but from a bit more of a fantasy hockey point of view. Below we are going to toss five or six numbers out that just seem odd then try to miraculously explain them with little brevity. Furthermore, there will be a fantasy slant in some way or another with each of these little nuggets. Call them thoughts or what you will, it will be different.
It is time to get down to business. Let's see how the data get crunched this week as we dig into the fantasy hockey side of the hockey pool.
Numbers gone wild…..
2 — That is the number of goals that Tom Sestito of the Philadelphia Flyers scored last night in a 2-1 win over the Tampa Bay Lightning. Keep in mind that he had not scored in 31 games and the last time he was this prolific was in his days in the OHL. He also did this on only two shots and the same move. When a player says this is there only move and a goalie falls for it twice, well there are few other words that can be said. Just call it bizarre.

0 — It is the cruelest number in sports and yet here we are with Shea Weber? With all kidding aside to our running counter of players who have more goals than Phil Kessel, the fact that Weber has no points is a considerable surprise and is killing fantasy owners. It does not mean that Weber isn't doing other things for the Nashville Predators but the fantasy bottom line is the pain causes for people who think he should have three or four points right now. Will this last? It will not for much longer but hey, what if it does?
15 — The amount of penalty minutes Andrew Desjardins received for a clean hit on Jamal Mayers last night. We did warn readers that blown calls are up this year but when you see a couple in a very short time (see David Backes hit as well), then one gets the sense that this is something that has mushroomed into a big deal. Greg Wyshynski touched on this earlier today on "Puck Daddy". Speaking of supplemental penalties, Duncan Keith racked up 19 minutes worth of penalties ensuing from the initial hit including yes, spearing which was actually a spear. Does anyone want to see the Desjardins hit that made some fantasy owners unexpectedly happy last night? Here you go.
Yes we have two more quick numbers to ponder.
4 — This is another strange one. We use the number four to illustrate that zero people have scored four goals in the NHL this year. Granted this is early in the season but to be eight or nine games in for most teams and be this far in is a little odd but not unprecedented. Stay tuned hockey fans. Someone is eventually going to go a step above the hat trick. Maybe it will be a player no one expects.
3 — The number of players now on "sick days". I wish I was making this up but Dan Girardi and now Ryan Nugent-Hopkins are out with what is being termed by their teams as "body soreness". If you add in Christian Erhoff, then there you have it. This does have ramifications for your fantasy teams because with the shortened seasons, players are being sat out to avoid bigger injuries or problems down the road when they probably could play under normal circumstances. Is it fair? The NBA did not think so but this is a bit different. It will be interesting to see how long these "injuries" continue on for.
That is it for this week. Next week, we will have more numbers that are crazy even for the fantasy hockey world. If you have some oddball digits that have driven you nuts, leave them in the comments section and thanks for reading.