Hunter Shinkaruk THW Close-Up:
Date of birth: 1994-Oct-13
Place of birth:  Calgary, AB
Ht: 5'11  Wt: 175 lbs
Shoots: Left
Position: Left Wing
NHL Draft Eligibility: 2013 1st year eligible
Twitter:  @H_S_9
THW The Next Ones Ranking (January 2013): 5th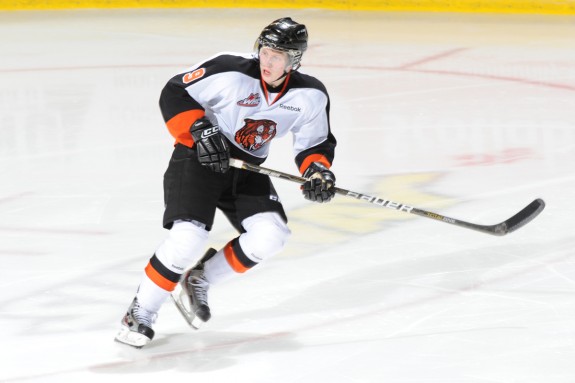 Other Rankings

***
[NHL 2013 Draft Guide – The Next Ones Draft Headquarters: Your quintessential draft resource]
***
Hunter is a Gifted Sniper
What Hunter Shinkaruk has cannot be taught.
Shinkaruk is a cerebral, relentless goal-scorer with top notch hockey sense. He possesses outstanding spatial awareness with an uncanny ability to find open space on the ice, setting himself up to be in the right places at all the right times. He is an explosive, dynamic offensive forward with game-breaking ability.
Much like Jonathan Drouin had to prove to the hockey bird dogs that he was not simply a beneficiary of being Nate MacKinnon's wing man, Hunter had to chart a similar course this season. Although there was no denying his talent, many thought Shinkaruk's high end pre-draft year offensive production was a result of, or greatly enhance by playing with Anaheim Ducks' late first round steal – Emerson Etem.
Shinkaruk proved any naysayers wrong, very wrong.
The Medicine Hat Tigers' captain was 14th in WHL regular season scoring having notched 37 goals and 49 assists, amassing 86 points in 64 games, playing with, with all due respect, less talented teammates than the previous campaign. He is an extremely creative forward with quick hands, deft puckhandling and an accurate shot coupled with a lightning quick release.
But the challenges do not end there for Hunter in proving any potential doubters wrong.
Some rankings have him as low as 23rd (The Hockey News). With the combination of skills, talent and work ethic he has, it is hard to fathom he'll fall this low.
Shinkaruk displayed his leadership abilities this season carrying over to the playoffs as he helped lift his 7th seeded Tigers over the 2nd seed and Memorial Cup host Saskatoon Blades, who were heavily favoured.
His skating is yet another asset that sets him apart. While not as smooth as Jeff Skinner (who he has been compared to) , his acceleration and shiftiness make him an extremely dangerous forward to defend against. He is very deceptive, utilizing savvy pivots and exceptional edge work.
Although he's not the biggest forward in this draft class, he plays with an edge and is a tireless battler. His hockey sense and gradual physical development should keep him from the infirmary, if anyone thinks that is a concern (durability at the next level).
While some argue he is a defensive liability, I like his awareness away from the puck, the way he reads the play in his own end, and his ability to wreak havoc with anticipation and interception of pass attempts. He'll still need work on positional awareness, but with his willingness to learn, he is a coach's dream.
As his father told Calgary Herald's George Johnson in December:
"He's incredibly astute as far as details go. I can remember going to Flames games and him telling me that Jarome Iginla had changed the tape on his sticks. This was when he was four years old.

"For him, this is one goal accomplished — to be here (World Juniors camp). The next is to make the team. He's an incredibly focused, very well-balanced kid. He's very, very realistic."
Where He'll Land Up in June:
While he was ranked 5th overall in The Next Ones Midterm Top 100 Rankings (January, 2013; final rankings due to be released early June), he landed in Columbus with the 9th overall slot in The Next Ones April Edition Mock Draft. He'll likely land anywhere from 7th to 13th overall, with any team landing him outside of the top 10 receiving an absolute gift.
Scout's Honour:
"Shinkaruk is an offensive force whose speed typically stands out among the crowd. He possesses good footwork, nice edge work and balance. He goes into the dirty areas and is not afraid to rub shoulders or make contact. He possesses good hand/eye coordination, a quick shot and can feather a pass on the tape while going full tilt. He's used on both special teams because of his speed and tenacious puck pursuit. Despite his smallish stature, Shinkaruk has shown some strength with the puck and is good at shielding it with a man on him. He possesses good hockey IQ/hockey sense and wants the puck on his stick. He can create offense in an instant with the smallest amount of space afforded him because of his feet, hands and head."
–  Aaron Vickers – Future Considerations
***
"Hunter is a fast, quick offensive player who is hungry to score. He has boundless enthusiasm and is not deterred in his approach to playing. He will pay a price to score and is always involved in the hard but reward areas in the offensive zone. He possesses quick hands and can beat you in tight. Very good speed, quickness, agility and balance which helps his attacking style in which he can beat defenders one-on-one. Very good awareness and he gets himself unchecked and open at the appropriate times."
– Craig Button – TSN
"Hunter Shinkaruk is a small, feisty forward with an excellent passing and scoring abilities. He plays hard in all three zones and is a gifted skater. Shinkaruk was one of the most feared scorers in the WHL last year alongside Emerson Etem. He had 49 goals and 91 points last year. Even without his talented linemate , Shinkaruk has continued to score at a good pace with 44 points in 31 games this season. He was one of the last players cut by Team Canada at their World Junior camp. Shinkaruk will need to bulk up before being able to play pro. He is probably two years away from seeing action in the NHL."
– Zenon Herasymiuk – Dobber Prospects
Watching perhaps my favorite NHL Draft prospect this year Hunter Shinkaruk. Always seems to be in the right place to make something happen.

— Ross MacLean (@rossmaclean) October 27, 2012
Statistics:

Bio/Interview(s)/Link(s):
International Tournaments:
Shinkaruk didn't make the final cut for Team Canada's World Junior 2013 entry in Ufa. I took a look at why they should have brought him to Russia back in December:
ETA :
1-2 years
Risk-Reward Analysis:  
Risk = 0.5/5   Reward = 4.5/5 
NHL Potential:  
Top line offensive forward
Strengths:
Accurate shot with quick release
High end hockey IQ
Savvy stickhandler with quick hands
Passionate attitude and strong work ethic
Shifty, agile and elusive skater
Offensive creativity
Leadership
Flaws/Aspects He Needs To Work On:
Continue to put on mass to handle the rigors of the NHL and maintain durability
Although far from a defensive liability, continue to develop defensive game
Fantasy Hockey Potential:
Offensive = 9/10   Defensive = 7.5/10
NHL Player(s) Comparison:
–  A hydrid of Jeff Skinner, Patrick Kane and Taylor Hall
Emerson Etem on Medicine Hat teammate Hunter Shinkaruk (2013 draft): "He reminds me of Jeff Skinner."

— Ryan Kennedy (@THNRyanKennedy) June 8, 2012
 – Cross-sport comparison: Desean Jackson – Wide Receiver, Philadelphia Eagles –  both are potential game-breakers
Video(s):
Off The Iron (Interesting Notes):
Hunter wears number 9 for his favourite player growing  up – Mike Modano.
Shinkaruk's dad, Roger, is the team dentist for the Calgary Hitmen (WHL).
***
THW's The Next Ones prospect profile template design architect: Chris Ralph
Chris is THW's senior draft/prospect analyst and a Managing Editor. Watch for "The Next Ones" Prospect Profile series, exclusive rankings, mock drafts, as well as the annual THW NHL Entry Draft Guide. Follow @ChrisRalphYQ on Twitter as he infiltrates, dissects and analyzes all happenings of hockey prospects and the NHL entry draft. Email: cralph[at]thehockeywriters[dot]com