A look at what could be in store for the NHL and the other professional leagues in North America as board advertising and in-ice logos become more prevalent in every arena.
---
From display ads on the ice and boards to television commercials and corporate sponsorships, there's been a long history of hockey advertising. For the first installation of this series, we'll focus specifically on board advertising and other ads seen at the ice rink.
Rink Board & On Ice Ads
One of the most prominent forms of advertising in hockey comes from the ads we see plastered on the boards of ice rinks around the world. However, those of us that have memories of watching the NHL before the 1980s, can reminisce of white boards featuring nothing more than marking lines and thousands of black scuffs from repeated abuse from pucks.
NHL teams were given the opportunity to sell ad space on their rink boards for the 1978-79 season. However, the first display ad featured on an NHL rink board appeared in 1980. According to The Toronto Sun, the Minnesota North Stars were the first NHL franchise to feature rink board ads. The North Stars sold eight pairs of rink boards for $3,000 per pair.
At Frozenfaceoff.net, every NHL team's rink, including all current advertisements is featured. To give a holistic overview of rink advertising take a look at the ads featured during the 2015 NHL All-Star Game.
Throughout the eighties, advertising along the boards began popping up at arenas everywhere. By the end of the decade, every NHL team featured advertising on its boards.
By the 1990s ads would spill over onto the ice surface and now are featured in the neutral zone of every NHL arena, which is by comparison very conservative. Some European and ECHL rinks, for instance, host an explosion of shapes and colors all over the ice. Below is a picture of the Oulun Energia Areena, home of the Oulun Kärpät, of the SM-liiga in Finland.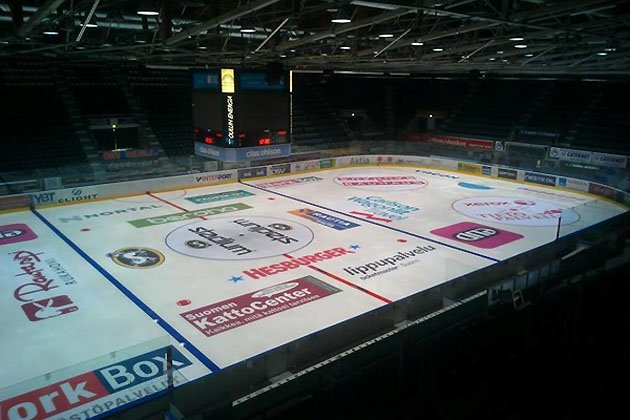 As one can imagine, with so many brand messages scattered throughout the fast-paced space of a hockey rink, it's difficult to capture the attention of fans. To gauge the effectiveness of different forms and locations of advertising, Visual Impact Modelling conducted an eye tracking study, which is featured in the below video. The ads are rank based on visual impact from high to low.
Arena Sponsorship, Jersey Ads & Others
Another area where the NHL varies from its European counterparts is jersey ads. Currently, the NHL doesn't feature any sort of advertising on its uniforms, and fans have already made it known they strongly disapprove of any potential to do so.
My Crosby jersey will look great with a Bowflex on it. RT @SpecReplay Bettman: Ads on World Cup jerseys possible http://t.co/P6BHTlLCAU#NHL

— Gareth Bush (@garethbush) January 31, 2015
As previously alluded to, the NHL plans to use the upcoming World Cup of Hockey as a litmus test for jersey advertising. Sources tell TSN, it will cost about $2 million per team (with eight teams competing in the tournament) to have a corporate logo featured on a jersey. However, no official announcement has been made by the league.
"Our agreement with the IIHF/national federations provides us with all commercial rights to the (World Cup) including jerseys so we have the ability to potentially include a sponsor but have yet to decide whether we will," says John Collins, NHL chief operating officer.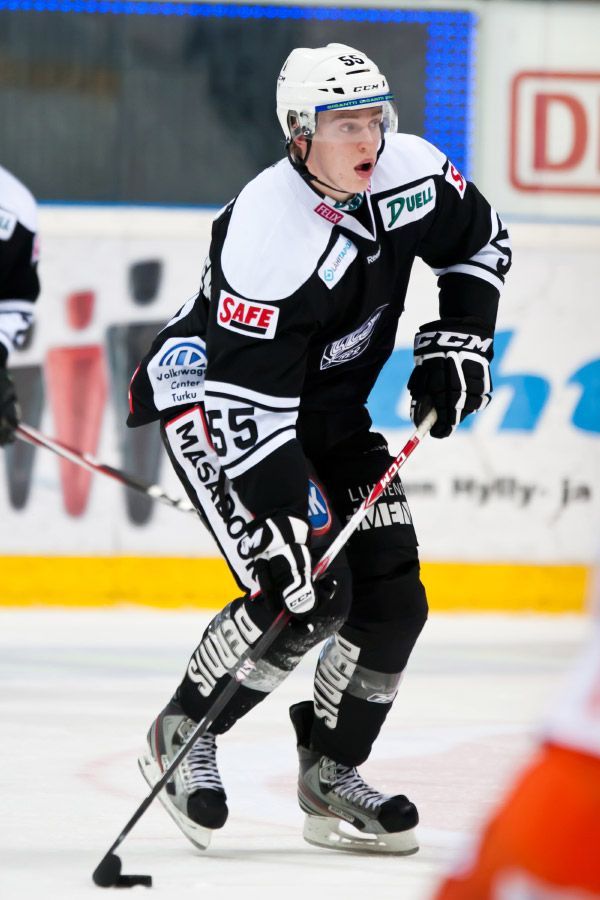 Featuring on-jersey ads has been an idea the NHL has kicked around for sometime. Last year, it was reported that such a move could generate $120 million in revenue for the league.
European leagues on the other hand, have been selling on-jersey ad space for several decades now, and feature uniforms that would be fitting for a NASCAR.
It's important to note, on-jersey ads reach far beyond ice rinks as fans buy jerseys and in turn become moving display ads. What immediately comes to mind are European soccer clubs. The major sponsor becomes just as prominent as the team itself.
Another key component to rinkside advertising is arena sponsorship. Every rink in the NHL has a corporate sponsor, i.e. First Niagara Center, Bridgestone Arena, Scotiabank Saddledom, etc. Twenty-seven of the 30 NHL arenas are named after corporate sponsors. Only Madison Square Garden, Nassau Veterans Memorial Coliseum, and Joe Louis Arena lack one.
Such sponsorship deals typically cost several million dollars a year and are signed from anywhere for a few years to several decades. For instance, Air Canada signed a 20-year deal worth $40 million in 1999 to sponsor the home of the Toronto Maple Leafs.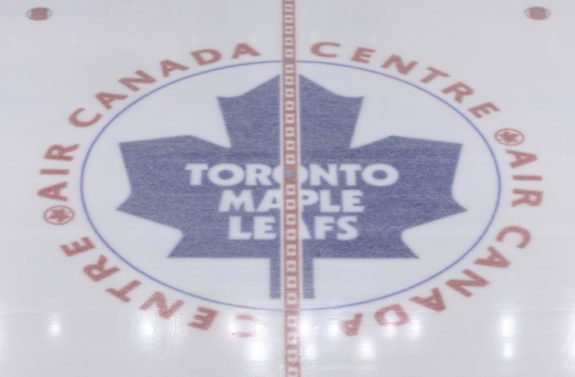 Other in-arena advertising can include a number of things from intermission entertainment sponsorships and giveaways to sponsoring certain sections of the arena.
Stay tuned for part two of the advertising in hockey series where we will look at broadcast commercials and online advertising as well as emerging ad formats.
Check out part two of the series where we look at broadcast, online & emerging hockey advertising.
originally published Feb. 11, 2015