CALGARY – From the onset of Team Canada's selection camp, the atmosphere at the stunning Markin MacPhail Centre has been electric.
31 players remain at camp vying for the 23 roster spots.
Here are ten reflections and observations heading into Thursday before the final game against the University of Calgary Dinos and subsequently, the final cuts: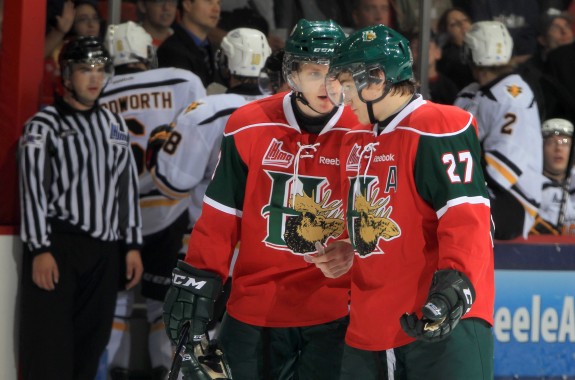 1. The World Junior Hockey Championships is thought of, in general, as a 19-year-old tournament. Nonetheless, Team Canada would be making a monumental mistake in not taking all of the three youngest remaining players left at camp. Rarely does Team Canada rely on first year NHL draft eligble players to play key roles. This might be even more a consideration given the abundance of available talent with the NHL lockout. This year is different.
Nathan MacKinnon has likely has his place cemented in the lineup with his unparalleled explosiveness. The other two remaining projected top 10 2013 NHL draft eligible players also bring unique and dynamic qualities to the team. Jonathan Drouin brings incomparable puckhandling wizardry and creativity to the rink. Hunter Shinkaruk provides elite goal-scoring ability; he has a nose for the net and not afraid to go to the dirty areas. Are the kids physically mature enough to handle the rigors of the World Junior tournament?
Future Considerations' scout Zenon Herashymiuk concurs that the 2013 eligibles stepped up their game (FC).
2. The other projected top 10 player, Ottawa's (OHL) all-around centreman Sean Monahan, was amongst the first five cuts. He exhibited hints of what could be, but ultimately is not quite ready to contribute at the level Team Canada needs. Look out in Malmö, Sweden for the World Juniors in 2014 should he not make the NHL after being drafted.
3. Although not surprised Minnesota Wild 7th rounder Travis Graovac and Penguins blueliner prospect Derrick Pouliot were cut, I was a little perplexed that they were among the first five axed. Graovac did everything but finish during the first 2 games, but was very effective and impressive. I'm not sure what else he could have done.
4. Canada could have used his NHL-calibre point shot and poise on the blueline; he could have used the experience from this camp for future years.
Really think 2013 #NHLdraft eligible Ryan Pulock @rpulock2 of the #WHL @bdnwheatkings deserved an invite to Team Canada camp in #YYC. #WJC

— chris ralph (@ChrisRa1ph) December 13, 2012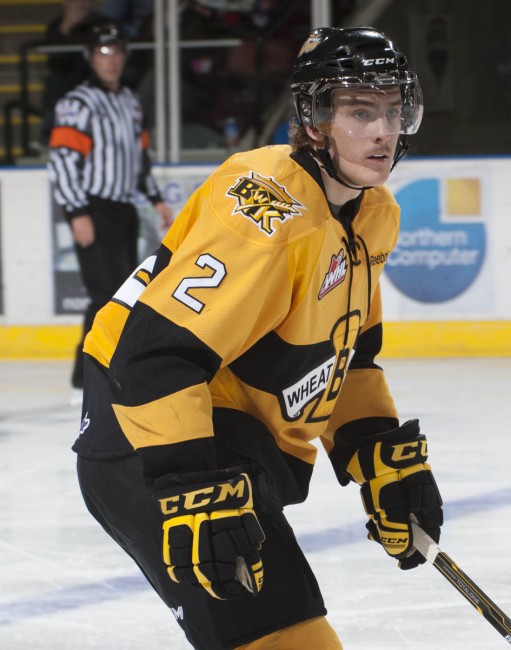 5. You have to feel for the young guns that are cut so far, and those who will be cut going forward. Head coach Steve Spott nailed it today though:
"Players are given an opportunity to shine and I think there's some players in my mind here today that didn't take advantage of a very good opportunity because there's jobs to be had. I said from Day 1, 'Don't have any regrets' and I think some players may have some after today."
6. History tells us attending Team Canada's selection camp and even making the team does not necessarily translate to success at the NHL level. However, in addition to the aforementioned Graovac, crafty drafting is evident at selection camp. Even without the goals he has scored, Frank Corrado has been impressive and still in hunt of a place on Canada's blueline; Canucks with a savvy 5th round selection. Speedy forward and Florida Panthers 6th rounder, Francis Beauvillier, was impressive in the Red-White scrimmage game, but struggled in the game against the University of Alberta Golden Bears and was subsequently cut. Calgary Flames 6th rounder Laurent Broissoit is still in contention to be among the three goalies Team Canada brings to Ufa.
7. I will not even venture a guess as to the three goalies Team Canada will ultimately decide to bring to Russia. Perhaps the biggest underdog heading into camp was Red Wings' prospect Jake Paterson. The smallest goalie in camp has been the top guy between the pipes to this point. The seemingly consensus number one goalie heading into camp, Bruins' 1st rounder Malcolm Subban, has struggled. Binnington and Broissoit have been steady.
8. A potential X-Factor, Mathew Dumba, has been given every chance to cement a spot, but has had a rough camp thus far. Dumba, at the top of his game, has plenty to bring to the ice for Team Canada. It will be interesting to see how Canada's brass evaluates Dumba – on his body of work in the past or his play as of late. He is trying to play more of a complete game this season in the Dub, but Dumba is at his best when he plays the game his way. He can be a difference maker. His play at this year's World Junior U18s was nothing short of spectacular. He captained the squad and led the tournament in scoring from the blueline.
9. Who will be the captain and assistant captains? Ryan Nugent-Hopkins, Scott Harrington, Jonathon Huberdeau and Boone Jenner have to be among the leading candidates to wear a letter.
10. Who needs to enhance their chances with a strong performance on Thursday? Many slots have already been cemented for Team Canada's final roster. I think Ryan Murphy has done enough to show he deserves to be on the team and will not join Dan Cleary as someone who was cut three times. Players teetering on the edge include:
Mathew Dumba, Ryan Sproul and Tyler Wotherspoon on the blueline
Anthony Camara, JC Lipon, Mark McNeill, Ty Rattie and Tom Wilson up front – Wilson, especially has to avoid undisciplined play
Between the pipes, lies the most difficult of decisions.