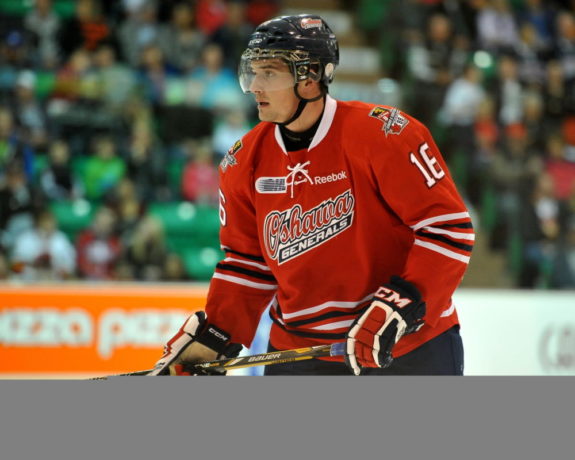 Belligerence. Pugnacity. Truculence. All of these attributes are what Toronto Maple Leafs general manager Brian Burke looks for in a hockey player.
In Tyler Biggs, a first-round selection of the Leafs in 2011, all three can be found.
A native of Binghamton, New York, Biggs is striving to become a "prototypical power forward". Those are the words of D.J. Smith, his coach with the Oshawa Generals of the Ontario Hockey League.
"He's hard to knock off the puck. Down low he grinds it out. He just has to have a little bit better touch around the net and he'll really start to score," said Smith of Biggs' game.
At 6'3", 210 pounds, Biggs is physically ready for the professional ranks. Developing skill is one of the main reasons he's playing major junior this season.
His aggressiveness and pugnacity earned him the right to be taken earlier than expected in the 2011 NHL Entry Draft. Brian Burke stated later on that Stuart Percy, who was also taken by the Leafs just a few picks later, was actually rated higher on Toronto's draft board.
One of the cardinal rules of the draft is sticking to the list. As soon as a team begins to stray away from preset player rankings, it shows a lack of confidence in scouts. It was tough for Burke to pick Biggs first, but there was a reason for it: Burke had become aware that other teams were very interested in taking the large, powerful forward.
That meant he wouldn't be there when the Leafs made their second selection of the first-round. Biggs would be taken twenty-second overall by Toronto, and the Leafs were still able to grab Percy with their second pick. It all worked out, just not as originally planned.
Following an intense offseason, Biggs went and played a season at Miami University in Ohio. Not everything went as he had hoped, though he will insist all was fine between him and the team. Rumors had him possibly playing for the Toronto Marlies of the American Hockey League this season. And when he signed his entry-level contract, it meant he was officially leaving the RedHawks.
Speculation also saw him moving to Oshawa to join the Generals, who owned the CHL rights to his services. And clearly, those speculations eventually panned out.
"This is the right place for him," head coach Smith said prior to the season. "We're going to develop him. We're going to play him a lot. Hopefully, next year, when he goes to either the Leafs or the Marlies, he knows how to play the right way and he can go on to his pro career. I expect him to be a big part of this team."
While many fans expect Biggs to be the Leafs' next big scrapper, fighting is only a small part of Biggs' game. He's not afraid to drop the mitts, but it's not as though he goes and seeks a tilt every shift.
Having said that, he is pretty good at it. Check out a recent fight between between Biggs and Kurtis Gabriel of the Owen Sound Attack:
Fighting isn't what Biggs wants to be known for. He doesn't want to be thought of as a player who's only valuable when his team needs a spark.
"I want to be a go-to guy for this team," Biggs said of his role on the Gens. "I want to be a guy they can rely on on the power play and on the penalty kill and in certain situations when you can't just throw any guy out there."
Coming out of minor midget, Biggs was an offensively-gifted forward. In his OHL draft-year playing for the Toronto Jr. Canadiens, Biggs scored 40 goals in 72 games. In total, he had 86 points. It's not as though he's solely a one-dimensional player.
"Biggs is terrifying to match up against as he is a big, strong kid who knows how to use his biggest assets to his advantage. His intimidating and crushing physical forechecks open the door for a lot of offensive pressure and he has proven that he can take advantage of that around the net. He has a great shot with a good quick release but does most of his offensive damage directly in front of the net." – International Scouting Service's 2011 Draft Guide
Strength is an obvious part of his game. Every time he steps on the ice, he can outmuscle most players out there. As a result, he's able to create scoring opportunities for both himself and his teammates.
Throughout this season with Oshawa, Biggs will be looking to showcase his offensive ability. And it's certainly there; he's just still working on displaying it regularly.
Biggs is expected to earn a spot on the American's world junior team for the upcoming tournament in Ufa, Russia. He'll likely end up playing a third-line grinder role, which suits his game just fine.
Don't expect huge numbers from Biggs this year with the Generals. Dangling and sniping aren't what he's on the ice to do.
As long as he can learn more about his own talents and stick to the game plan, Biggs should be more than ready to step up the ladder next season.
_____________________________________________
Contact David O'Connor at davidoconnorhockey@gmail.com and follow him on Twitter @DavidOConnor95 for more updates on prospects and the World Juniors.