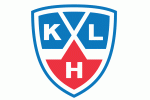 Each week, the Kontinental Hockey League (KHL) salutes their Players of the Week. The top forward, defenseman, goaltender, and rookie are selected based on their statistics and performance, as determined by the KHL Statistics and Information Bureau. This week, the league recognizes:
Forward of the Week
Igor Skorokhodov of HC Yugra 
Skorokhodov scored five goals and made one assist in three games. This season, he's scored 16 goals – tied for third best in the league – and 7 assists for 23 points in 32 games.  He leads HC Yugra in scoring.
Here he is, singlehandedly outscoring Severstal – netting all his team's goals in a 3-2 victory:
Defenseman AND Rookie of the Week
Viktor Antipin of Metallurg Magnitogorsk
In three outings, Antipin earned four points – two goals and two assists – with a plus-minus rating of +3, spending an average of 22 minutes 52 seconds on the ice per game.  Through 33 games, the Kazakhstan native has posted nine goals and seven assists for 16 points. His nine goals are tied for second best in the league among defensemen.
Here's his four-point night in a 7-4 victory over Spartak earlier this month:
Goaltender of the Week
Vasily Koshechkin of Severstal Cherepovets
Koshechkin went 2-0 last week with one shutout, posting a a 93.6% save percentage and allowing an average of 1.44 goals per game.  The 6'7″,230 lb., netminder is 12-15 on the season with a 2.24  goals against average and a 92.1% save percentage; he has four shutouts on the year.  Originally drafted by the Tampa Bay Lightning, 233rd overall in 2002, Koshechkin has yet to make the jump to North America. He's played the past six seasons in the KHL.
Here's an amazing save by Koshechkin from last season:
The KHL is on break until December 19.