It seems that when NHL Draft pundits talk about the best players in the WHL they focus on one of the many great defensemen that the league has produced. While there are several top blue-liners there are some great scorers as well. Not only is Medicine Hat's Hunter Shinkaruk one of the top scorers in the WHL, he is one of the best players in the 2013 NHL Draft class.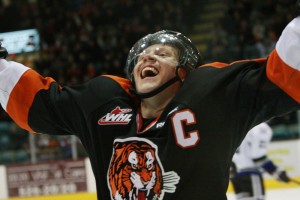 Shinkaruk is showing up near the top of most draft lists and if you want to see his name called next June you're going to have to tune in at the beginning because he won't last long.
After an impressive 14 goal rookie season in 2010-2011 Shinkaruk exploded last year to score 49 goals and 91 points for the Tigers. He is on pace to put up similar numbers this year, a year that very well could be his last in Junior Hockey.
Watching him play it is easy to see why he is ranked so high. He is lightning fast, has great hands, a quick and accurate shot and finds the open spaces on the ice. He has 17 goals through the Tigers first 24 games and it seems the only thing to slow him down is an errant skate he got clipped with against Portland last weekend. The encounter left him with several stiches and out of the lineup for a few days but he is optimistic that it won't cost him many games at all.
"It's been a pretty good season," he says. "I think coming into the year there were some obstacles without Emerson (Etem) and being a captain there's a couple things I've had to get used to but I feel like I've had a successful start and have been a good leader for my team."
After scoring 49 goals you would not think that he had many things to improve on. Shinkaruk feels he has improved in one very important area.
"I think, obviously, being the captain I feel like I'm a better leader this year," he says about wearing the 'C'. "I am a little more comfortable speaking up in the room when our team needs something and I feel like I've gotten stronger so I feel like I've taken great strides to play at a pro level this year."
Playing at a pro level is important as Shinkaruk's goal is to be in the NHL next season. With the skill he has that seems like a distinct possibility.
"That's going to be my goal," he says. "I feel like, with a lot of hard work, there's no reason why I can't do that. I got to stay focused on our team, that's my main focus but every day I'm going to try to make sure that I can make the NHL next year."
Shinkaruk feels that for the most part his game is ready, but he does see one area that he can work on to make sure he is in the NHL next year.
"I think just getting a little stronger," Shinkaruk says. "Obviously you're going to have to go up against bigger D and you're going to have to handle them down low. I feel like that is going to be the biggest thing but I work hard with my trainer every off-season. I don't feel like that is something that will hold me back, it just pushes me."
That work appears to be paying off.  Playing against Seattle this past weekend, and their NHL sized defense, he showed that he can take the hits from them down low and still stay strong on the puck. Shinkaruk also was able to showcase his talent among the world's best when he got to represent the WHL in the Subway Super Series and was able to come up big with a shoot-out winner. (Shinkaruk's shot is at 50 seconds)
"It was unbelievable," Shinkaruk says of the experience. "I didn't get a chance to play in it last year. To play in it this year was pretty cool. With the way it ended as part of the shoot out was pretty neat and hopefully I made enough of a mark to get invited to the World Junior camp and hopefully showcase my skill."
It will be interesting to see if Shinkaruk can crack the lineup for Team Canada in this year's World Junior Championships. Because of the NHL lock out there are several players who would normally be in the NHL and not headed to the World Juniors. While Shinkaruk understands that he feels he can still compete for a spot.
"Obviously there's a lot of highly offensively gifted players," he says of Team Canada. "And that's what I do, I put up points for my team so it's not going to be easy but I feel like if I keep playing my game and have a good camp, I don't feel like there is any reason why I can't make the team."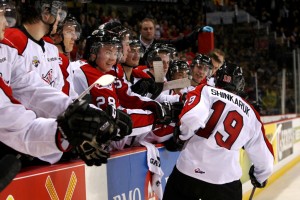 Shinkaruk says that he admires Pittsburgh Penguins star Sidney Crosby, as you can imagine a lot of young players do. For Shinkaruk, he admires Crosby for more than just his game, he admires him for the other intangibles he brings.
"He's a great player," he says. "He's dominant but he's a good person in the community and a good leader for his team. Those are things away from the rink that I try to get involved in."
Every NHL Draft prospect is happy to go play with which ever team drafts them (with maybe the exception of Eric Lindros) but you know that deep down there is that one team that would be extra special to play for. The team that they grew up rooting for, the team that they dreamt about scoring the Stanley Cup for. Who is that team for Shinkaruk?
"Kind of my favorite team growing up was Dallas," Shinkaruk says. "I wear number nine because of Mike Modano so if I went there that would be cool, obviously I couldn't wear nine but that would be pretty neat. But I'd be happy going any where."
Medicine Hat has been having an up and down year. They sit at 11-13-1 in a tough Central Division, so what does Shinkaruk thing the Tigers have to do to end up with a successful season?
"I think we just have to use our speed to our advantage," he says of the Tigers. "You know we're a smaller team but we have a lot of quickness in our lineup. We have a lot of good kids who just love to come to the rink and play hockey every day. I think if we use that to our advantage we can roll on teams and use our speed. I think that will be the biggest reason for our success this year."
Shinkaruk is a very confident player and watching him on the ice you can see the joy he has playing the game. That is most evident in his elaborate celebrations after scoring goals. While there is an old school faction in hockey that doesn't like celebrations (we're looking at you Don Cherry), for Shinkaruk it is just a way to express the joy of the game.
"I watched a Daniel Briere interview once and a lot of people say act like you've been there before and he said 'I'm going to celebrate like it's the last goal I'm ever going to score' so when I score I want to make sure I enjoy it because there's not many things I love more than scoring," he says.
It won't be long before fans in NHL rinks will be celebrating right along with him.
Andrew writes about the WHL and NHL Draft Prospects. He also covers the Seattle Thunderbirds for 710 ESPN Seattle and spent two years with Sportsnet. Follow him on Twitter @andyeide.