While not playing in the playoffs is devastating to an NHL player, one bright spot of missing, or being knocked out early, is the opportunity for some players to play for their nation in the IIHF World Hockey Championship. Since 1930, this annual event has brought together the best players in the world. For many non-North American skaters, winning a gold at this event ranks just as high as a Stanley Cup.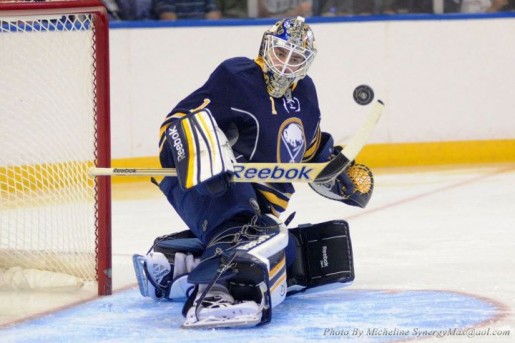 The Sabres Participating
With the Buffalo Sabres missing the playoffs, it gave five players the opportunity to venture to this year's event, held in Helsinki, Finland and Stockholm, Sweden, May 3-19. Thomas Vanek represented Austria, Christian Ehrhoff, Germany, Andrej Sekera, Slovakia, and Sabres' prospect Zemgus Girgensons played for Latvia. Perhaps the most standout performance went to goaltender Jhonas Enroth who carried Sweden to the gold medal. Enroth's performance is one thing but it could not have come at a better time with the latest reports that Ryan Miller may be on his way out of Buffalo.
Jhonas Enroth
A goaltender could not dream about having a better competition than Enroth had at the Worlds. Enroth got to be the number one for Sweden and took full advantage of the situation.  Enroth appeared in seven games during the tournament and registered a 5-1 record helping Sweden win the gold medal over Switzerland. He was between the pipes for their dramatic quarter-final win over Canada in a shootout, then shut out Finland in the semis. He finished things up with a one-goal against game in the gold-medal match versus the Swiss.
Enroth proved he could carry a team by posting out-of-this-world numbers. He finished the tournament with a goals against average of 1.15. He faced 183 shots, and allowed eight goals for a save percentage of .956. He also finished with two shutouts in the tournament.
Thanks to his efforts, Enroth was given many tournament awards. He was selected as best goaltender by the tournament directorate, was named as the goaltender for the tournament All-Star Team by the media and took home the player of the game award for Sweden in the gold-medal game.
With everything that he accomplished in just over a couple of weeks, the biggest thing he may have done is establish himself as a capable number one goaltender, which gives the Sabres considerable leverage moving forward.
Andrej Sekera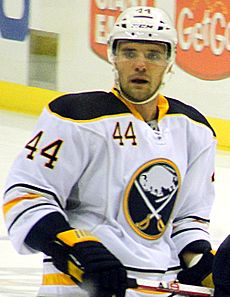 After Enroth's gold medal winning performance, the next top finisher was defender Andrej Sekera and his Slovakian team. Sekera, along with Florida Panther, Thomas Kopecky were the only NHL representatives on this team due to many big names still being in the playoffs.
As a team, they finished fourth in their group and eighth overall. Sekera logged big minutes on the team's blue line averaging 25:02 a game. He scored a goal and added an assist plus two penalty minutes in the team's eight games. He finished with a 0 +/- rating and 10 shots on goal.
Christian Ehrhoff
The second defenseman to represent Buffalo was Ehrhoff who laced them up for Germany. The German team finished fifth in their group and ninth overall. Much like Sekera, Ehrhoff logged big minutes for the Germans averaging 28:04 per game. He had a very solid tournament putting up three goals (one game-winner and two on the power play) and two assists. He had an even +/- rating and registered 22 shots in the seven games he appeared in. Ehrhoff did spend 10 minutes in the box, but the Sabres organization has to be pleased with the performance and must hope he can duplicate it during next season, as offence from the back-end was an issue.
Thomas Vanek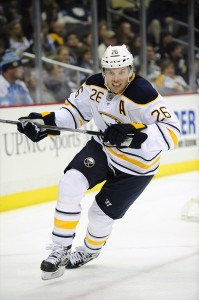 Much like he did all season, Vanek continued to be a force in the tournament. Vanek and his Austrian team came into the tournament ranked 15th in the world. After their tournament, where they won just one game, they will remain there, but Vanek has to be pleased with his performance. He had seven points in seven games (four goals, three assists, including a game-winner and power-play goal). He logged 20:15 minutes of ice time, on average, and threw 33 shots on net.  He was a minus player in the tournament at -2, but still his efforts have to be seen as a positive. Vanek's stock continues to rise, whether the team tries to move him or build around him.
Zemgus Girgensons
The final Sabres or Sabres prospect, to play at the event was Girgensons. Girgensons was originally taken by the Sabres 14th overall in the 2012 NHL Entry Draft. He came over from Latvia and played the 2012-13 season with the Rochester Americans, but was reunited with his countrymen for the Worlds. Girgensons only played in five games, but did notch a power-play goal. He averaged 17:20 of ice time and had 10 shots on goal. He finished as a -3.
The Sabres have to be pleased at how well they were represented at this tournament, with Enroth bringing back a gold medal, Vanek's continued production, the defensemen playing major minutes and even a prospect getting the experience of playing with some of the worlds best.
Who knows what this will mean for these players and the team but it has certainly made some of the offseason storylines even more interesting for fans.