The Nashville Predators (colloquially known as the Preds) are a professional ice hockey team based in Nashville, Tennessee. They compete in the National Hockey League (NHL) as a member of the Central Division. The Predators have played their home games at Bridgestone Arena since 1998. Their television broadcasting rights are held by Fox Sports Tennessee, and radio broadcasting rights are held by WPRT-FM.
The Predators are primarily affiliated with the minor league teams Milwaukee Admirals of the American Hockey League (AHL) and Florida Everblades of the ECHL, but also have temporary AHL affiliation with the Chicago Wolves due to the Admirals opting out of the 2020–21 AHL season.
Deeper Dive
2021-22 Season Roster
Nashville Predators Jersey History
Other than the logo, there is nothing more marketable to a sports franchise than its uniforms. Some are iconic and will never be altered, then there are others constantly changing their look to find the one meant for them. The NHL is not a victim to jersey altering as much as college football, thankfully, because it is lame and over-saturated.
For the Nashville Predators, their main color scheme has been dark navy and yellow (gold) since their entrance into the League as an expansion team in 1998. The logo on the crest has essentially remained the same, with minor adjustments here and there. It is symbolic to the city of Nashville because in May of 1971, construction workers building the First American Center downtown discovered bones of a saber-toothed tiger that has been extinct for approximately 10,000 years old. Read More…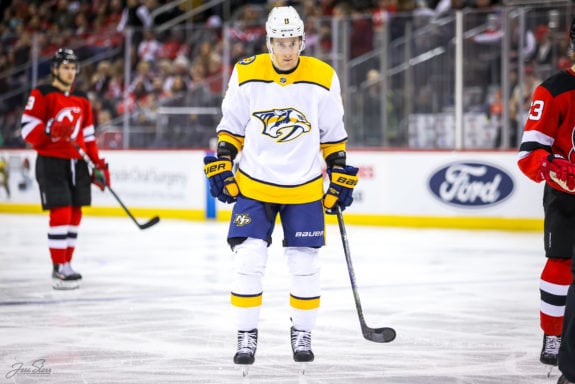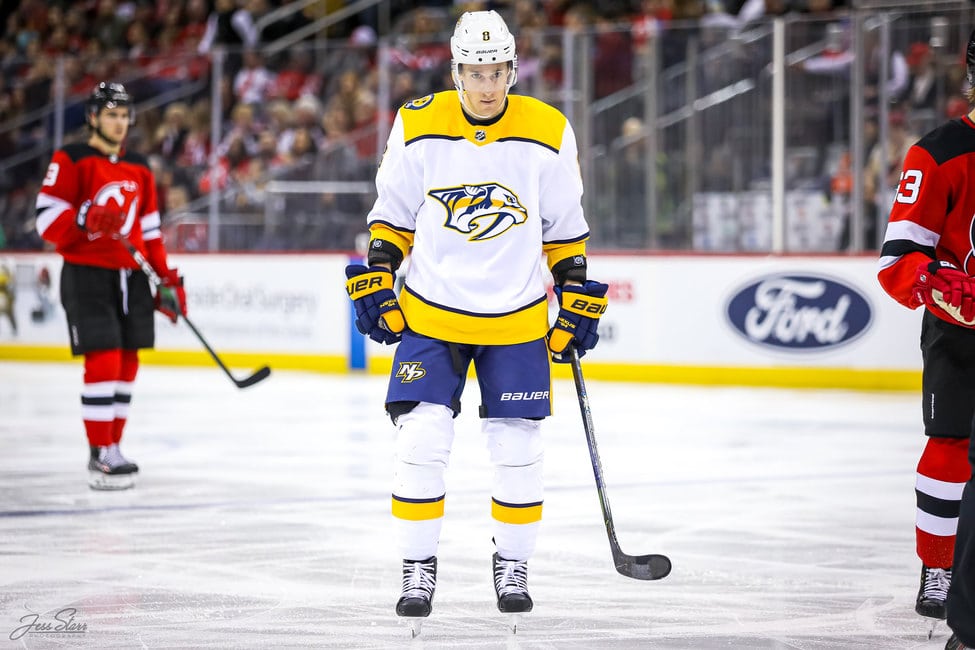 The Players
More Predators History
Predators' History of Diversity Isn't Long, but It Is Strong
So, as we go through February, it's Black History Month, and I wanted to take a closer look at the all-time Predators' roster and review the impact the black players had on this franchise. In this post, I'm going to touch on the three players who made a stop in Smashville, and they did leave a pretty valuable impact on the team. Read More…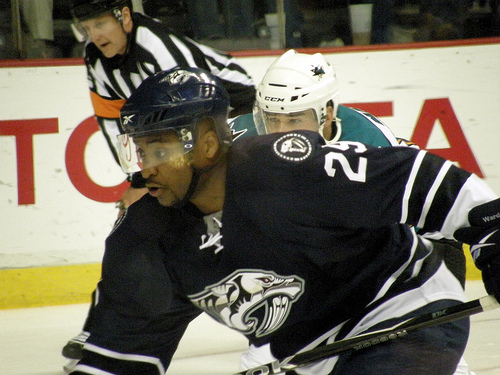 Captains
Sources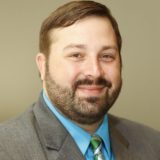 Born and raised in Michigan, Kyle Knopp started playing hockey when he was 3 years old. Knopp has played, coached, or worked at every level of ice hockey — including three seasons in the Ontario Hockey League and two seasons with the Detroit Red Wings where he was part of the Stanley Cup Championship team in 2008. He covers the Washington Capitals and Detroit Red Wings for The Hockey Writers and is the editor of THW's Morning Skate newsletter. You can follow him on Twitter @THW_Knopp.