After a disappointing run to start the season, the Nashville Predators sit sixth in the Discover Central Division, and will likely be on the outside looking in come playoff time. That doesn't mean there aren't things to look forward to though. The prospect pipeline is brimming with future NHLers, and the trade deadline should bring some fireworks for a team that is in need of a major shakeup. Whether the direction becomes a rebuild or a reset, the unrestricted free agents (UFAs) currently on the roster should all be shopped.
Mikael Granlund
It has been two full years since Granlund was acquired for Kevin Fiala, and we all know that move hasn't gone down exactly as planned. The 29-year-old has twice paced for over 70 points with some anemic Minnesota Wild teams. Surprisingly his two career years came when he was seeing an average of 40% of his starts in the offensive zone, and firing 2.5 shots per game on net. Nowadays he is down to 1.7 shots per game despite starting over 60% of his shifts in the offensive zone.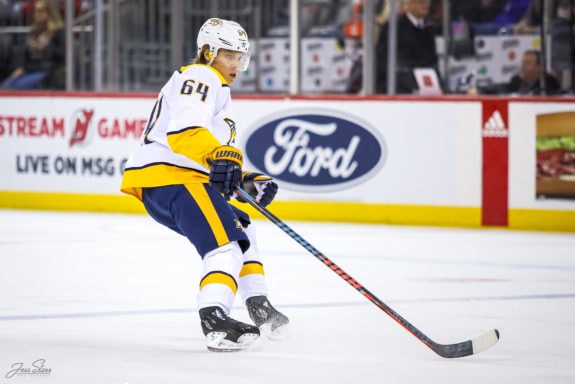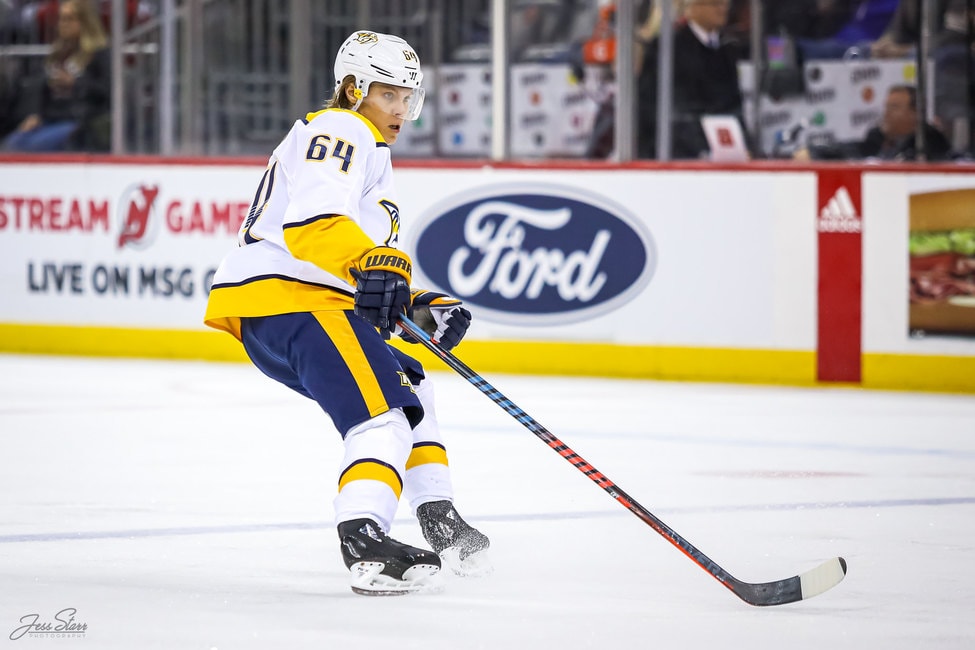 This year Granlund has bounced around in the lineup, and become a bit of a favourite of John Hynes', especially on the penalty kill. He needs a team that can suit his fast-break offence, and create chances off of odd-man rushes. A team that controls possession but doesn't have a lot of other skilled options up front would likely be the best fit, so seeing him land with the Arizona Coyotes wouldn't be too surprising. No matter who inquires, David Poile should be looking to start the bidding at the price of a first and third-round pick. Anything less would be a disappointment.
Erik Haula
The Predators got a bargain in Haula at $1.75 million for one year, as the former second-line centre had a career-high of 55 points in the only season he saw over 17 minutes of ice time per game, and can play on both sides of the puck. However, it seems that he needs higher ice time to thrive, and in Nashville he has only been getting 15:30 per game, while mostly seeing defensive assignments.
Andreas Athanasiou has a similar offensive peak, though more of an offensive focus from the wing. If he can net two second-round picks in a trade deadline deal, then Haula should be able to net at least one. The Minnesota Wild and Edmonton Oilers are most likely to need another centre, however they aren't likely to want to pay up for Haula. He could be an excellent fit for the Colorado Avalanche though, and they have some solid prospects to spare.
The Goalies
With Juuse Saros out with injuries, the current goaltending tandem are both set to be UFAs this offseason, and it would be surprising to see either re-up with the team. Though on the flip side, it would be surprising to see either get moved – for different reasons. Pekka Rinne is likely going to retire at the end of the season, and it has been stated that he is not going anywhere.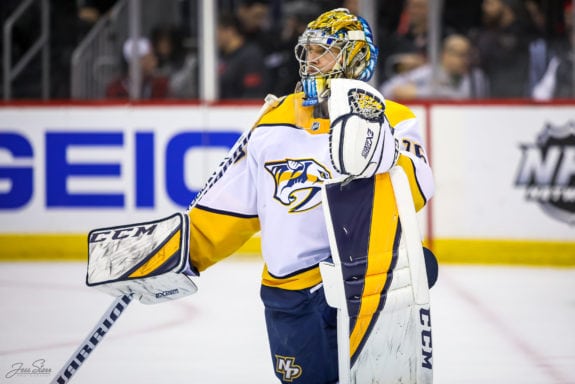 Meanwhile, temporary backup Kasimir Kaskisuo shouldn't be any more than a third-string goalie for any NHL franchise, and it would be surprising to find him in demand by the trade deadline. Considering the fact that the Predators need to carry three goaltenders this season and won't want to have one of their developing prospects sitting around on the taxi squad, it makes it even less likely that he is moved.
Brad Richardson
Richardson has only played 10 games with the Predators due to injury, but he has been efficient and effective in those games. He has won 57% of his faceoffs, and put up three points despite starting less than 30% of his shifts in the offensive zone. Richardson was last traded in 2008 for a second-round pick, but he won't fetch the same price this time around. A mid-round pick is the best the Predators will be able to do for a fourth-line faceoff specialist.
Luca Sbisa
Sbisa was claimed off of waivers the day before the season started, and he's your standard seventh defenceman. In the first year with an NHL taxi squad, he's an excellent guy to have in the system. Typically at the trade deadline, there's a team who's already missing a defenceman or two, and really wants to shore up their depth so they'll bring in a rental player just like Sbisa to play a handful of games when necessary. It will usually cost a late-round pick, and it makes no sense for the Predators to hold onto him, especially when there are options like Alex Carrier and Jeremy Davies waiting in the wings. Hopefully, the Predators can net an extra seventh-rounder here.
The Best Case Scenario
The best-case scenario would see the Predators add a pick in every round of the 2021 draft, or an equivalent prospect for the specific round that is a couple of years into their development. The Predators have a mid-tier prospect system, and if they are to re-emerge as a consistent contender, they will need to bring in some more high-upside pieces.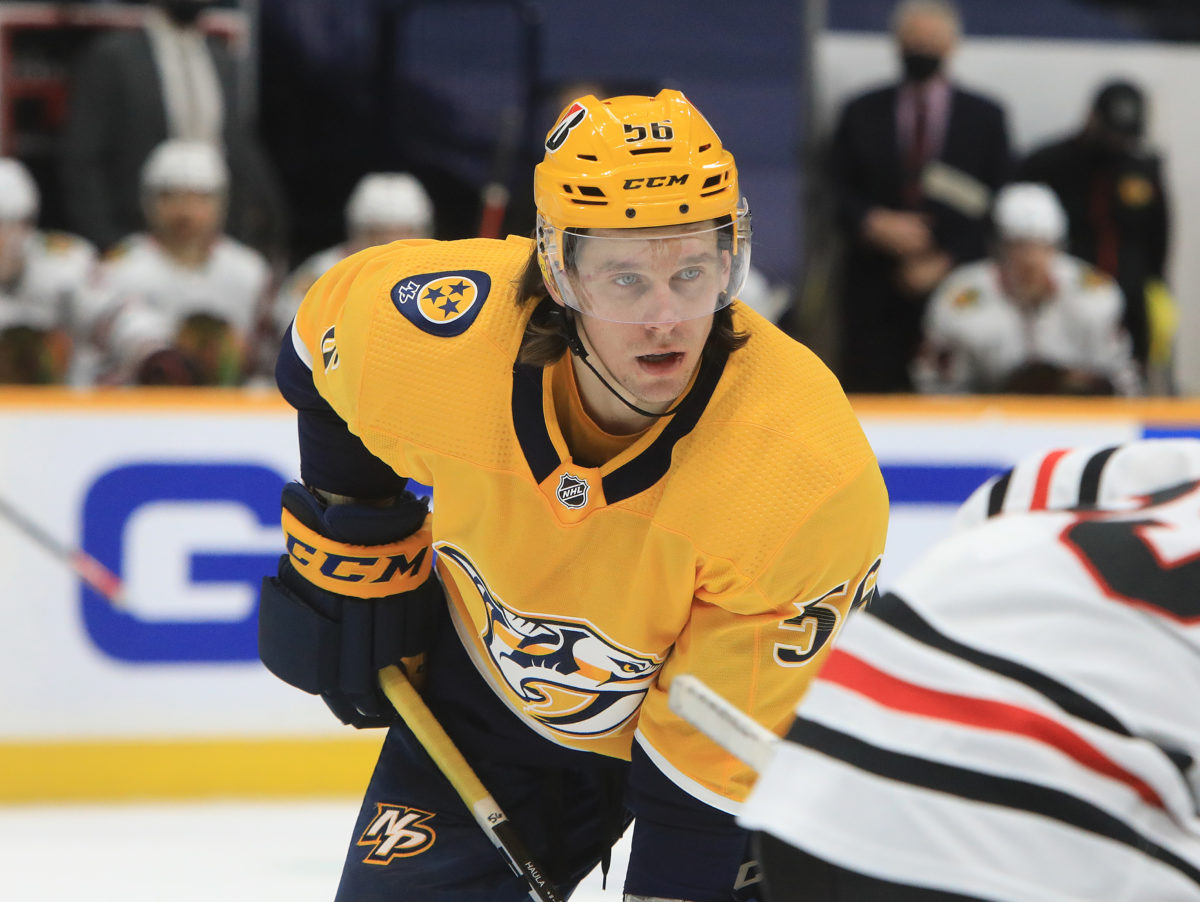 Any of the UFAs not moved becomes a wasted asset, because they will not be adding any additional value this season. As mentioned with reference to Sbisa, the Predators have players in the system that deserve to be given a taste and some development in the NHL. Even if someone like Granlund or Haula want to stay with the Predators long-term, there is no reason that Nashville can't flip them for an asset and look to re-sign them in the summer. Rebuilding, re-tooling, or somewhere in-between, all of the UFAs need to be moved.
---
---