On March 1, the Nashville Predators defeated the Edmonton Oilers by a score of 4-2. It was the Predators sixth win in a row and extended their lead in the Central Division to six points. The victory was much more than just one game in an 82-game season for the Predators.
The win marked the 1,320th in the career of general manager David Poile. With that victory, Poile passed Glen Sather, the architect behind the Wayne Gretzky-led Oilers of the 1980's, for the most wins in league history for a general manager. Poile was already regarded as one of the best executives in league history, but by passing Sather, his legacy is cemented.
Poile's Career Before Nashville
Before Poile became GM of the Predators, he played college hockey at Northeastern University. After graduating, he became an administrative assistant in 1972 with the expansion Atlanta Flames. After five years in that role, the Flames promoted him to assistant general manager and in 1982, the Washington Capitals hired him to be their general manager. He remained with the Capitals for 15 seasons before they fired him in 1997. Under Poile's guidance, the Capitals accumulated a record of 594-454-132 and reached the playoffs in 14 of 15 seasons.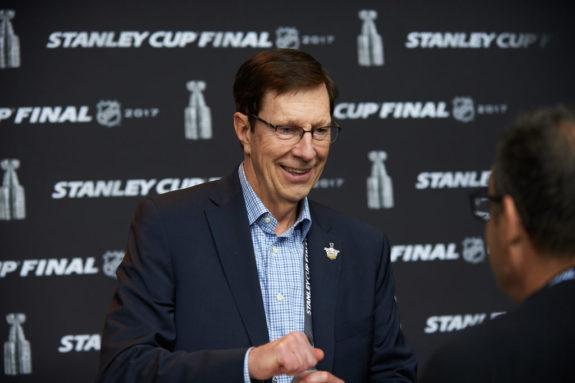 Poile's impact on the Capitals cannot be overstated. Prior to hiring him, they had not qualified for the playoffs in their eight seasons as a franchise and finished last in the division six times. The season immediately before hiring Poile, the Capitals went 26-41-13.
In his first season at the helm, they finished with a 39-25-16 record and reached the playoffs for the first time. In the seasons that followed, the Capitals reached the playoffs every season except the 1996-97 season, his last in Washington. Afterwards, in July 1997, the expansion Nashville Predators hired him to build the franchise from the bottom up.
Tenure with the Predators
Poile has remained the GM of the Predators for all 19 of their seasons — that includes 1,512 regular season games with a record of 732-574-60-146 and 92 playoff games with a record of 42-48. They have qualified for the playoffs 10 times and are on their way to reaching the postseason for a 11th time this season.
After taking six seasons to reach the playoffs for the first time, they have missed the playoffs just three times in the 14 seasons since and have gone further in the playoffs each of the past three years, including a six game series loss to the Pittsburgh Penguins in the Stanley Cup Final last year. With knowledge of the success Poile has led the Predators to, what is behind some of the reasons for his success?
Trades on Trades on Trades
Of all 31 NHL general managers, David Poile may enjoy the art of the trade more than any other. In his tenure with the Predators, he has participated in 191 trades, averaging just over 10 per season including the full lockout of 2004-05 and the partial lockout in 2012-13. His most trades in a calendar year was 20 in 1998 following the Expansion Draft. In addition to the 20 that year, he made 19 trades in 2002, 16 in 2003, and 15 in both 1999 and 2008. In recent years, he has made fewer trades with five so far in 2018, seven in 2017, and six in 2016.
Related: David Poile's 5 Best Moves
Some of the most notable players acquired in deals include P.K. Subban, Ryan Johansen, James Neal, Calle Jarnkrok, Filip Forsberg and Mike Fisher. All have been or remain key pieces on the team and have helped the Predators reach high levels of success in recent seasons. Eight players, or 35 percent, of their current 23-man roster were trade acquisitions.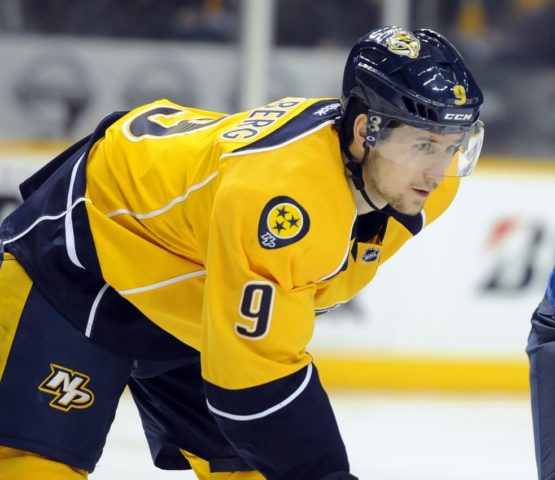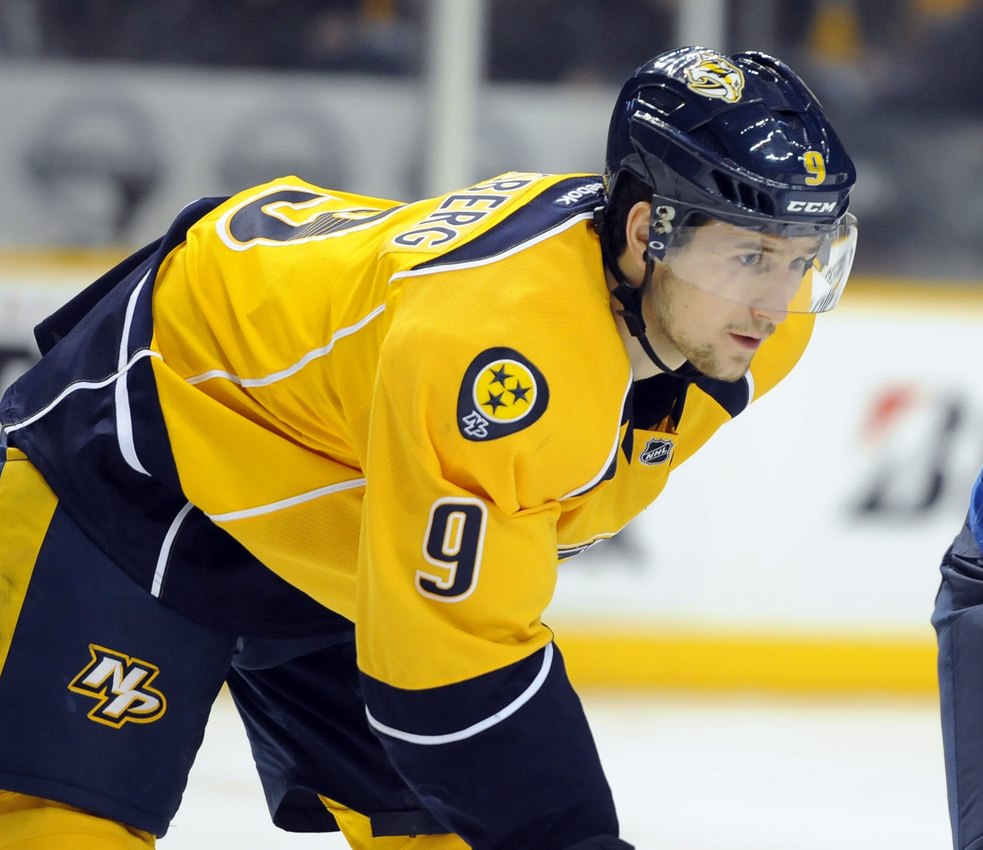 Other key trades executed by Poile have involved draft picks that have allowed the team to select important players in the NHL Entry Draft. These include second round picks that became Colton Sissons and Roman Josi, fourth round picks that led to Juuse Saros and Craig Smith, and a 2004 eighth round pick the Predators used to draft Pekka Rinne.
Success in the Draft
Although Poile is known for his trade prowess and his ability to win nearly every deal, his front office has also been successful at building through the Entry Draft. In the 19 drafts he has been a part of as Nashville's GM, the Predators have selected 174 players. These include 17 first round picks, with their highest draft slot occurring in their first year at second overall. They used that pick to select David Legwand, franchise leader in most offensive categories.
On their current roster, the Predators drafted 12 players, including four of their top six defensemen. Others drafted by Nashville, but playing elsewhere, include Colin Wilson, Nick Spaling, Patric Hornqvist, Alexander Radulov, Ryan Suter, Shea Weber and Dan Hamhuis.
Adding Through Free Agency
Although still willing to sign free agents, Poile's activity in free agency has decreased in recent years compared to his early seasons in Nashville. In total, Poile has signed 142 free agents, not including re-signing or extending his own players, which he is also good at. Four of their current players arrived via free agency.
His most free agent signings in a season were 14 in Nashville's inaugural season. Since that season, the most was nine on four occasions – 1999-00, 2002-03, 2007-08 and 2011-12. More recently, Poile has signed five free agents each of the past two seasons. Some of his more notable free agent signings are Paul Kariya, Jason Arnott, Matt Cullen, Yannick Weber and Matt Irwin.
Best Players to Play for Poile
Under Poile's leadership, the Predators have had two players elected to the Hockey Hall of Fame. One was Paul Kariya, whom the Predators signed as a free agent during the 2005 offseason. He played two seasons in Nashville, from 2005 to 2007, scoring 161 points in 164 games. He added an additional nine points in 10 playoff games for the Predators. The second member of the Hall of Fame is Peter Forsberg whom the team acquired at the 2007 Trade Deadline from the Philadelphia Flyers. In 17 regular season games with Nashville, he had 15 points and four points in five playoff games.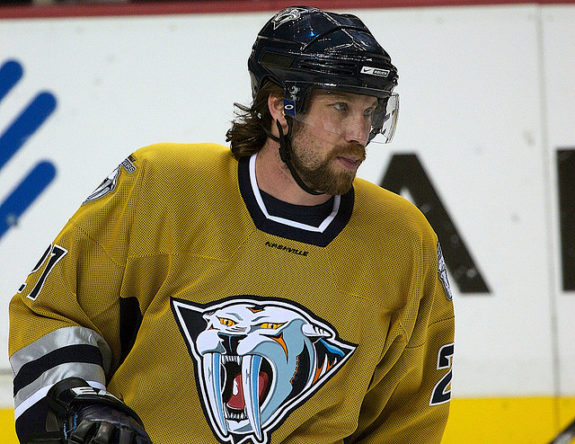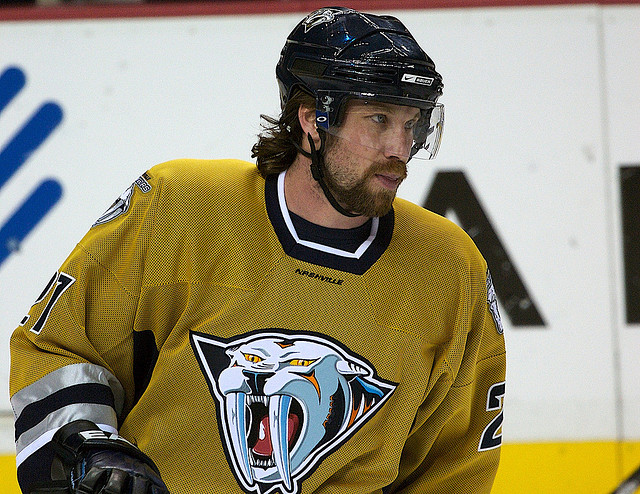 In addition to the two members of the Hall of Fame, there have been several Predators with stellar careers with Poile as general manager. Nashville's first draft pick in franchise history, David Legwand, is the franchise's all-time leader in games played with 956. Legwand was a Predator from 1998 until they dealt him at the 2014 Trade Deadline. He is also their franchise leader in goals with 210, assists with 356 and points with 566.
For goaltending stats, Pekka Rinne is the leader in nearly every category. He is also their active leader in games with 560 or 37 percent of the team's total games. Rinne's 308 wins are 147 more than any other goaltender and 42 percent of team's wins. His 50 shutouts are 29 more than second place and tie him for 27th in league history. His .919 save percentage is six points better than Tomas Vokoun for best in franchise history and his 2.37 Goals Against Average is .17 better than second place, also Vokoun.
Among the Game's Best
Not only does Poile hold the record for most wins for a general manager, but he is also the only one in history with at least 500 wins with two different franchises. He won the General Manager of the Year Award in 2017 after leading the Predators to their first Western Conference championship. He has also been a finalist for the award on three other occasions.
Away from the NHL, Poile's contributions have been profound. Despite being a native Canadian, he has been involved with USA Hockey for a number of years including serving as the GM of their 2014 Olympic team. For his impact to hockey in the United States, Poile won the 2001 Lester Patrick Award. Upon winning the award, Poile and his father, Bud, a former NHL general manager, became the first father-son duo to win the award.
In his NHL career, David Poile has led two franchises to high levels of success, one on the brink of failure in Washington and an expansion franchise in Nashville. The only item missing from his resume is winning a Stanley Cup and, based on his moves in recent seasons, it is his only goal. Regardless of whether he achieves that goal or not, Poile's impact on the sport of hockey has been profound and he will be enshrined in the Hockey Hall of Fame along with his father upon retirement.
*All information came from Hockey-Reference, HockeyDB, NHL Trade Tracker, and NHL.com