While it might not yet be time to start mashing on the panic button with both fists, it is certainly an uneasy time for the Nashville Predators. Just over the quarter mark in the 2020-21 regular season, the Predators sit second from the bottom of the Central Division standings, only one point above the lowly and rebuilding Detroit Red Wings.
Sportsnet's Elliotte Friedman has reported that Mikael Granlund is receiving some interest from teams around the National Hockey League, and others like Erik Haula and Nick Cousins could garner some inquiries as well. If the Predators continue to dwell in the basement of the standings, it might not be long before we see general manager David Poile start to off-load some roster players and try to gain some draft picks and prospects.
With the Predators trending towards being sellers as the April 12 deadline approaches, there are, however, players who likely won't be going anywhere and who Poile won't want to part ways with. Here are four players who shouldn't be going anywhere between now and April.
Roman Josi
This one seems obvious because he's the captain and the defending Norris Trophy winner as the league's top defenceman. Roman Josi is a superstar talent who you can build an entire roster around, and even though he is underperforming this season, I, for one, find it hard to believe this is a multi-season slump. Who knows, he might even be able to find his offensive numbers once again before this season is over.
I know that "rebuilding" is a dirty word to some NHL fanbases and franchises, but if things do get to that point in Nashville, Josi is absolutely someone who needs to be around for that. His offensive skills aside, he's a proven leader on and off the ice, and is still the right captain to lead any potential rebuild.
From strictly a numbers perspective, it's hard to think teams will be quick to jump on Josi without having to unload some high-end talent of their own. He is in the first year of an eight-year contract with an annual cap hit of just over $9 million. Teams looking for a key piece for a playoff push aren't going to shell out for a salary that large, meaning Josi won't be going anywhere.
Pekka Rinne
I have been one of the many fans and writers speculating what will happen to Pekka Rinne in the immediate future since he is in the final season of his contract. Now 38 years old, the finish line to the Finnish netminder's career is within sight, but his play this season has shown he can still be a valuable asset. However, with his $5 million cap hit, I think it's more likely that he stays a Predator through this season, and quite honestly, if Juuse Saros doesn't improve his play, it's possible that Rinne signs on for another season to mentor one of the young goaltenders in Nashville's system.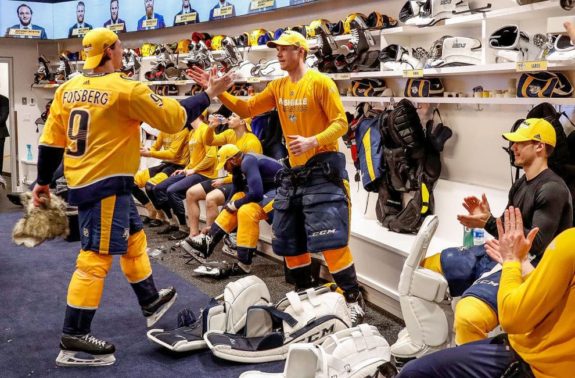 I think there's also a sentimentality to keeping Rinne in Nashville; as much as we love to make hockey a game of stats, numbers, and complicated formulas and ratings, there is still a human side to the hockey business. My THW colleague Dwayne Dunham recently wrote that "he's been the pillar of the organization since taking over the starting goaltender job in 2008."
I really like that choice of words because while pretty much every other position has seen superstar talent come and go during that time span, Rinne has been the one constant on the ice. It is no secret that he's worked really well with Saros, through the good and bad times, so it's not illogical to think he might stay around in a 1B role for the 2021-22 season, and finish his career with the team who drafted him in 2004.
Filip Forsberg
This is a tough trade to consider, contract-wise, as Filip Forsberg has a $6 million cap hit through 2021-22. He's also been, without a doubt, the only consistently good Predator this season and appears to have rediscovered the form of only a couple of seasons ago when he hit 30 goals in back-to-back campaigns.
Could Forsberg be an attractive option for a team looking to add a scoring winger for a playoff push? Absolutely. I just don't think the Predators will want to part ways with one of the best offensive forwards in franchise history for a price that most teams will be willing to pay, especially if the Predators don't eat any of his salary (see below).
It's more likely that Forsberg might become trade bait next season as a rental player in a contract year if things go poorly in Nashville again but I think he finishes out the 2020-21 season as a Predator.
Dante Fabbro
Much has been said about Dante Fabbro both in the highs and lows of his season thus far, but I think Fabbro is with Nashville to stay, at least until he becomes a restricted free agent this summer. The youngest member of the blue line corps at only 22, he is currently a bargain at $925,000 through this season and with plenty of offensive upside for any playoff-bound team looking to add a puck-moving defenceman.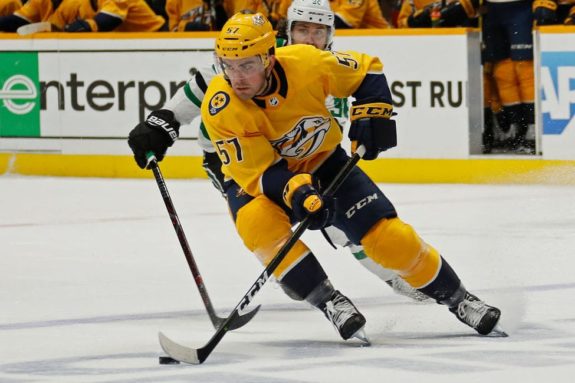 With Mattias Ekholm a likely trade candidate before the April deadline, I would expect Fabbro to slide into the number three blue line spot for Nashville, and is likely to be protected in the Seattle Kraken expansion draft. In only his second full season in the NHL, Fabbro continues to improve game in and game out. And earning more minutes playing alongside Josi and Ryan Ellis will only raise his confidence even more. With a sharp defensive IQ showing at times this season, he is absolutely the type of player who could play a central role in future Predators' successes.
While Ekholm, Granlund, Erik Haula and potentially more likely to be on the move in the next seven and a half weeks if the Predators don't turn it around, the four players listed above are likely to finish the season in the Music City. Whether for contract, mentoring, or potential, it's tough to see Poile moving on from these players without an inspiring return coming back the other way.
---
---