Pekka Rinne is a Nashville Predators legend. There is no disputing that.

However, it's time to consider "Smashville's" future in goal, although it's hard to fathom parting ways with a player who has been a staple on the team.
Let's face it, Rinne is the man. He's been the pillar of the organization since taking over the starting goaltender job in 2008 with four All-Star appearances (2015, 2016, 2018, 2019), a Vezina Trophy finalist four times (2011, 2012, 2015, 2018), winning it in 2018, and the team's all-time leader in wins with 362.
However, Rinne is 38 years old. As great as it is to see a player stay with one team for the entirety of their career, it's a rarity in this day and age of team sports, when at the end of the day, it's a business. The Predators have the right to look at their future, but they should also want to do right by the man who has been one of the main reasons for their success.
If the Predators decide a younger option is necessary, then it could be time for Rinne to head to a Stanley Cup contender. Here's a look at the Predators' current goalies behind Rinne, and they could be a short (and possibly long) term solution to a fuzzy goaltending situation that has been going on for too long.
Juuse Saros
Juuse Saros has been the main man in net after his fellow countryman, Rinne. With more and more playing time in the last few seasons, Saros has allowed Rinne to rest on certain days or take over the crease when Rinne has not been himself. He's been on the roster full-time since 2018 with 58 career wins (34 of them in the past two seasons), a career goals against average (GAA) of 2.63, and a save percentage (SV%) of .916. He has played well for most of the last two seasons and was on the verge of breaking out when the 2019-20 season was shut down due to the COVID-19 pandemic.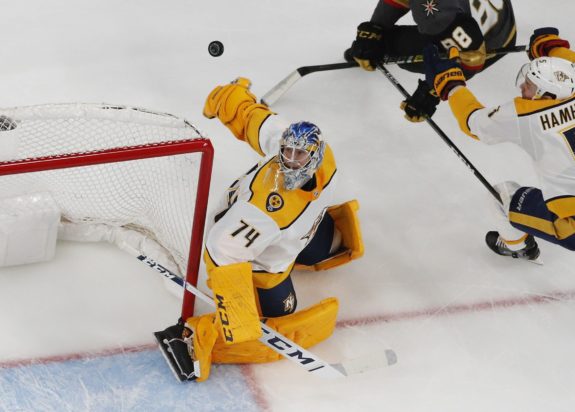 That said, this season, Saros has not been as hot as he was at the end of 2019-20, but that is mostly because he's not getting much support from his teammates, ranging from poor special teams play to an utter lack of team chemistry. He's 3-4 on the season, with a GAA of 3.66 and .880 SV%. Those numbers, especially in a contract year, aren't good enough for Nashville to offer him a long-term extension. It may even make the Predators consider keeping Rinne around longer.
Connor Ingram
If you thought Saros was picking up steam before the pandemic wreaked havoc on the world, look at the Predators' American Hockey League affiliate, the Milwaukee Admirals, and their play in the 2019-20 season. The Admirals had a 41-15-5-3 record when their season was cancelled, and Connor Ingram was a big reason for their success. In 33 games, he had a 21-5-5 record, along with a 1.92 GAA and a .933 SV%. Milwaukee was a favourite to win the Calder Cup but had to settle for the Macgregor Kilpatrick Trophy awarded to the best record in the AHL due to the cancellation.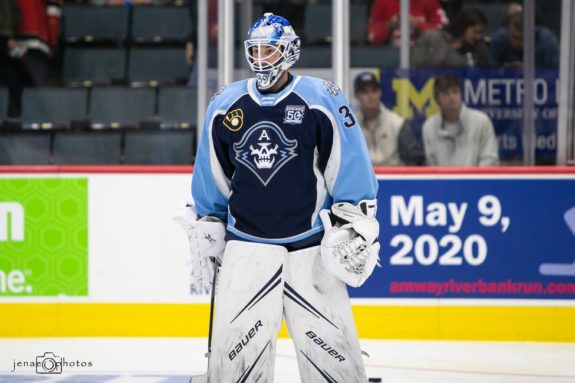 Ingram made the taxi squad and could earn spot duty behind Rinne and Saros (especially if an issue arises regarding one of the two), and it would be wonderful to see what he can contribute and if he is good enough to back up Saros. However, Ingram is on an indefinite leave of absence after voluntarily entering the NHL/NHLPA's player assistance program. We wish him all the best and, should he return, hope that he can be the best man and player he can be. He is also the perfect candidate for the Seattle Kraken in the expansion draft, so he may not be a Predator beyond this season.
Yaroslav Askarov
The future of the Predators' goaltending belongs to this man. Askarov is only 18 years old and was the 11th overall pick in the 2020 NHL Draft. He is at the other end of the bridge between Rinne and the future. He's a right-hand catcher, which has become a rarity, and he's very good at what he does. He's been dominant so far in his career, and his not-so-stellar performances still show his potential. At the 2021 World Junior Championships, Team Russia finished 4th as Askarov went 3-3 with a 2.50 GAA and a .914 SV%.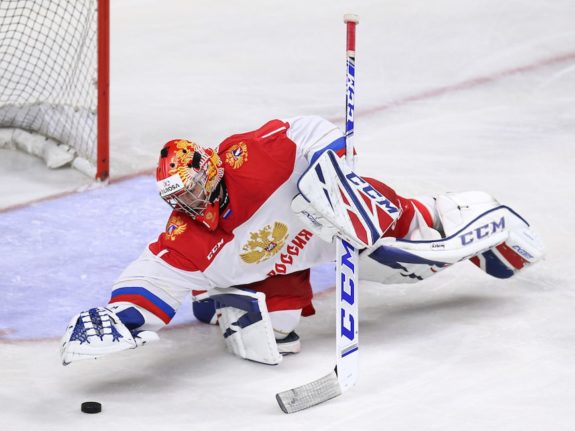 Askarov has played in nine games for SKA in the KHL this season with a 5-4 record, a 1.21 GAA and a .951 SV%. If he can maintain those numbers over a full season, he should be able to transition to the AHL (or skip the AHL altogether) pretty fast. Expectations are high, and now it's a matter of how the bridge to Askarov will be built.
Rinne and Saros are both in the final years of their contract. If Rinne wants to keep playing after this season, it will likely be elsewhere unless Saros continues his poor play and flames out. Also, Rinne and (if/when he returns) Ingram will likely be unprotected and possibly selected in the expansion draft. Alternatively, Saros may not want to stay in Nashville as a stopgap between Rinne and Askarov. The pillar and post are there, it's the middle part that is up in the air. Very soon, though, this situation will have a much clearer picture and an ultimate solution.
Comment below or find me over on Twitter at @ddunhamjr to discuss!
---
---
Nashville Predators writer. Graduate of North Carolina A&T State University and Northeastern University. Been into hockey since NHL 94 and not knowing what I was doing to having a pretty good idea of how to play. Based in Nashville since 2015. Sharks fan.