In order for any NHL forward corps to find success in the modern era, they need a mixture of star players and depth pieces that can affordably fill out the roster with skill. This has only been exacerbated during the COVID-19 Pandemic, where a player can be suddenly knocked out of the line-up for a few games due to an exposure, forcing members of the taxi squad to jump in at a moment's notice.
This is what happened to the Tampa Bay Lightning in their games against the Florida Panthers. After Steven Stamkos was placed in the COVID-19 protocol and Anthony Cirelli suffered a major injury, depth players like Gemel Smith and Alexander Volkov were asked to step up and take on starting ice time after spending the majority of the season in the press box.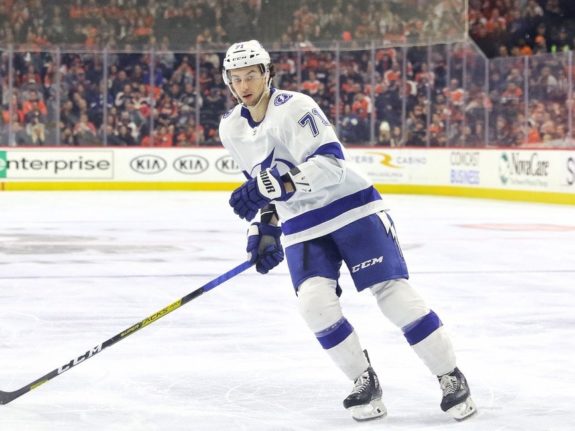 While you would expect these players to struggle as they get back into the rhythm of regular season hockey, instead they made an immediate impact in the games they played. With this strong play continuing, it led to the question… who are these depth forwards taking up residence on the taxi squad?
Smith and Volkov are Lightning Veterans
If you have been following the Lightning over the last year or so, you should recognize both Smith and Volkov as they played at times for Tampa Bay in the 2019-20 season. Of the two players, Volkov will be the more widely known player, as he was a second-round pick by the franchise back in 2017. He also played in Game 6 of the Stanley Cup Final, getting his name of the Cup in his first year as a pro despite only playing in nine NHL games up to that point in his career.
Related: Lightning Need to Find Out What Impact Volkov Can Have
Even as a second-round draft pick by the Lightning, there have been questions about whether or not Volkov would stick with the franchise. After scoring his first NHL goal, it appears that things are starting to click, and he could be in a great position to take over a bottom-six role for the remainder of the season.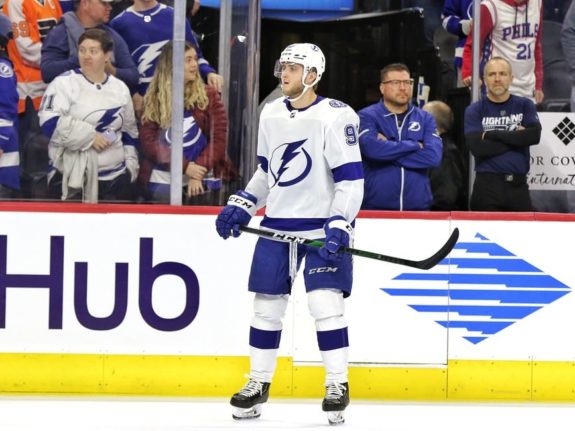 Smith, on the other hand, was seen as nothing more than a depth addition when he joined the Lightning back in 2019. He saw three starts with the franchise, then was sent down to the AHL, where he went on to play in 50 games with the Syracuse Crunch, posting 22 goals and 40 points.
This output earned him a one-year extension for the 2020-21 season and a spot on the taxi squad, where he remained until the Lightning's 11th game. He impressed with this playing time, outworking opponents while posting three points in around eight-minute of ice-time each night. So, while he may not be seen as an impact player, he has the ability and drive to earn a consistent spot on the roster.
Lightning's Next Taxi-Squad Members Show A Sign of the future
With injury striking their roster, the Lightning had to make some changes to their taxi squad, causing a call-up of two more Syracuse Crunch forwards. These newest members represent the next wave of forwards for the franchise, as they could be fighting for a permanent spot on the roster by 2021-22, if not sooner.
First is Alex Barre-Boulet, a player who is continuing Tampa Bay's legacy of pulling top-end scoring talent out of undersized, undrafted free-agents. Since taking over a starting role with the Crunch, Barre-Boulet has been, arguably, the best scoring forward on the team, posting 34 goals in 2018-19 and 27 goals in the shortened 2019-20 season.
While there are a few questions about how well he can play on the defensive side of the puck, there is no doubt that Barre-Boulet has enough offensive talent to take on NHL ice-time. Depending on injuries, he may get to make his case in the coming weeks for the Lightning.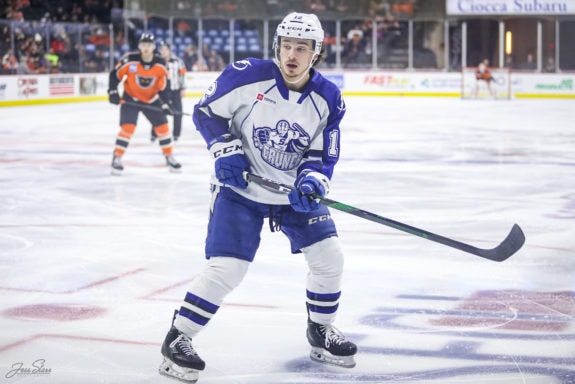 Rounding out the newest taxi squad assignments is Ross Colton, a fourth-round pick by the Lightning back in 2016. Colton isn't a splashy offensive forward, as he plays a steady all-around game that could quickly translate to the NHL. This makes him a candidate to step into a bottom-six starting role immediately, where he could fully utilize his defensive abilities.
So, even if Barre-Boulet likely has the higher NHL ceiling, Colton may be the better option as a starting forward right now. Either way, they are two young forwards that the Lightning should be excited to see more of throughout the season.
Lightning Still Have Depth Needed To Compete
Even in the best of times, injury will knock players out of the line-up. For the Lightning, the injury bug has struck early, forcing meaningful change to their roster.
Related: Lightning Experience First True Test of Adversity This Season
While none of these depth pieces can replace those injured players, they still have more than enough skill and ability to keep the team competitive throughout this uncertain regular season. For the Lightning, that is what matters most, and it appears that they have enough depth to work through these losses and keep moving forward.
---
---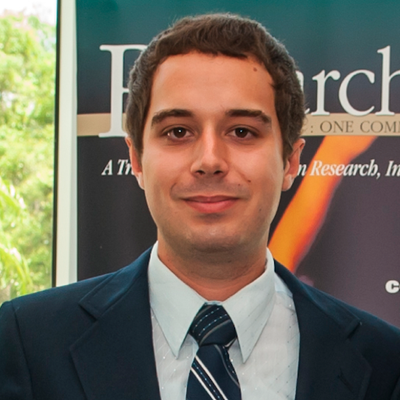 Eugene Helfrick is a Tampa Bay Lightning writer who is actually from Tampa Bay. He has written about the Lightning for six years, covering everything from their run to the 2015 Stanley Cup Final, to their crushing first-round exit in 2019, to their redemption in the bubble in 2020. While he is happy to talk about just about anything from cows to cars to video games, hockey will always remain one of his favorite pastimes.