As we approach the biggest game on the football calendar, arguably the greatest of all time, Tom Brady, prepares to contend for his seventh ring. What makes it more impressive is the fact that he's doing this at 43 years old, setting him up to become the oldest player to ever play in a Super Bowl. Some fans were less than optimistic when Brady said he wanted to play until he was 45.
Now, even skeptics must admit there's a chance that the long-time quarter back could still play at a high level past the age of 45, something that he recently suggested has entered his mind. Whether it's diet, genetics, workout regime or all of the above, one of the most accomplished NFL players of all time is defying what it means to be "old."
So, what does this have to do with the Nashville Predators? Well, Pekka Rinne. The 38-year-old goaltender has taken more of a supporting role this season, standing aside to allow the younger Finn, Juuse Saros to lead the team as the starting goalie.
If you know Rinne, you'll know he's a "team-first" type of player. He will do anything and everything to make the team as successful as possible. When asked what this season has been like for him, taking on the backup role and experiencing the inconsistent starts, something he wasn't accustom to in the past as the number one, he emphasized it's important to "have the right attitude, and just be ready all the time, make the most of it when I get ice time and you know, just try to play well," the veteran said. "Obviously, my goal is to help this team."
Again, for those who know him or have followed his career, you'd expect nothing less out of a sure future Hall-of-Famer. After the loss against the Florida Panthers on Feb. 5 where Rinne held his team in the game, stopping 34 of 36 shots, he mentioned that the battle for the starting role is "a healthy competition," something he was aware of coming into this season.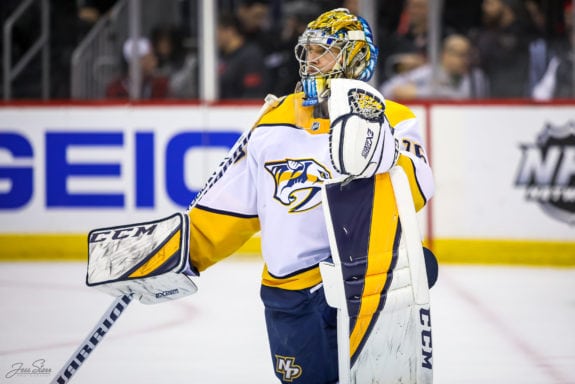 When you have two goalies who possess the talent to be starters, it's only right for there to be a competition for the number one job. However, early in the season it seems that the "old man" may still have a few tricks up his sleeve and he certainly has the edge in the competition.
Saros has been patently waiting for his time to take over this team and to be acknowledged as the bona fide starter. However, his numbers just aren't to the level that the Predators need them to be, and they're certainly not to the standard where he should be undoubtedly considered as the first choice in the rotation.
Up For the Challenge?
Saros has played and started in seven games this season and has been pulled twice mid-game. Now, this is one of those situations where you need to be careful with how much you read into the stats. Being pulled isn't always an indication of how well or poor the goalie is playing, but rather sometimes it's a tactic used to jumpstart a lethargic team that needs a wake-up call. Unfortunately, with the up-and-down season that the Predators are experiencing right now, it can be difficult to know when removing Saros was a result of poor team performance or an off night for the 25-year-old.
Related: Predators Rewind: Revisiting David Poile's 2010 Draft
However, what we do know is that the fifth-year goalie has a save percentage (SV%) of .893 and a goals against average (GAA) of 3.31. As mentioned, the Predators haven't been the best team to backstop. Several nights they've looked like a team rebuilding, simply throwing whatever pieces they have on the ice, hoping for the best while waiting for draft picks to develop. But what is concerning about the 5-foot-11 goalie's stats may be the possibility of seeing this type of performance coming.
The Predators' fourth-round pick has seen his SV% drop every season since 2017-18 and his GAA inflate year-on-year since then, too. It's important to note that Saros' workload has increased each season as well, so we may just be seeing what the native of Forssa, Finland, is capable of when the sample size is larger.
Rinne on the other hand has a 2.77 GAA and a .902 SV% while starting in four of the Predators' 11 games. His stats aren't overly impressive, but that could be a testament to the difficulty of finding a rhythm due to playing the backup role.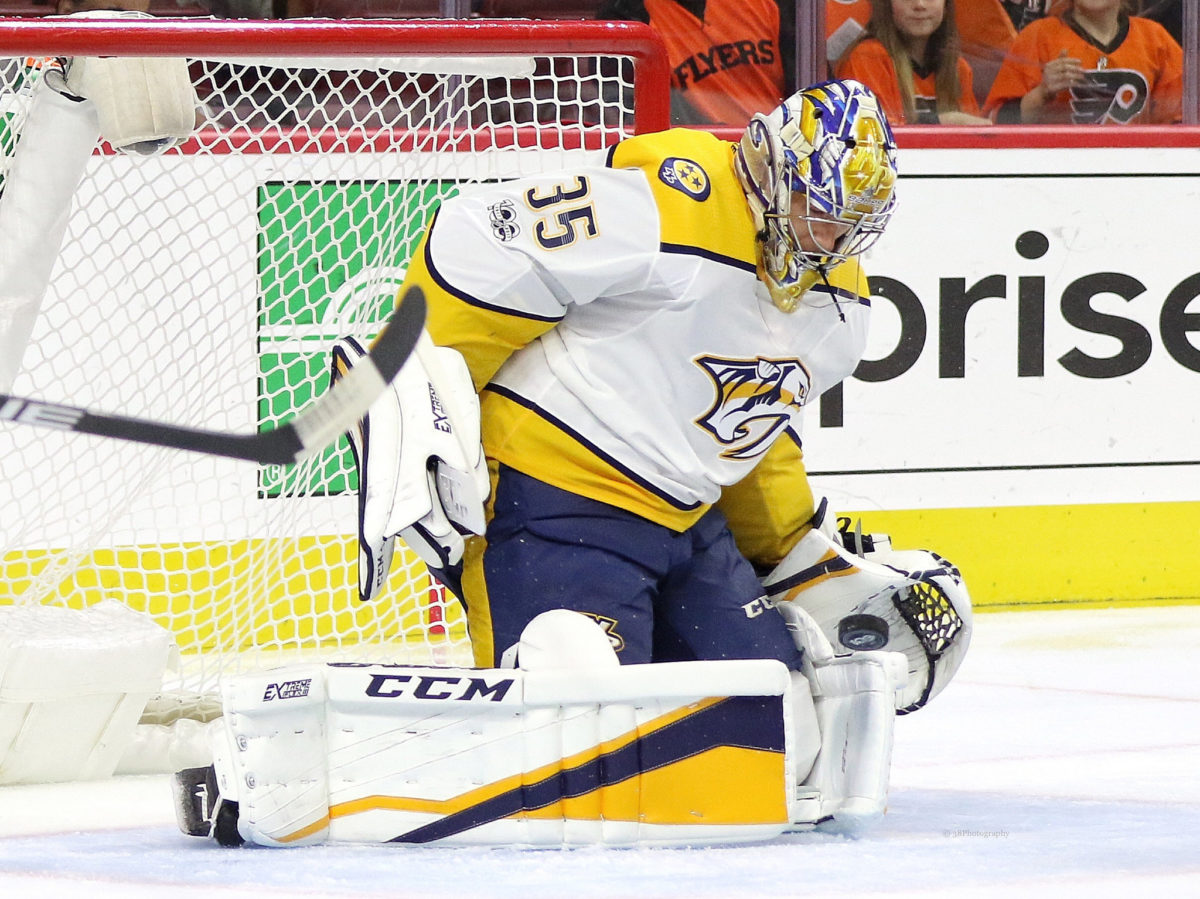 Last season, Rinne played his best hockey on minimal rest. In 2019-20, he suited up in seven games when receiving zero or one day's rest. Rinne posted his best SV% when receiving zero off-days and his second best after one day's rest. When breaking for two days or more, his SV% was consistently sub .900 — .882 on two day's rest, .894 on three days and .896 on four days or more.  
Admittedly, that was all in the past. It's only fair that we judge Saros and Rinne based on what they're able to do with this season's Predators team playing in front of them, despite the season being young.
---
Latest Predators Content:
---
The Predators have been shaky at the best of times during this shortened season. So, now more than ever it's important for the goaltender to bail the team out from time to time when the defense breaks down or the opposition counter after the Predators push the game offensively.
With the Predators giving up the game's first goal eight times so far, they're often chasing the game. Their defense plays a massive role in their offensive game, being caught pinching on the blue line happens every now and again.   
The Veteran Versus the Kid
According to Natural Stat Trick, this season Saros has a high-danger SV% of .786 during 5v5 play, while his counterpart, Rinne, has a .913 SV%, which ranks second league-wide among goalies who've faced a minimum of 15 high-danger shots.
The Predators are often at their best when they're attempting to push the pace of play and attacking in the offensive zone, rather than a conservative style that can cause fans to scream at their televisions. Knowing that Rinne is back there can give the team more confidence, convincing them to take a few more chances. This isn't to say the Predators don't have confidence when Saros is in net, but Rinne has proven himself to be somewhat of a mistake eraser and that must be on the players' minds, subconsciously or not.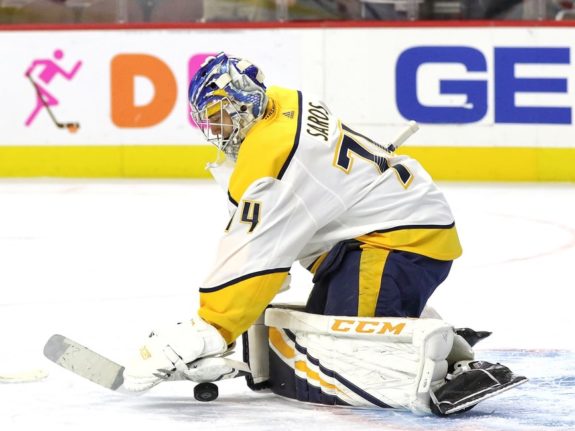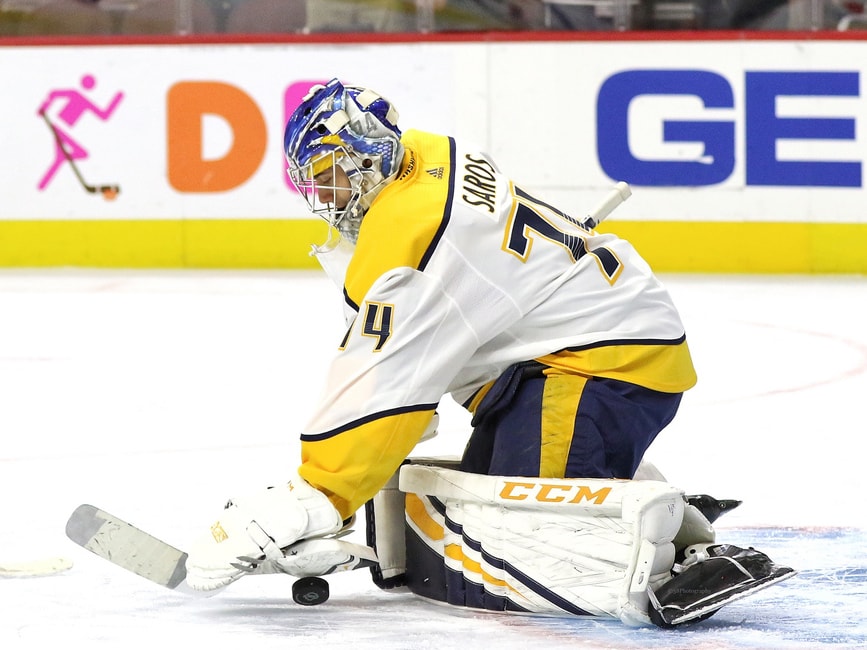 This season is shaping up to be one filled with adversity, not just from an inconsistent team performance standpoint, but also with the uncontrollable elements presented by the pandemic. Rinne has experience with battling through difficult seasons — 2012-13 not only saw the unknown spurred by the lockout, but that shortened season saw the Predators experience an extreme down year, finishing with the league's fourth-worst record. However, Rinne still managed to register respectful numbers, despite playing on such a bad team. The 6-foot-5 goalie compiled a stat line consisting of a 2.43 GAA and a .910 SV% to go along with five shutouts.   
Related: Predators' Slow Season Start Revealing Larger Concerns
Saros has the athletic ability to be a star in this league and he could very well be the unquestionable starter in the future. But Rinne — while on the back nine of his career — still has a lot to offer the Predators, and right now he may be the better choice.
After splitting the recent two-game set against the Panthers, Rinne admitted he would like to play as much as he can. If the Predators want to put themselves in the best position to win, they'd be wise to take him up on that.
---
---
I graduated from Mount Royal University with a degree in Journalism with the hopes to pursue a career in sports media. I have been following hockey for many years at various different levels. Whether playing, watching or writing about it, hockey has played a massive role in my life. I was the sports editor at The Calgary Journal as well as a sports columnist for The Calgary Reflector. Follow on Twitter: @A_Grant27