With the AHL season just getting underway, and the Milwaukee Admirals having opted out, the Nashville Predators prospects are even more widely distributed than most teams right now. The COVID-19 pandemic has forced many players and leagues to pause while the world tries to get the virus under control. As a result, the Canadian Hockey League has only a third of its teams playing, while a lot of North American prospects have had to find a roster spot overseas. It is not a usual year for prospect development, so the usual standards of production and growth that we expect may have to be relaxed a little as well. Fortunately, there are some excellent strides being made by Predators prospects.
The NHL-Level Prospects
Eeli Tolvanen, RW
During his time overseas in 2020, Tolvanen's numbers with Jokerit of the KHL were lower than his last stint there in 2017-18, and some of the shine has worn off of the his overall upside. He still has a high offensive ceiling, but the learning curve outside of the offensive zone has been slow.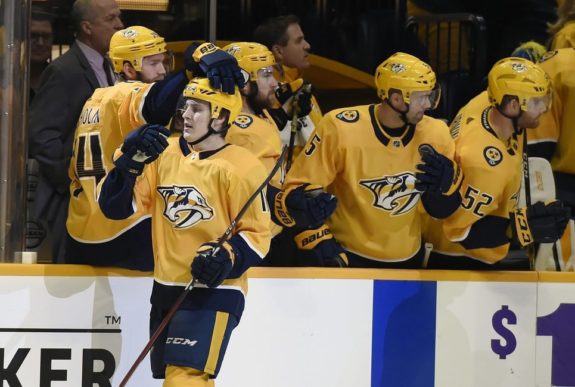 He should continue to earn short stints with the big club this year (hopefully seeing some power-play time), and there should be room for him to break camp with a full-time roster spot next fall. With the AHL season starting up, Tolvanen may be loaned to another AHL team's roster. This option isn't ideal for his development, but it will be better than sitting on the taxi squad all year.
Connor Ingram, G
Ingram voluntarily entered into the NHL/NHLPA player assistance program last month, and as a result is currently not on the ice. The former Lightning prospect had put up excellent numbers over the last two seasons with the Admirals, and is in line to take over the role of Juuse Saros' backup next year when Pekka Rinne's contract expires. In the meantime, we hope Ingram gets the help he needs, so he can continue his ascent up the Preds' depth chart when he is ready.
Philip Tomasino, C
Tomasino may not make an immediate impact with the Predators as they give him some developmental time in the AHL, but the top skater prospect in their system could step into the lineup and succeed in limited minutes if it was asked of him today. He is already up to five points (three goals) through four games with the Chicago Wolves in the AHL thus far — note that Tolvanen was only putting up 0.6 points per game in his two seasons with Milwaukee.
Matthieu Olivier, RW
Olivier has surprised many this season, and not just by making his NHL debut already, but by playing 10 games in a depth role and not looking out of place. The undrafted free-agent signed with the Predators in the 2019 offseason, and expectations were that he was likely going to be a career AHL player with the physical tools to play in the NHL when the team was dealing with injuries. He has likely already shown his ceiling, but the Predators are happy to have him in the system as a capable grinder that can play depth minutes when called upon.
Alexandre Carrier, D
A veteran of four full AHL seasons already, Carrier doesn't have much left to prove outside of the NHL despite only being 22 years old. Had the Predators not brought back Jared Tinordi and claimed Luca Sbisa off waivers, we may have already seen Carrier settle into an NHL game or two this year, marking his first appearance since a three-game stint in January of 2020.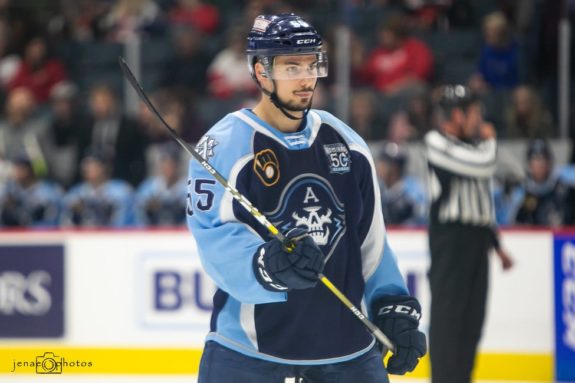 Alas, he will have to be patient and wait for his opportunity, but if the Predators continue to struggle it would be in their best interest to try him out and see what they have as the first part of their next wave of puck-moving defencemen.
Not Too Far Away
David Farrance, D
David Farrance put up some amazing numbers the last few seasons as he has grown into one of the best offensive defencemen coming through the NCAA, culminating in 43 points across 34 games last season. He only has six games played so far this year, but his 14 points in six games is a ridiculously hot start. To add some context, the second-highest scorer on his team is a forward with seven points through six games. With the possibility of the Predators losing a defenceman in the Seattle Kraken expansion draft, Farrance could get a long look in training camp next year, but a 2022 debut might better suit his development.
Yaroslav Askarov, G
Selected 11th overall by the Predators in 2020, Askarov became the highest goalie selected since Jack Campbell went 11th overall to the Dallas Stars a decade ago. The 18-year-old from Russia has been straight-up dominant in every stop along his career path. Even his past two "disappointing" showings at the World Juniors have seen him post a goals against average (GAA) under 2.75. Excluding the World Juniors, Askarov hasn't put up a worse GAA than 2.50 anywhere he has been.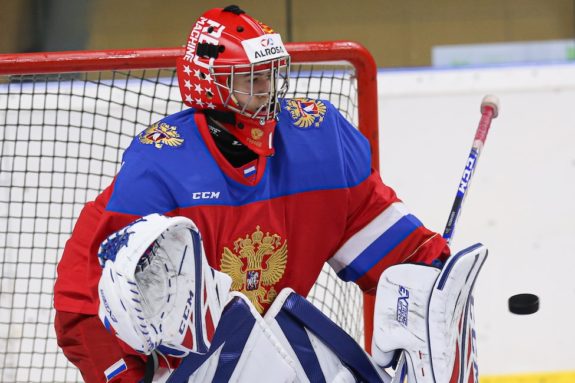 Most impressively, he has been exceptional at the top tier in the KHL this season, putting up a sparkling 1.21 GAA and a .951 save percentage. That is comparable to Igor Shesterkin's numbers in his last KHL season before he crossed over to North America. If Askarov keeps this up, he could be pushing for the starting job in Nashville by the fall of 2022.
Egor Afanseyev, LW
Afanseyev is a sizeable winger with some excellent puck skills who slipped into the second round of the 2019 Draft because he was playing in a lower tier league (the United States Hockey League). He moved up to the Ontario Hockey League (OHL) the next season and put up over a point per game, and has moved back to Russia this year to get in more games.
Related: Predators 2020 Draft Class Headlined by Askarov Pick
Through 11 KHL games, Afanseyev has two goals and two assists, which is actually a decent stat line since rookies don't usually get much ice time in the KHL. He also showed well at the World Juniors, and should be pushing for a spot in the NHL lineup in the next two or three years.
Jeremy Davies, D
As a rookie in the AHL, Davies was the second-highest scoring defenceman with the Admirals last year, and he was fourth on the team in shots — yes, that includes the forwards. He has an excellent work ethic, and that effort level helps him thrive on the defensive side of the puck despite his small stature. He wasn't drafted by the Predators (acquired in the P.K. Subban trade after being drafted in the seventh round in 2016) but he fits the mould of a lot of the other defencemen that the Predators have brought along in recent years, from Ryan Ellis, to Samuel Girard, and most recently Dante Fabbro. Davies will be fighting with Carrier and Farrance to be first into the lineup over the next couple of seasons, as it is tough to bring in more than one rookie defenceman at a time.
Luke Evangelista, RW
Unfortunately, it's not all good news for the Preds prospects, though this is completely out of Evangelista's hands. The team's 2020 second-round pick hasn't played a game in almost a calendar year now due to the OHL shutdown.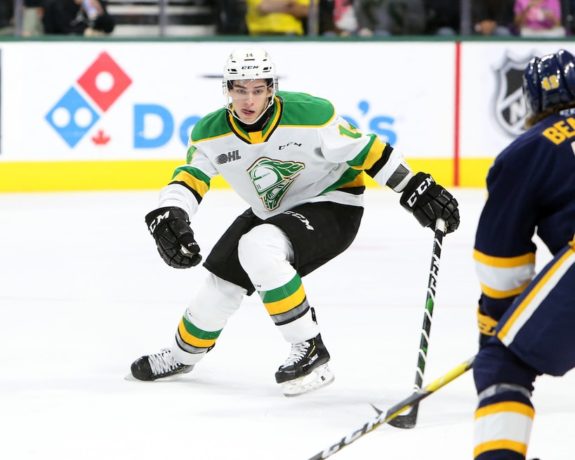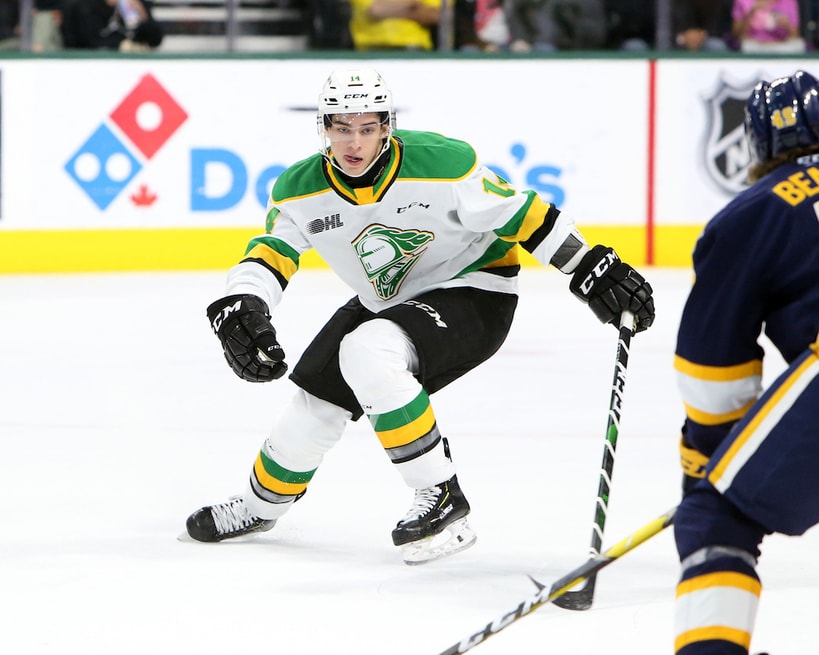 He is a smart winger with the ability to slot in anywhere in a lineup, and was set for a breakout season from a larger role the London Knights this year. Hopefully he can get back on the ice soon as the OHL looks into alternate season formats.
Rem Pitlick, LW
As an AHL rookie last season, Pitlick put up a respectable 36 points in 63 games, adding a scoring dimension to his game that was missing in earlier seasons as more of a pass-first forward. This year, Pitlick scored in each of his first three games with the AHL Wolves, and looks a lot more confident with the puck. Getting another full season in the AHL under his belt will be an excellent experience for the soon to be 24-year-old, and by the end of the season he may be showing he has finished developing and is ready for a call to the big leagues.
Need Some Time to Simmer
Isak Walther, LW
The 19-year-old winger has taken a huge step forward this season in Sweden's J20 SuperElit league (the top league for only under-20 players). He has doubled his scoring pace, and was also named an assistant captain to start the season. He is a lanky player at 6-foot-3, and possesses excellent puck skills as an offensively inclined player who tends to be more of a scorer than a set-up man. Look for him to continue developing in Sweden for another couple of seasons before hopefully crossing the Atlantic to enter the Predators system.
Luke Prokop, D
The 2020 third-round pick will remind fans of past players Hal Gill and Alexei Emelin. The 6-foot-4, 220-pound Prokop hasn't been on the ice in a while, and is anxiously awaiting the start of the Western Hockey League season. If he can make the team while Mark Borowiecki is still around, then a "good cop/bad cop" third pairing would be a nightmare for opposing forwards to play against. In the future, Prokop could develop into a complimentary second-pairing piece alongside a natural puck-mover, as his strong skating stride shouldn't hold him back to just third-pairing minutes.
Alexander Campbell, C
Campbell has played in a different league for six straight seasons now, so he is getting good at adjusting to new situations. The Predators' third-round pick from 2019 has adapted to the NCAA game well this season with 16 points through his first 20 games, first on the team.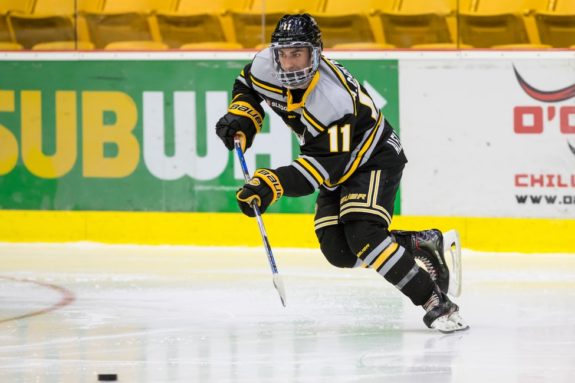 He is first and foremost a playmaking winger, and that shows in the 12 assists he has racked up to date. His plus-nine on a team only two wins above .500 is also impressive.
Jachym Kondelik, C
Another centre impressing in the NCAA ranks is Kondelik, who stacks up as a Ryan Johansen-lite. Kondelik stands tall at 6-foot-6, and relies on his vision and passing to create offence around his large frame. The 2018 fourth rounder has put up 16 points (all assists) through 18 games, feeding the puck to diminutive scorer Jonny Evans. Kondelik does a lot of things right, but when you watch him play he leaves you feeling like there should be a little bit more that he can do. Perhaps it is the lack of foot speed, as is generally expected with players of his size. Anything he needs to add to his game is coachable, though, so if the Predators develop him well, they could have a future hulking second-line centre on their hands.
Jusso Parssinen, C
The two-way centre saw some time on the second line at the World Juniors for Finland, but the results were underwhelming compared to what he has done in the Finnish Liiga. Parssinen just turned 20, and he is putting up three points every four games for one of the top teams in the league. The scoring increase is a big jump from his play in the last two seasons, and the growth with the puck nicely compliments his defensive awareness.
He may not project as a possible top-line option in the NHL, but if he keeps on this developmental track he could succeed in a third-line role down the line.
Semyon Chistyakov, D
Chistyakov has never been a big point producer, but is known for a reliable two-way game. He is a very strong and agile skater despite a small frame. He also doesn't let his size hold him back from playing a more physically engaged style. He has already played 38 games with the Avangard Omsk in the KHL this season, where rookie forwards usually play limited minutes, and young defencemen are few and far between — proof that he can handle himself among men. He has only tallied three points thus far, but his success will never be dictated by simple stats.
Gunnerwolfe Fontaine, LW
One of the best names in hockey, Fontaine is also making a positive impact on the scoresheet in his NCAA rookie season. He has put up 12 points in 15 games, tied for fifth on the team. That also means that he is outproducing other Predators prospect forwards who are more experienced in the NCAA. Fontaine has never been one for slow starts, though, so maybe we shouldn't be too surprised.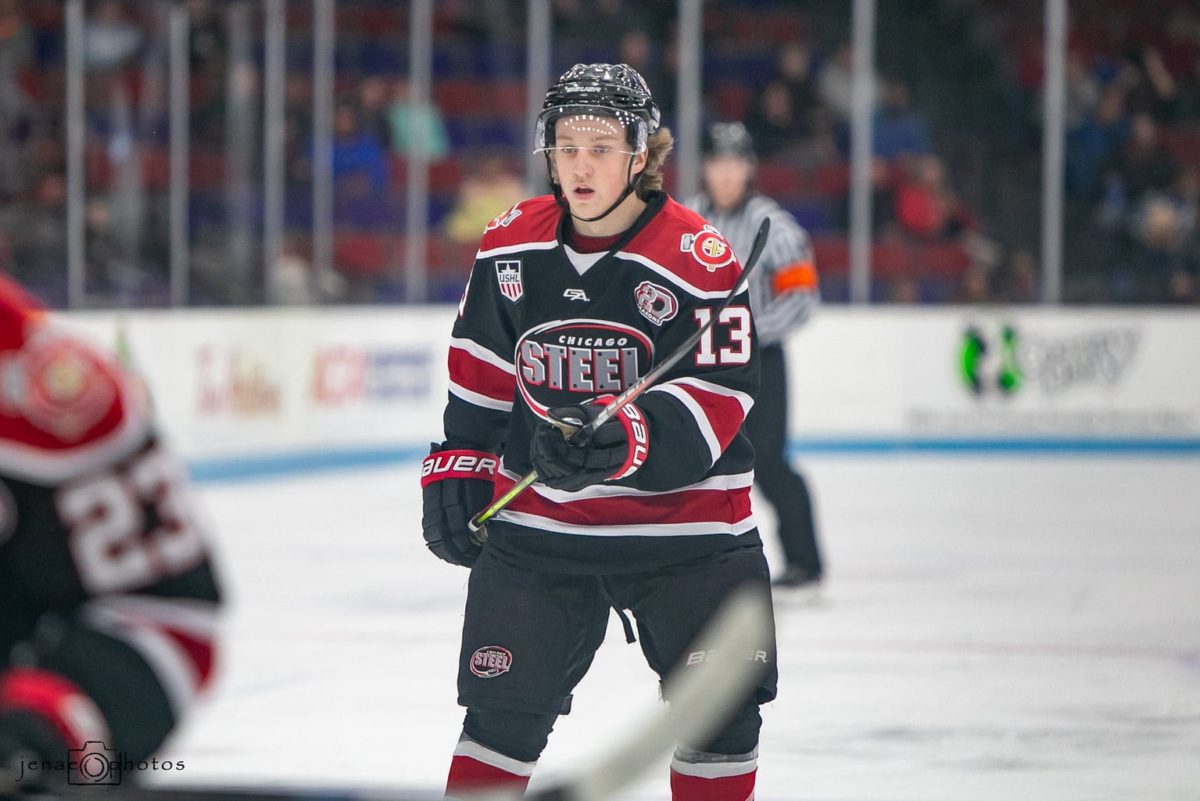 Fontaine fell to the seventh round in 2020 as a result of his small stature, but the Predators have some recent success with similar players. His play has some distinct similarities to current Predator Rocco Grimaldi. If Fontaine can provide that same energy as a future depth forward, then the Predators mined some excellent value late in the draft, like they were so good at in the early years of the franchise.
Preds Future Is in Good Hands
Despite trading away many higher picks over the last number of years while pushing chips into the middle to keep the competitive window open, the Predators have drafted well, and that shows throughout this report. There appears to be the pieces in place for a constant influx of talent over the next few years. However, unless some serious strides are taken from Tomasino, the team may still be lacking a game-breaking forward. It seems likely that the Predators will be getting back to the style of relying on a star netminder to keep them in games, meaning Askarov will be the most import piece of the puzzle moving forward.
---
---
I'm a 26 year old hockey fanatic who grew up in Toronto but fell in love with the Predators watching Kimmo Timonen and Paul Kariya. I now cover the Predators for the Hockey Writers. With an engineering background I also have an affinity towards all things related to numbers and the salary cap, and publish some fantasy hockey content at DobberHockey.